Equipment
Fashion statements from The Players: How to wear pink on the golf course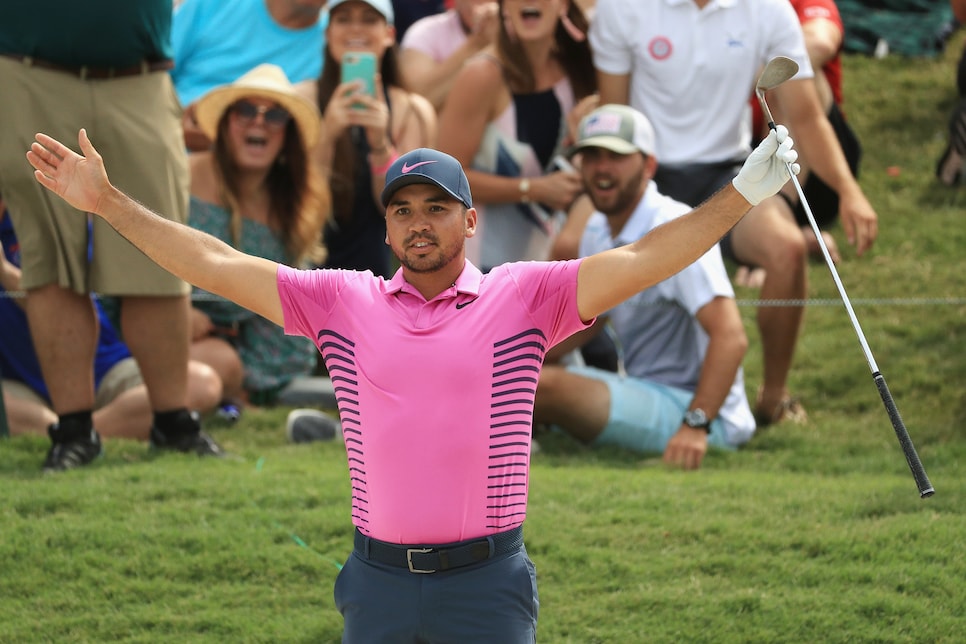 The prevailing fashion storyline from last week at The Players was without a doubt a certain button-up shirt and how it looked on the golf course. The jury is out on that one, but the bottom line is that style is about taking risks. Sometimes those risks pay off, other times they don't.
Wearing the color pink is a style risk that must be pulled off smartly. Call it salmon, rose, blush or coral, there are many shades of pink to pick from, and certain shades will either pair nicely—or not so nicely—with the rest of your outfit. What's important is that the entire ensemble is properly fitted, color coordinated and appropriately accessorized.
To show us how it's done, the Players Championship organizes a "Pink Out" during the final round of the tournament each year to help raise awareness for breast cancer. The tournament partners with The Donna Foundation throughout the week to raise money for breast-cancer research. The pink theme is also fitting because the tournament has traditionally fallen on Mother's Day—though the PGA Tour schedule will change in 2019 and the Players will move back to its March date. Though we're unsure if the pink threads will follow the tournament, we're glad this became a tradition at the Players. Let's review how some of the pros incorporated the color at TPC Sawgrass this year, and what you can learn about adding pink on the golf course, too.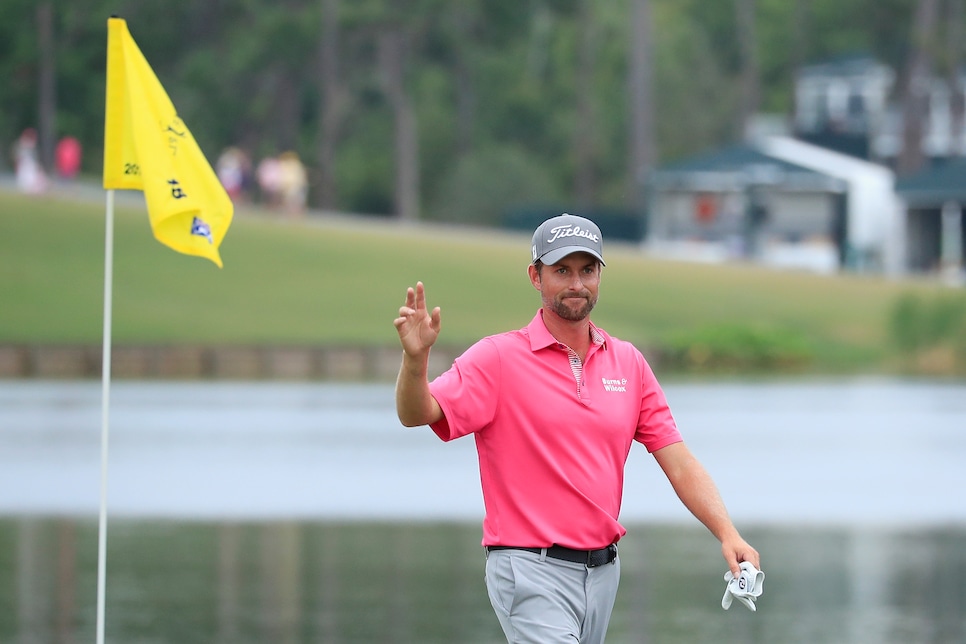 Webb Simpson's Smooth Winning Pink
En route to his dominant victory, Webb Simpson's berry FootJoy Stretch Pique Golf Shirt ($65) was just the right amount of flashy for the 32-year-old's fifth PGA Tour victory. The inner placket and inside collar featured a striped pattern that gave the otherwise simple shirt some levity. It's a top that transitions well to most off-the-course situations, fitting seamlessly into an office environment or under a sweater. This shirt is also anti-wrinkle, so it will look crisp at the end of the day. Wrinkles and creases are accentuated on bright-colored clothing, and there is nothing that kills a look faster than a crinkled-up shirt, so be mindful of that when adding bright pink into your apparel rotation.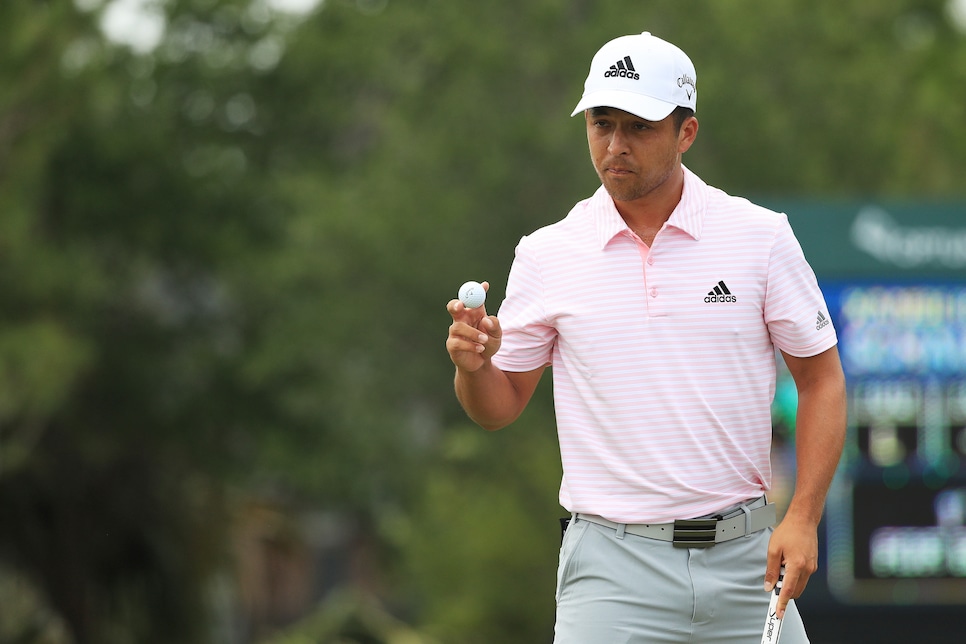 Xander Schauffele Soft Pink
Xander Schauffele's run on Sunday to a T-2 finish was electric, but his choice of pink in the Adidas Ultimate365 2-Color Stripe golf shirt` ($65) was a bit more understated. Stripes of different thicknesses created a flattering pattern on Schauffele—who can probably get away with more than most with his athletic build. But like most pros at the Players, he chose light grey pants (Adidas Ultimate365 Flat Front Pant) to pair with the pink for a smart look. Unlike the majority, though, Schauffele followed the cardinal rule of belts by matching his Adidas 3-stripes Reversible Belt ($50) to his pants. Bravo, Mr. Schauffele.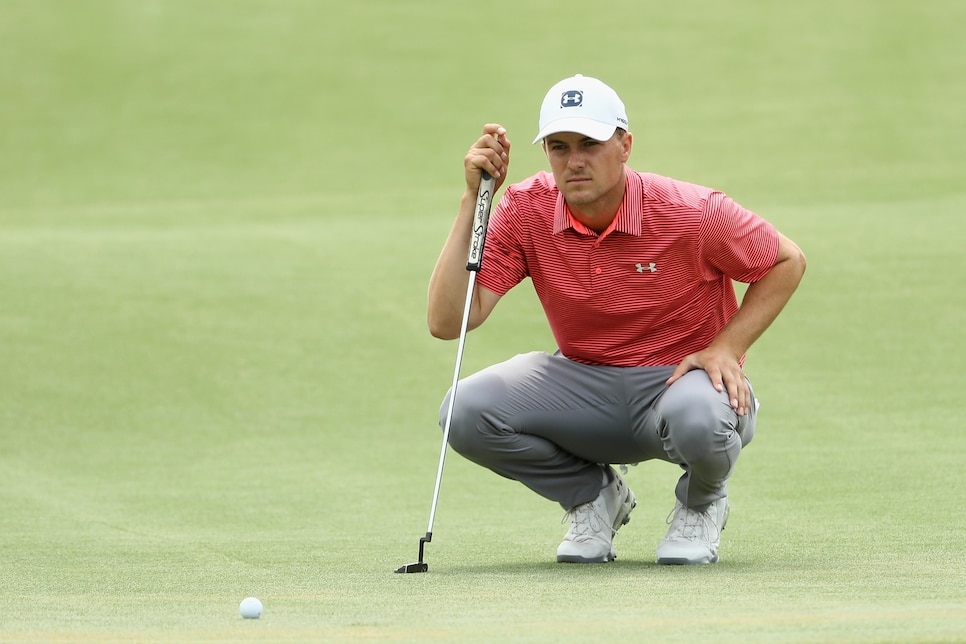 Jordan Spieth's Pink Stripes
The Players has never been Spieth's tournament, but this year he made the cut and was able to participate in the Sunday Pink trend. He didn't play his best golf playing alongside Tiger Woods on Sunday (Spieth finished T-41), but Spieth's Under Armour UA Playoff Golf Shirt ($65) ranked higher than his finish on the style leaderboard. The tight dark stripes almost make the shirt look red, but it's actually blush—check the rosy buttons. Over light grey trousers (UA Microthread Tapered Pants $100), Spieth's low-risk pink is an easy look to replicate.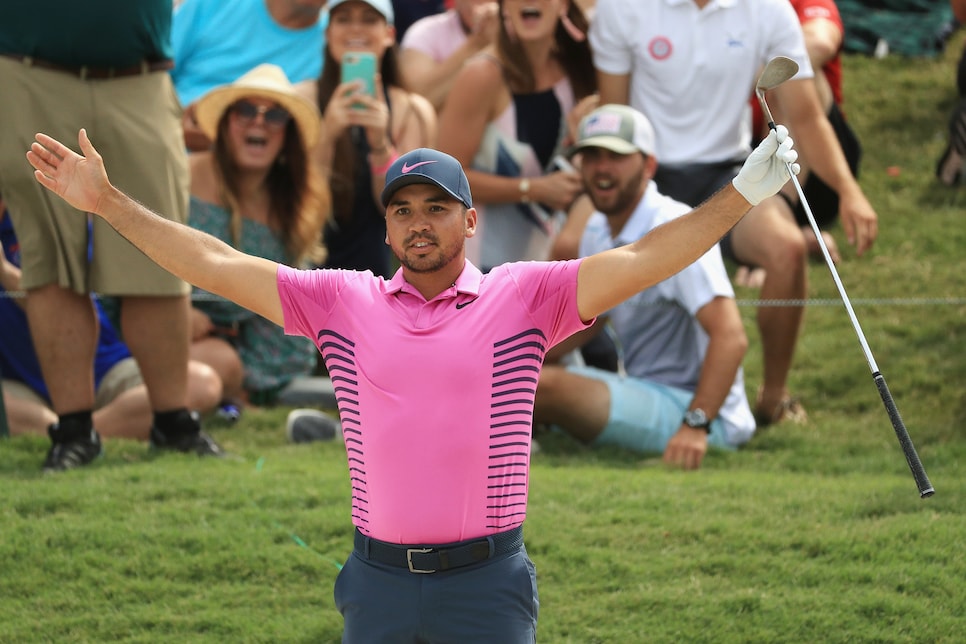 Jason Day opted for a Nike Dri-Fit Polo ($65) in a bright pink shade that you shouldn't be afraid to try, if it is properly coordinated, of course. We saw this shirt on Sunday at the Masters, too, as Nike's nod to Augusta's famous magnolia trees. This color the company calls "Hyper Magenta," really pops for Day. It's a flattering shade that also looked good on Patrick Reed back in April. The dark side-torso stripes in a color called "Thunder Blue" match his blue Nike 5 Pocket Pants ($85) and Aerobill Classic 99 hat ($35) perfectly—a nice touch. Dark blues with gray hints are always a smart pairing choice when wearing pink to tone down the brightness a notch or two.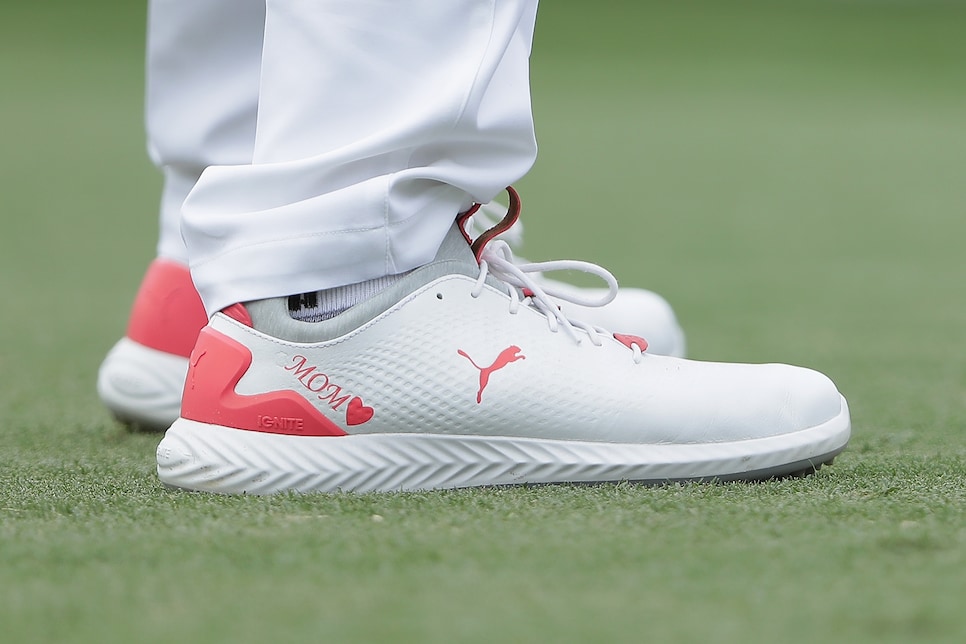 Bryson DeChambeau's Accessorizing
Bryson DeChambeau proclaimed himself a momma's boy in Ponte Vedra Beach with custom pink-and-white Puma Ignite Pwradapt Golf Shoes ($150) with the word "mom" and a heart printed on them. For those not ready to go full-pink in their outfitting, take a cue from DeChambeau's pop of pink. Small detailing like DeChambeau displayed on his shoes is a great way to test out colors without overcommitting.
If you're not afraid of pink and perhaps afraid mom is mad at you, try a more overt display like DeChambeau's custom bright pink Cobra Staff Bag with the word "mom" written across it. It was a nice way to honor his mother, but then again, DeChambeau wasn't the one that had to carry it around all day.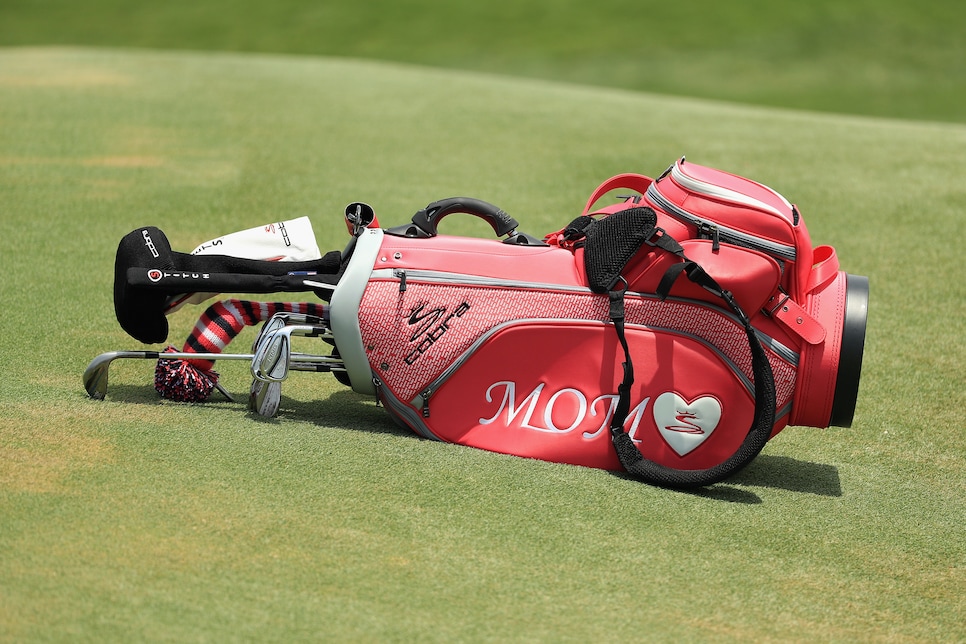 Justin Thomas' shades of pink: Titleist Pink-Out hats and Polo Golf shirt
Justin Thomas has never been a stranger of the color pink. He's been rocking various different shades of pink since he came on the scene in 2013. On Sunday, the new World No. 1 wore what seems to be his favorite, a simple blush Polo Golf shirt. It's a classic look that works just as well off the course. Simple pastel solids are great for springtime special occasions. He topped the look off with the limited-edition Titleist Pink Out Collection Tour Performance Hat ($27). Typically you want to be wary when adding pink accessories to a pink outfit, but in Thomas' case it worked well because the shade of pink was light enough so that it avoided any clashing.