News
Fantasy Golf Picks: Will Adam Scott's two-putter system work at TPC Boston?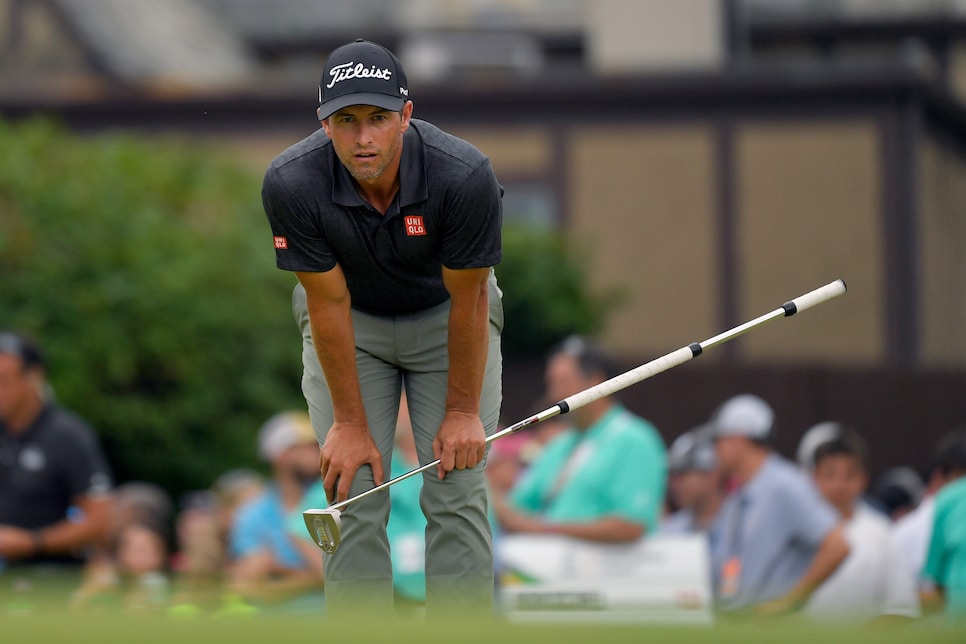 From Justin Thomas throwing out the first pitch at a Red Sox game to Patrick Reed complaining about his seats at Fenway Park, the PGA Tour has made good use of an extra day in Boston before this week's Dell Technologies Championship. Yep, we've got a Monday finish and a Friday start on tap, which is why your Thursday twitter feed was quiet with Tiger Woods updates for once. Who will claim the second FedEx Cup Playoffs event of the season? Here's a look at our fab foursome at TPC Boston.
Adam Scott: Dare we say. . . he's back?! After a dreadful (for him) finish to last season and start to the season, Scott has produced his first top-5 performances of 2018 in his past two starts. The close call at the PGA Championship followed by a T-5 at the Northern Trust were good to see from the Aussie — even if this former World No. 1 is utilizing the rare 2-putter system. Despite continuing to carry a regular putter in his bag, Scott has been wielding the longer one well, including leading the field in strokes gained: putting at Ridgewood. With top 10s in half of his career starts at TPC Boston, including a win in 2003, we expect the good times to, um, keep rolling this week.
Tiger Woods: Who would have thought that Tiger Woods' putting would be more of a question mark than Adam Scott's entering this event, but it's been a strange season. After all, who would have thought Tiger Woods would be one of the best players in the world again and playing such a busy schedule so quickly? In any event, we're shrugging off one awful week of putting with that new mallet and banking on that practice he did in his hotel room (seriously) to get back on track at a place where he has a win and two runner-ups.
Phil Mickelson: Call us suckers, but we believe Mickelson's whole "I'd get that bet in quick" on THE MATCH because he's going to play well the next few weeks. Mickelson contended for three days at the Northern Trust before fading to T-15, his best finish in two-and-a-half months. Now he returns to the site where he essentially beat Woods in a one-on-one Sunday match in 2007. He'd love nothing more than to play well again and silence those doubting his likely spot on the U.S. Ryder Cup team.
Bryson DeChambeau: Did you see what this guy did last week? The FedEx Cup leader (for now) picked up a third PGA Tour title in 13 months to join some pretty elite company in Jack Nicklaus, Tiger Woods and Phil Mickelson as golfers with three wins, plus NCAA and U.S. Amateur titles before turning 25. Of that group, only Tiger has also claimed a FedEx Cup (Jack was really slacking. Kidding.), so he's got work to do his future Ryder Cup partner, er, I mean, friend. . .
Also, please check out this week's Golf Digest Podcast where we discuss DeChambeau's Ryder Cup status, the drastic proposed changes to the FedEx Cup, and bathroom breaks during tournaments: