Fantasy Land
Need a simple season-long professional golf fantasy league/pool for 2022? Look no further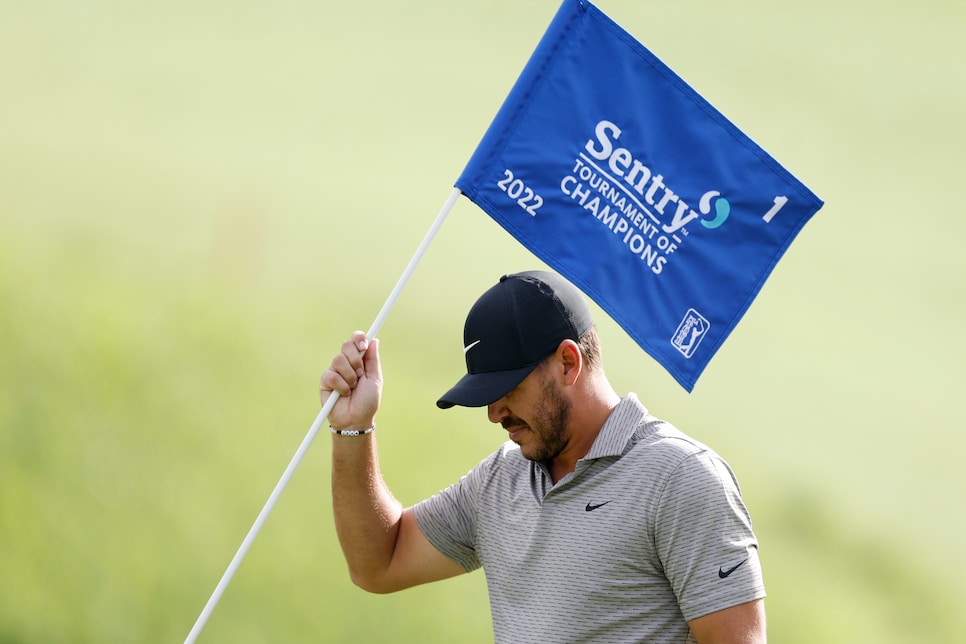 The Sentry Tournament of Champions begins Thursday, which means that if you're going to be in a season-long fantasy golf venture and you're not there yet, you've got to act fast. Previously, I have written about the world's greatest fantasy league, and I stand by that work of art, but the fact is that it's for the super die-hards who don't mind tending a roster every week, thinking about keepers, and plotting months in advance to accumulate points when the majors hit. That's not for everybody, and today—courtesy of a friend who wishes to remain nameless—I bring you a simpler, but no less robust option for your 2022 fantasy golf needs. It's perfect for a group of friends who follow golf with enthusiasm, want a little more than the typical boring major pools and the odd wager, but aren't quite at the level of full-time fantasy grinders.
The short version: Each week, you pick two golfers from each PGA Tour and DP World Tour event. Most often, this means four golfers (it can occasionally mean two, like this week, or, rarely, six). All season long, there will be three competitions running: A survivor pool broken into four parts, a points contest, and a cumulative leaderboard to par. All three will run on the engine of your weekly picks—that's all each player has to do. The big catch is that you can't pick the same player twice, which introduces an element of planning.
The anonymous friend who created this pool set it to begin today, at Kapalua, with 46 weeks of action. That said, it's easily adjustable, and 45 is a nice round number if you get it going for next weekend, or even wait for Jan. 20, the first week when the PGA and the DP World Tour are each active.
The full rules and a handy graphic with the season-long schedule, broken down into four segments, can be found here.
(Fall 2022 events on the PGA Tour will be in play, and since that information hasn't been released yet, it's marked as "TBC." A couple weeks on the DP World Tour are also pending at this point.)
That spreadsheet has all the information you need, but here's a basic synopsis of the three contests:
1. Season-long survivor pool. In order to "survive" each week, all four of your players have to make the cut, with one exception for top-ten finishes—if a player in the PGA Tour misses the cut, but your other player finishes inside the top ten, you've survived. Same for Europe, but the two tours are treated separately; if you have both PGA Tour players finish in the top ten, that doesn't save you if both Europeans miss the cut. Because the standards are high here, the survivor element is broken into four roughly equal segments, with a new chance to win each time.
2. The points contest. This one is simple, and follows this structure:
No Picks = -25 points
Both selections MC / WD in an event = -20 points
MC / WD = -5 points
Made Cut = 3 points
11th-25th bonus = 3 points
6th-10th bonus = 5 points
5th place bonus = 8 points
4th place bonus = 10 points
3rd place bonus = 12 points
2nd place bonus = 15 points
Win bonus = 20 points
There are special rules for the oddball tournaments like the WGC-Match Play and the Zurich team event, which are all available on the Google Doc linked above. Here again, there are four segments with a new chance to win when everything resets, but there's also a payout for the season-long winner.
3. The "Ultimate Leaderboard." This is just your cumulative score to par for the season for all picks. Three tournaments—Zurich, the Barracuda (Stableford scoring), and the Match Play—are excluded. The rest count, and any player who misses the cuts or withdraws receives the score of the last-place finisher of those who made the cut, minus three strokes.
We're charging $40 per entry, and the payout structure looks like this:
Segment 1 Survivor winner = 10% of total
Segment 2 Survivor winner = 10% of total
Segment 3 Survivor winner = 10% of total
Segment 4 Survivor winner = 10% of total
Segment 1 Points winner = 5% of total
Segment 2 Points winner = 5% of total
Segment 3 Points winner = 5% of total
Segment 4 Points winner = 5% of total
Overall Points 1st place = 20% of total
Overall Points 2nd place = 10% of total
Low cumulative score for the season = 10% of total
The more players you have, obviously, the more money will be at stake. As a simple rule, 20 players means that any one of the 5% prizes will win you your entry fee back, and a 10% prize will double your money.
What appeals to me about this, and why I think it's a nice design, is that it offers a few protections for someone like me who is busy with family and work and can also just be plain lazy. It's a low effort endeavor to pick a handful of players each week, and there are more chances to win if I blow it early. I will almost definitely blow it early, but one terrible segment won't ruin the whole year.
If you play, good luck to you, and assuming you're not starting this week, please direct all your positive energy to Talor Gooch. Thank you kindly.