Gambling
FanDuel's new betting options include longest-drive bets and closest-to-the-pin wagering with live par-3 feeds
The chance for PGA Tour fans to make hole-by-hole and shot-by-shot wagers on their favorite players is about to become easier—and more entertaining. FanDuel Sportsbook announced it will be offering a new slate of live-wagering options starting this week at the FedEx St. Jude Championship, the first of three playoff events to conclude the 2022-23 tour season.
The new betting options come courtesy of a partnership with IMG ARENA's Golf Events Centre, which provides enhanced data visualization experiences for multiple books. Users can view course maps and track each player's shots, with all the information they need available to place live wagers during pivotal moments of tour events.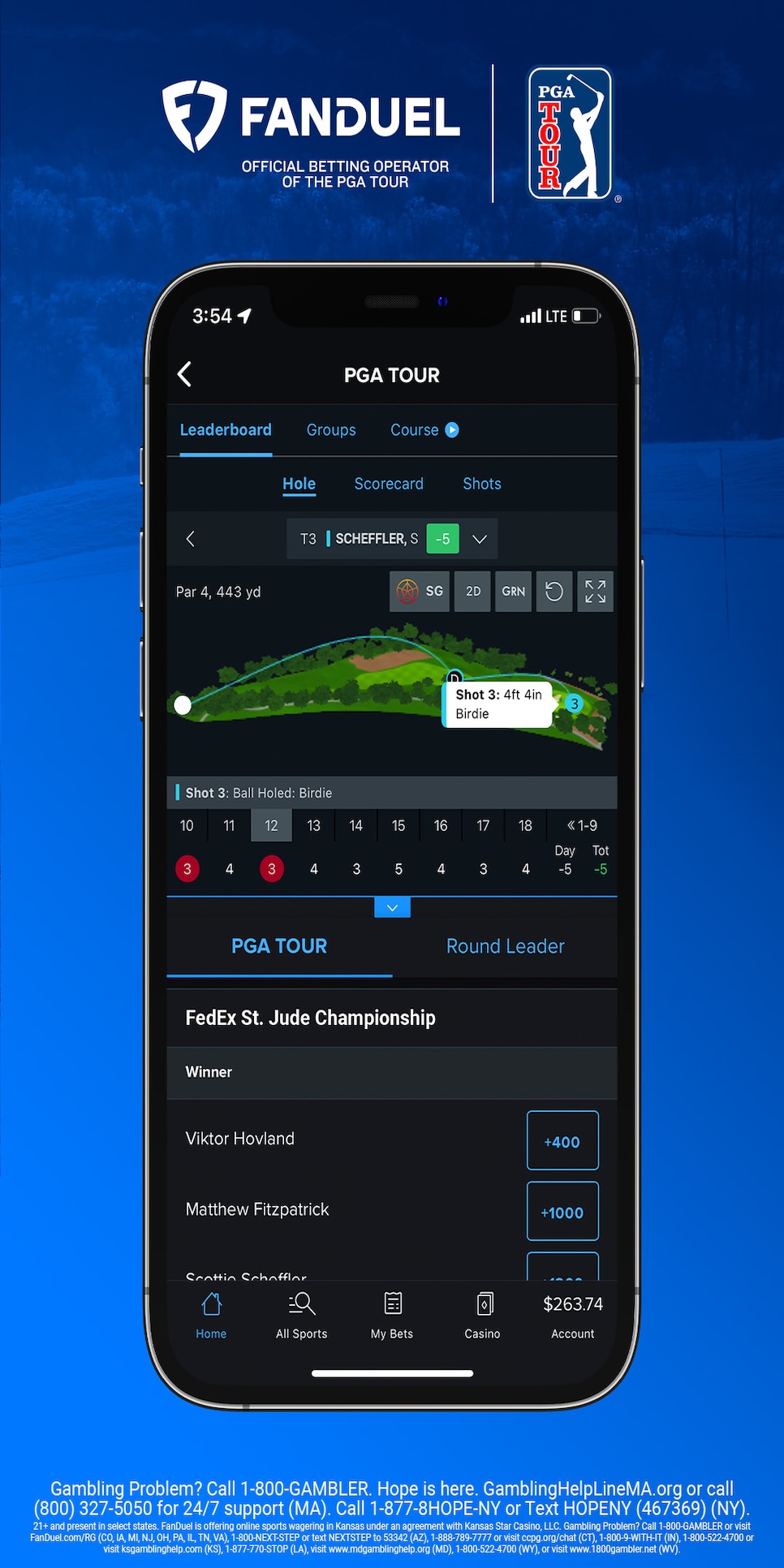 Enhancing in-play opportunities to wager on tour events falls in line with the growing demand for real-time wagering throughout sports. Scott Warfield, VP of Gaming at the PGA Tour, expects these improvements to the live betting experience to drive engagement in the sport.
"If we can find fun ways to engage people throughout an event, they're going to watch longer," Warfield said. "TV ratings will increase. They may attend more events. It's really a 'rising tide lifts all boats' opportunity for us."
FanDuel executives are seeing a big trend toward in-play betting in golf, according to John Sheeran, a Senior Commercial Director at the sportsbook. In more established betting markets such as Europe, 75 percent of the total bet share is comprised of live wagers. In the U.S, that figure sits between 30 and 35 percent, but is increasing.
Sheeran added that among the new features, there will be a live stream of all the par 3s at TPC Southwind in the FanDuel app, allowing bettors to place wagers on whose tee shot will end up closest to the hole.
"We want to create a product that will bring people back week to week, since there's rarely a week without golf," Sheeran said.
Warfield noted that with these advancements in the space, it is necessary for the tour to continue leading on the responsible gaming front as well. The tour partners with the American Gaming Association and the National Council for Problem Gambling to provide year-round messaging to educate fans on responsible betting and provide resources for those in need of help.
"We believe it's the right thing to do for our fans and the industry," Warfield said.
Fans attending the playoff event in Memphis this week can visit the FanDuel activation site to watch the coverage, learn more about the integration of IMG ARENA technology, place wagers and attempt to hole a bunker shot for the chance to win $5,000 in bonus bets.
Also, FanDuel is offering a 25-percent profit boost on all live wagers placed throughout the tournament.