The Loop
"Fake" Klay Thompson was so convincing that he got into the players' parking lot at Golden State's opener
The Golden State Warriors lost their season opener on Tuesday, but many of the team's fans still left Oracle Arena in great spirits because they met Klay Thompson. At least, they thought they met Klay Thompson.
"Fake" Klay Thompson attended the game wearing Thompson's No. 11 jersey and sporting similar facial hair to the All-Star guard. And the look was so convincing that he tricked countless fans in attendance -- and even parking security guards, who let him drive into the players' parking lot. Just not before he took a photo with them first.
But those who were fooled -- he even signed autographs -- shouldn't feel too bad. It turns out that "Fake" Klay is a master prankster named Dawson, a YouTube star with a channel called BigDawsTV, which has nearly 3 million subscribers. Here's his funny video documenting Tuesday night that has already gotten more than 1.5 million views in about a day:
"Fake"Klay scored seats right behind the Warriors bench and even got some love from Kevin Durant. Real Klay caught a look at his impersonator, but tried to play it cool. He was probably freaked out.
Anyway, kudos to Dawson for this idea and for brilliantly pulling it off -- despite not exactly having the same physique as the 6-foot-7, 215-pound Real Klay (he did show off some pretty nifty ball-handling in the parking lot, though). Check out this "I can't believe everyone is buying this!" look he gave at one point during the night: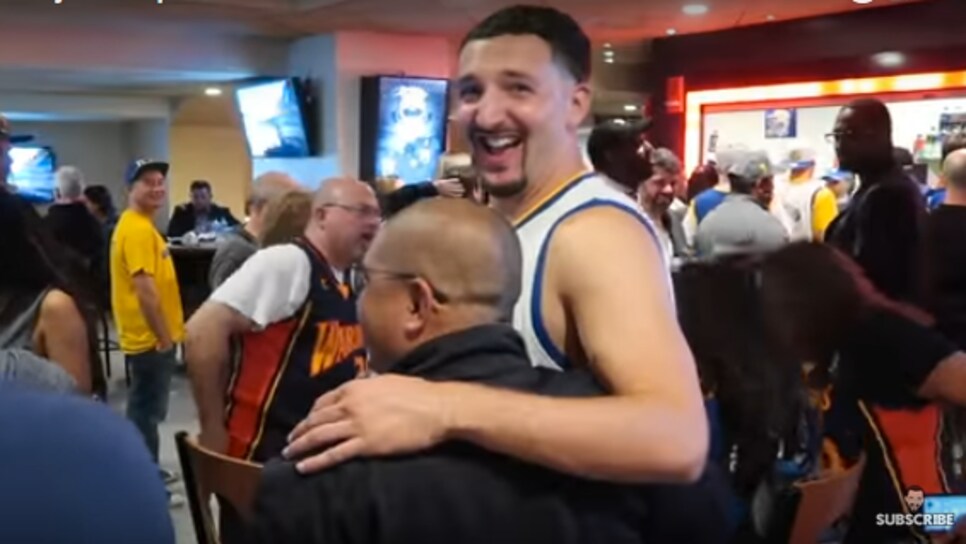 We're assuming Dawson will dress up as Fake Klay for Halloween. And we're hoping he also films the reactions of trick-or-treaters who knock on his door.