The Loop
Vegas updated the Boston Celtics' NBA title odds just minutes after Gordon Hayward's gruesome injury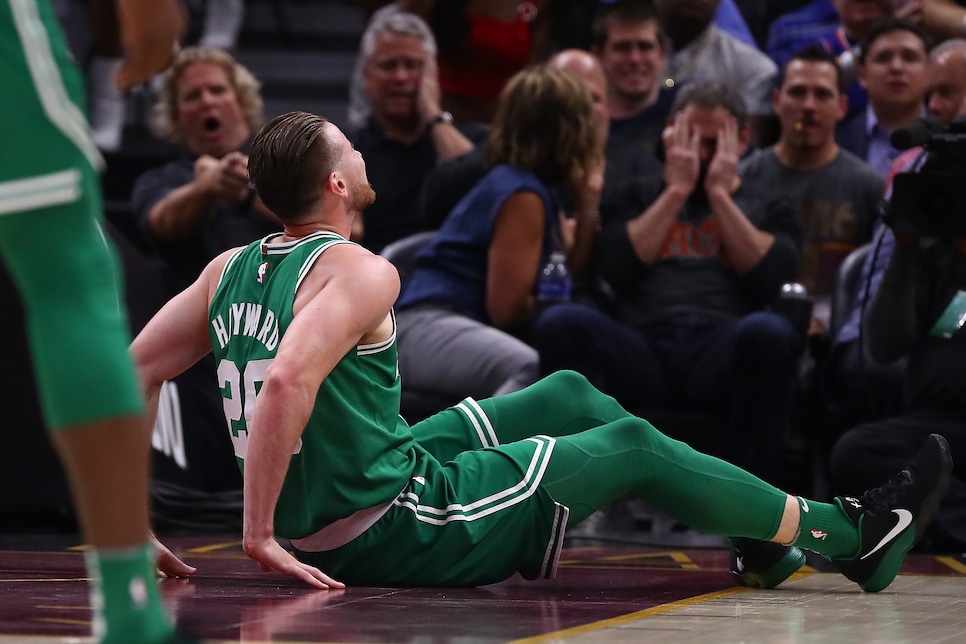 Less than six minutes into the NBA season, Gordon Hayward, the Boston Celtics' prized free agent signing over the summer, suffered one of the more gruesome injuries you'll ever see on a basketball court. And nearly just as quickly, Boston's odds of winning the NBA championship this season were officially adjusted. Vegas never sleeps.
About 20 minutes after Hayward had dislocated his ankle and fractured his tibia on Tuesday night, Westgate Las Vegas Superbook Manager Jeff Sherman tweeted out the following adjustment regarding the Celtics, who are viewed as the only real threat to stop the Cleveland Cavaliers from reaching a fourth consecutive NBA Finals:
As you can see, Hayward's injury, which will likely cause him to miss the entire season, also affected the Cavs, who won the opening night matchup between the teams, 102-99. They are now overwhelming favorites (1/3) to win the Eastern Conference, while the Celtics are still the second pick at 7/2. The defending champ Golden State Warriors remain a huge favorite (5/12) to win the title, although they lost their opener to the Houston Rockets, 122-121.
Hayward, who signed a four-year, $ 128-million deal in July, injured himself when he fell awkwardly after going up for an alley-oop. We won't show the injury itself (it's that gruesome), but the reaction from the Cavs' bench in this clip says it all:
Before the season started, Sherman also shared that the new-look Celtics had received the most NBA title bets of any team and had the third-most money wagered. Needless to say, it wasn't a good opening night for Celtics backers, Celtics fans, and of course, Gordon Hayward. We wish him a speedy recovery.