News
Evian Championship will move from its infamous September slot on the schedule to July starting in 2019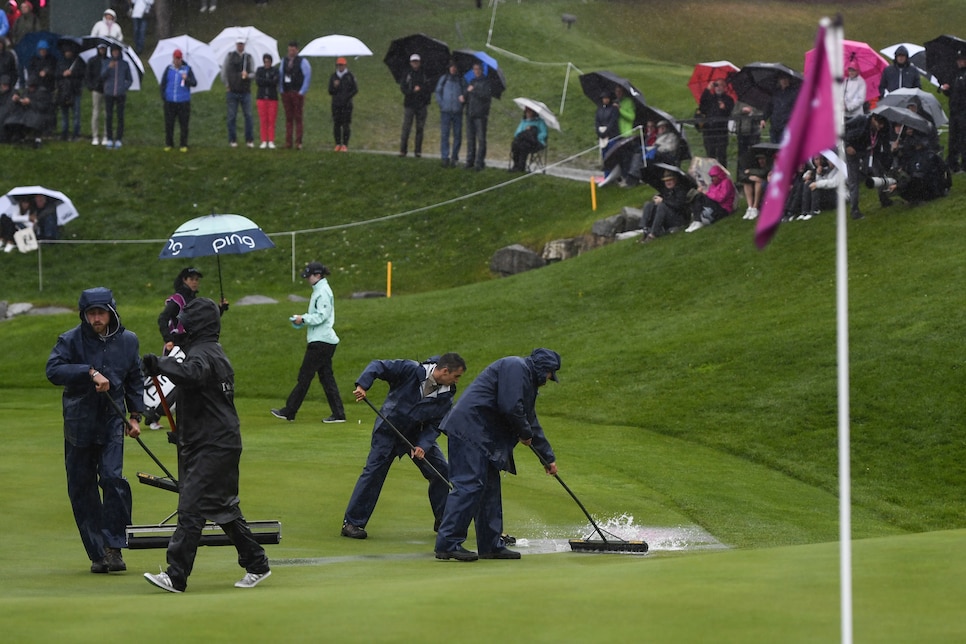 As promised, the Evian Championship will have a new place on the LPGA calendar starting in 2019.
Played at Evian Resort Golf Club in Evian-les-Bains, France, right near the Swiss border, the tournament should seemingly be an idyllic stop on the tour. Unfortunately, since it became a major in 2013, the championship has been played in September, a time of year when the weather in the area tends to be unforgiving. In 2017, rain and winds were so bad that tournament officials had to wipe out first-round scores and shorten the championship to 54 holes. On their social-media accounts, players posted concerns that conditions had become dangerous. Videos of high winds blowing signs and other objects around proved their concerns.
When the 2018 LPGA schedule was announced, the Evian remained scheduled for September. But LPGA commissioner Mike Whan, who's been saying he's been wanting to change the date, was able to remedy that. In 2019, the Evian will be played July 25-28 and will be held in the mid-summer in subsequent years. Additionally, the purse will be raised to $4.1 million, $250,000 more than the 2018 purse. The only event on the tour with a larger purse is the U.S. Women's Open.
"I'm thrilled that the Evian Championship will have a larger purse next season and that we will be competing for more money in years to come," said Anna Nordqvist, the 2017 champion. "I'm also excited for the tournament to move to the Summer in the coming years. That will make the LPGA's major season that much more exciting."
The hope is that the new spot on the schedule will yield a stronger field—Stacy Lewis had been a notable no-show in recent years, cited her disappointment at the old date—and keep the event from ever again having to be shortened to 54 holes.