News
LPGA commish Mike Whan wants a mulligan on his move of the Evian Championship to September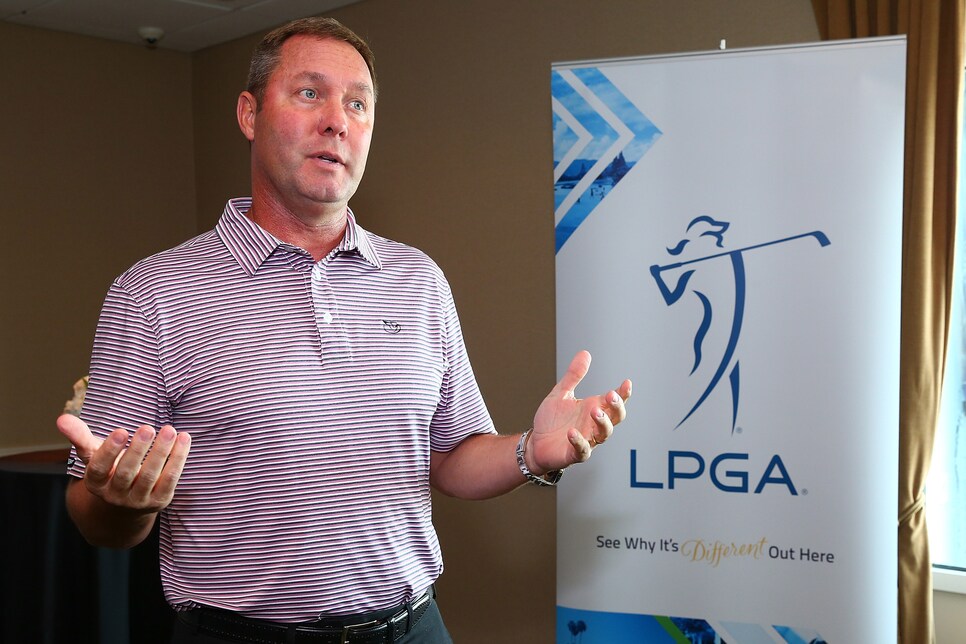 LPGA commissioner Mike Whan is expected to offer his thoughts on the state of the tour and what the 2018 schedule holds during next week's season-ending CME Globe Tour Championship in Naples, Fla. But he provided a preview of sorts on Tuesday when he appeared as a guest on Golf Channel's Morning Drive.
Among the points Whan discussed was the tour planning on playing 35 tournaments in 2018, the same number that was announced at the start of the 2017 season. Next year's slate, however, will likely include the addition of second Hawaii stop, movement of the New Zealand tournament from the fall to off the calendar in 2018 to accommodate a move back on, and to the spring, in 2019.
"We will lose a couple events and add a couple," said Whan, starting that the changes will help with the flow of the season from a traveling standpoint.
Arguably the most interesting schedule change Whan mentioned involved the potential of moving the Evian Championship out of its September slot and push it earlier into the summer to avoid the weather difficulties that have plagued the event since it became a major in 2013. This past September, rain forced the tour to cancel the first round after it had begun and shorted the event to 54 holes for the second time in five years, a decision Whan made that drew criticism from players, fans and media alike.
"We will get Evian back to a summer date," Whan said. "It may not be in '18, but certainly by '19."
Whan was forthright about the issues with the tournament, pinning the blame on himself in terms of having increased the field size too quickly and moving the event move from July to September in the first place. In September, the area experiences more rain and has significantly less daylight to play with.
"The challenges we've faced are man-made," Whan said. "And I'm the man who made them."
Additionally, Whan said that the LPGA could still be involved in an ownership stake in the Ladies European Tour some time down the road. He, along with the European Tour and the R&A proposed in September a plan to take over the struggling tour—which had five events cancelled during the 2017 season—but that LET officials were not prepared to hand over ownership of the tour. They instead wanted to try to find a solution where they continued to oversee the operations themselves.
"We agreed to reconvene in the late spring," Whan said. "We will see where things stand then."
And as for the partnership with CME and the year-long Race to the Globe competition, Whan hinted that the current structure is likely to stay for a while.
"Next week, we will have some news about the CME Globe," Whan said. "We will be racing for the Globe for a lot of years in the future."