Equipment
Evian Championship 2018: Bold Style Trends We Liked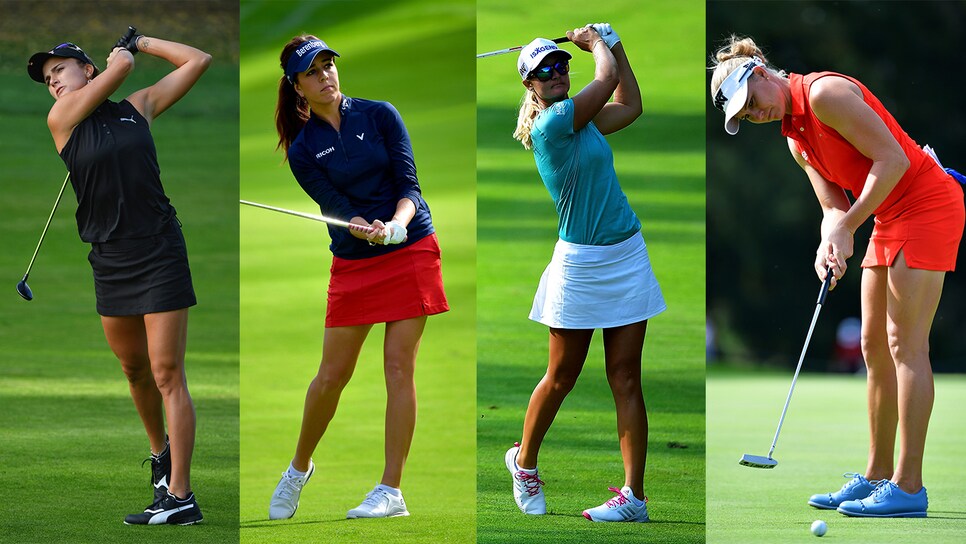 The 2018 Evian Championship went significantly smoother than it did in 2017. Last year, poor weather conditions forced tournament officials to scrap all first-round scores and restart the tournament on Friday with an abbreviated three-round setup. Weather conditions were much milder last week, which gave players the opportunity to leave behind their raingear and make strong style choices on the course. The best statements at Evian Resort and Golf Club (France) came in the form of bold solids, simple accessorizing and thoughtful color coordinating. The most discussed style choice came from Maria Torres, who co-lead the tournament after 36 holes wearing running shoes. Here are other style trends that impressed us at the Evian Championship.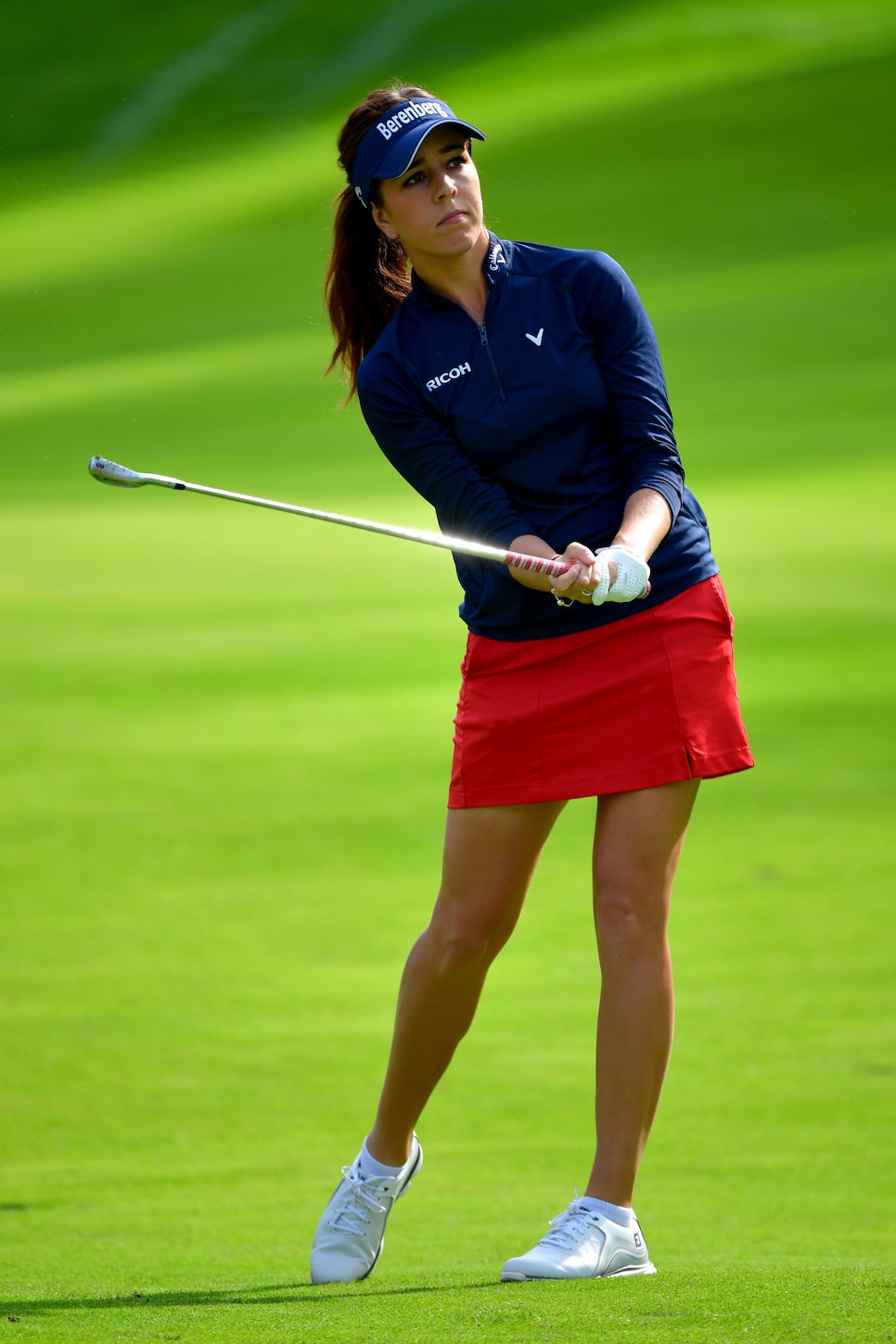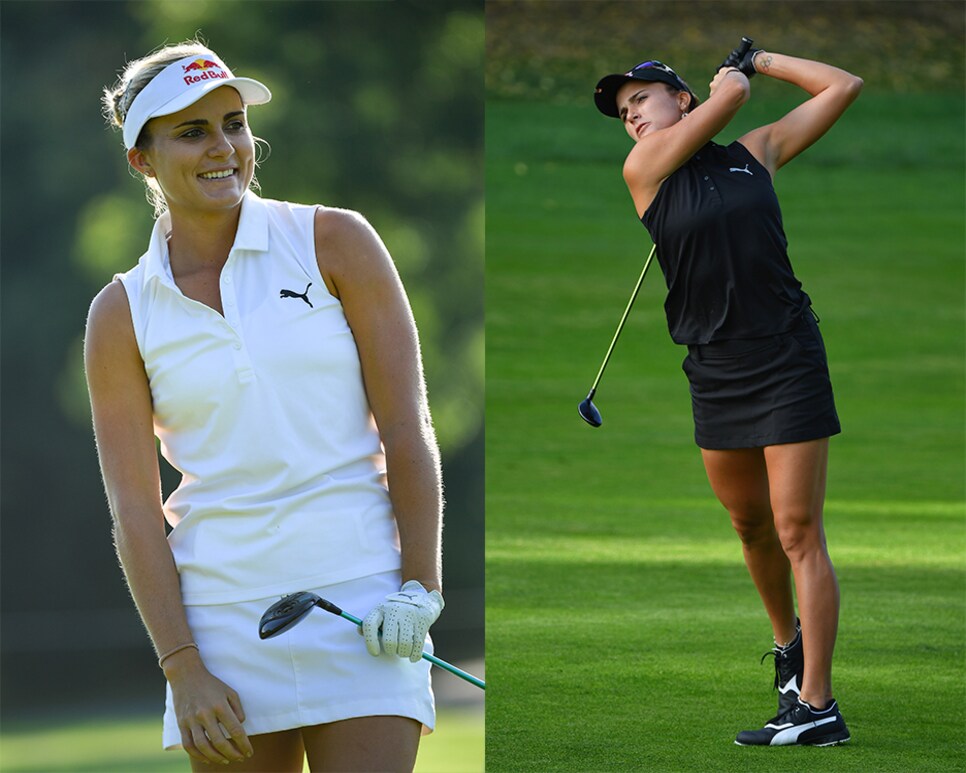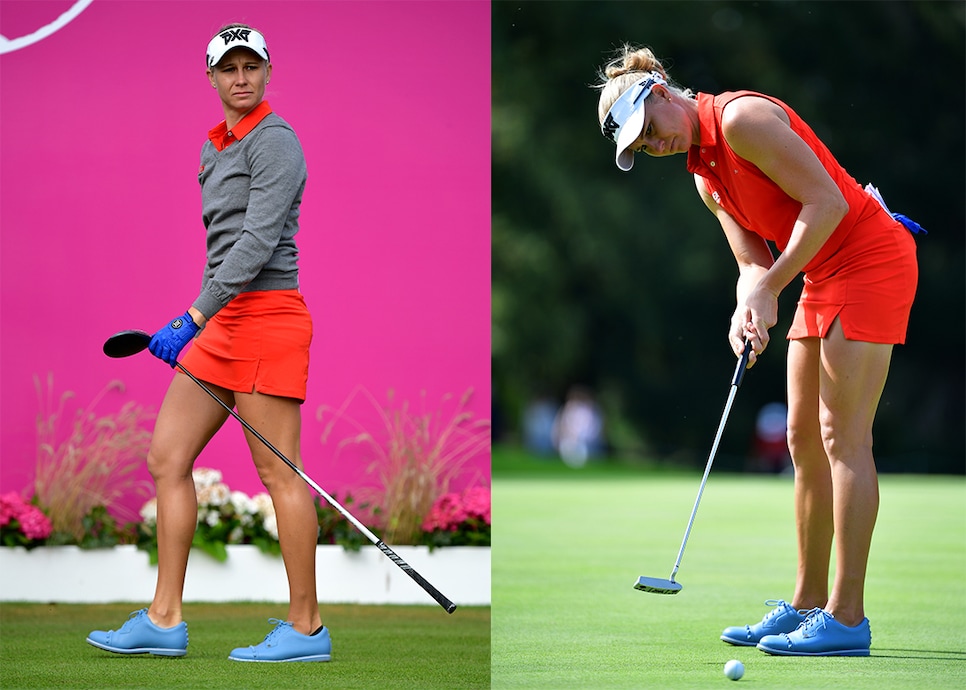 One golfer that pulled off the matching-solids-versus-colorful-accessories look was Ryann O'Toole. The Californian looked striking in a full red J.Lindeberg ensemble—a sleeveless red golf shirt over the Amelie RX Jersey Mini Skirt ($90). Since the reds matched perfectly, O'Toole was able to mix in a splash of color in her blue G/FORE Stud Cap Toe Golf Shoes ($225) and glove. Her layering was also flawless as she incorporated a grey J.Lindeberg Amaya True Merino Sweater ($150) into the look. The preppy v-neck sweater enhanced the look, as layering pieces should.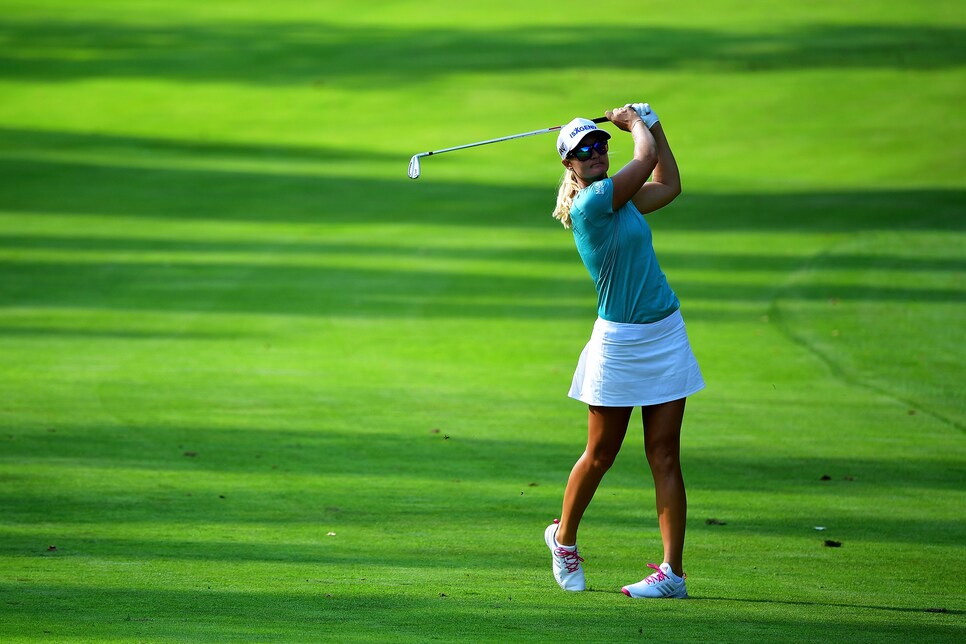 Anna Nordqvist, defending champion of the tournament, partnered with Lululemon earlier this year and the collaboration has provided ultra stylish and athletic looks for the 8-time LPGA winner. At the final major of the year, Nordqvist's scripting included colorful solids and collarless tops. Her strongest look came during the second round of the tournament in a white Lululemon skirt with pleats in the back and a green Lululemon crew neck shirt ($68). She added a touch of pink in her laces and at the toe of her Adidas Response Bounce Golf Shoes ($85) to add some extra fun to the outfit.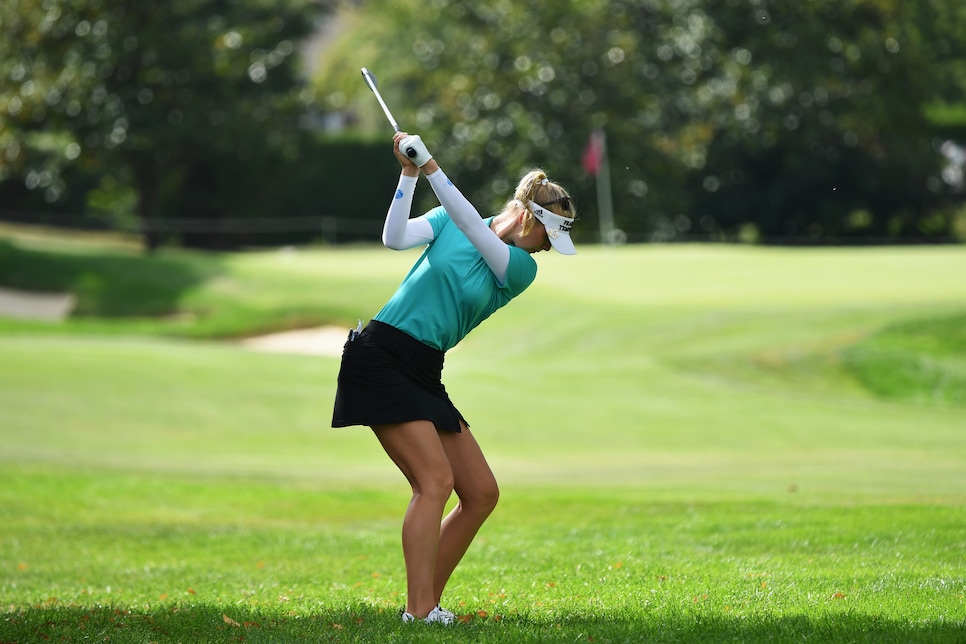 Jessica Korda's first-round ensemble followed the bold solid pattern that led the style charts at the Evian Championship. The 25-year-old paired a bright Adidas Ultimate365 golf shirt over a plain black skirt. Since sun protection is her top priority in golf apparel, Korda's white long-sleeve shirt provided the UPF needed without muddying look.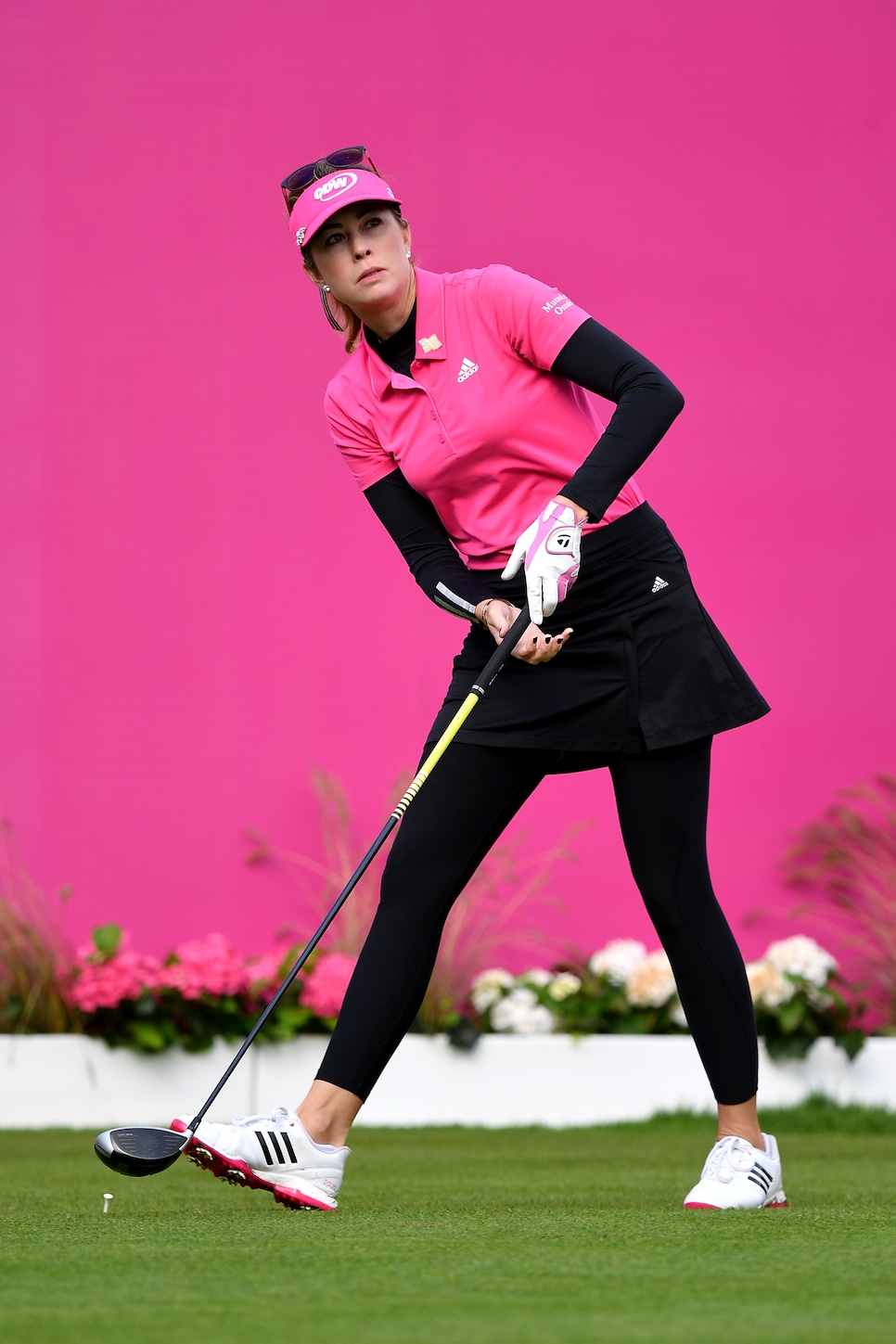 Paula Creamer also skillfully included compression layers beneath her look. Adding black leggings under her flared adidas skirt allowed the Pink Panther to still look feminine, athletic and stay warm. Keeping the underlayer look with a compression shirt under her pink Adidas Ultimate365 shirt was another great way to keep warm without detracting from the outfit. Base layers tend to look cleaner than jackets and easily blend under the ensemble. Creamer matched the soles of her Adidas Response Bounce Shoes ($85) to her pink shirt and visor, which brightened up the look from head-to-toe.