ARNOLD PALMER INVITATIONAL
Everyone has an Arnold Palmer story, and Jason Day's from 2016 left him feeling mighty fine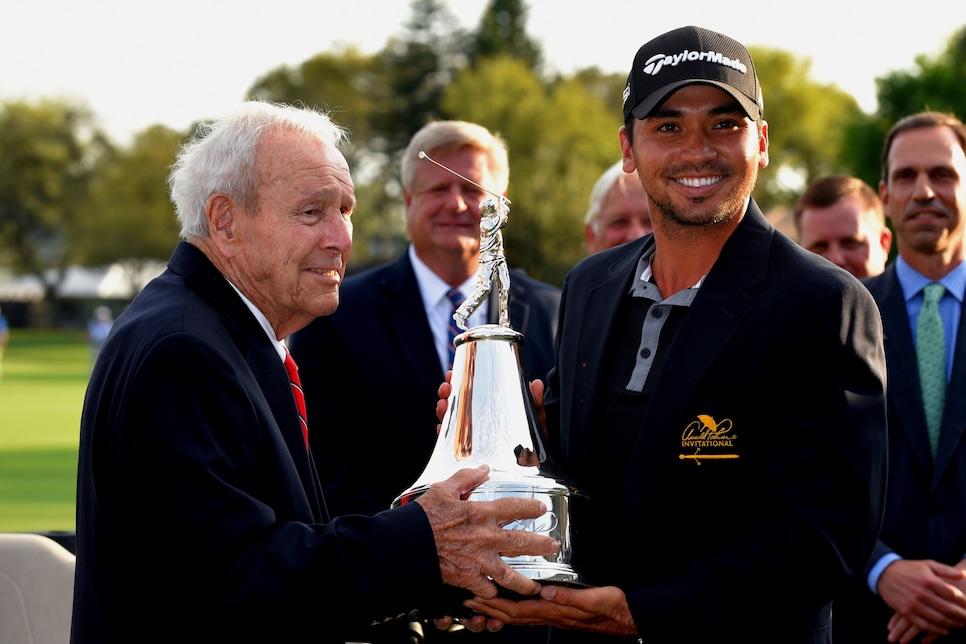 Jason Day and Arnold Palmer during the trophy celebration of the 2016 Arnold Palmer Invitational.
Icon Sports Wire
ORLANDO — Jason Day has a classic Arnold Palmer story.
Yes, many golfers do, given that the King stayed in touch with players at all levels through meetings and his famous letters. But it was Day who had the honor of winning the last Arnold Palmer Invitational before Palmer died in late 2016 at age 87.
Sunday night of the 2016 Palmer event, Day had just finished his wire-to-tire victory at Orlando's famed Bay Hill course. It was customary for champions of the invitational to do two things after winning: shake Palmer's hand off the 18th green and come into his office inside the Bay Hill clubhouse to share a celebratory beverage.
"So, this is a unique story," Day told Golf Digest after a practice round Tuesday ahead of this week's Arnold Palmer Invitational, a $20 million designated PGA Tour event. "Typically after every time you win here, you would go and have a celebratory drink with him. His drink was Ketel One vodka on the rocks. No mixer, and it was like a good dose of Ketel One."
Day, however, did not know Palmer's usual drink.
"It was like 90-degree weather, and I was hot and hadn't eaten really that much [all day]. So I go in and I say, 'I'll have whatever he has.' And Arnie poured me a drink and I thought, I better finish this now. After that, I had to go on Golf Channel and I felt pretty buzzed."
Back then, Day was in career-best form. The 2015 PGA Championship winner would go onto win the 2016 WGC-Match Play and the Players Championship to take the World No.1 spot and not relinquish it for almost a year. But the Australian star has not won on the PGA Tour since a pair of victories in 2018 and struggled with his form for several years after that. Last year, Day's world ranking even dropped as low as 164th.
Day, now 35, has begun to turn things around. He's getting comfortable with a swing rebuild under coach Chris Como, which aims to shallow the club and produce a fade in his full swing to alleviate chronic back injuries. The changes have seen Day record top-10 finishes in his past three starts leading into Bay Hill.
"It's the best [my swing and body] have felt since I was No. 1 in the world," Day said. "Over the last two years, I was just hoping to get through four days [pain free at a tournament] I'd wake up every day with pain."
Day's tie for ninth at the Genesis Invitational at Riviera two weeks ago brought Day back inside the top 50 in the world and has him eyeing a return to the Masters. Day, who finished second at Augusta in 2011 and tied fifth in 2019, only qualified for one major last year, the PGA Championship, which he did through a lifetime exemption as a winner.
"It's been consistent hard work, being really disciplined with my body off the golf course and then being really disciplined with my swing," Day said of the process.
"It's also been about the drive to get back inside the top 50, little goals I set for myself. Then get back inside the top 25 and then top 10, hopefully."