News
Even at World No. 1, Justin Thomas is underappreciated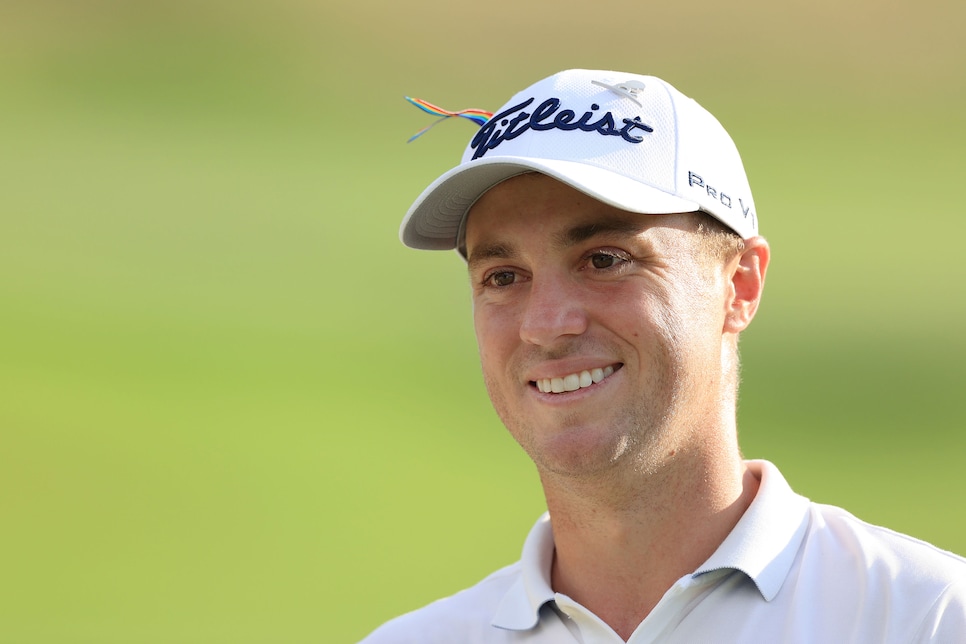 Justin Thomas was all smiles after winning the WGC-FedEx St Jude Invitational on Sunday, his 13th career PGA Tour title.
Andy Lyons
You've heard the statistic a half-dozen times by now, from the CBS broadcast to our own posts: With his win last weekend at the WGC-FedEx St. Jude Invitational, Justin Thomas became the third-youngest player to win 13 times on the PGA Tour, edging out Rory McIlroy and Phil Mickelson and behind only Jack Nicklaus and Tiger Woods. That, really, should say it all: He's the heir to the all-time greats, the current World No. 1 and someone who is very likely to finish his career as the shining star of a generation.
So why don't we—and I'm using the collective "we" here to paint with admittedly broad strokes—believe it?
First, let's be generous and acknowledge that majors play a big role in our reluctance. Thomas has "only" one, the 2017 PGA Championship, while some of his peers have won more. Rory McIlroy and Brooks Koepka each have four. They're in their 30s now, older than the 27-year-old Thomas, but Jordan Spieth has three majors, and he's a few months younger than Thomas. Plus, all of them have been No. 1 longer than Thomas, who spent just four weeks in his previous stint in the top spot.
That's all fair, insofar as judging by those metrics is fair. (You could argue that winning majors is luck-based in a way that makes it a poor comparison tool, but that's a fight you're never going to win.) I'll go one step further, however, and argue that there's something in his persona, something almost pedestrian, that devalues him in our minds. Seemingly, there's some kind of unconscious bias based on his body language, or his facial expressions, or the way he seems to drift rather than march down a fairway. Rory and Tiger share an abundance of ferocity in the heat of battle, Koepka has a steely swagger, Jon Rahm is angry, Phil appears perpetually on the edge of a manic episode, and Jordan Spieth—back when he was Jordan Spieth—had a neurotic, all-encompassing focus.
What does Thomas have? Nothing definitive, really—he's mostly just casual. Which is heroic, but also not very memorable. The natural serenity undoubtedly serves him well, but from an outside perspective, he seems to flow underneath the big moment, rather than rising to meet it with an emotion that matches the stakes. There's the famous story that Joe Montana, just before leading the San Francisco 49ers to a game-winning drive in Super Bowl XXIII against the Cincinnati Bengals, stunned his teammates when he interrupted the huddle, pointed into the stands, and said, "Hey, isn't that John Candy?" You can absolutely see Thomas having that kind of thought as he ambles down the fairway in the cauldron of impossible Sunday pressure. It's the same energy.
Which isn't to say Thomas can't get pumped up—he most definitely does. Last December, after holding a match-winning putt at the Presidents Cup, he screamed out "I love me some me!" When he buried a massive putt at the Workday Charity Open a few weeks ago, and had every right to believe he had just won the tournament, he allowed himself a loud "ahhh!" that stood out on the empty course. It's just that his baseline demeanor offers something more subtle, more muted, which makes his greatness just slightly harder to understand.
I've succumbed to this. At the Presidents Cup in Melbourne, I approached him after a press conference to tell him that he had just tied Lanny Wadkins and Sam Snead as the fastest American to reach 10 points in international team competitions—he needed just 13 matches to do it—and his presence is notable for its even quality. He cuts a slight shape, smaller and thinner than he looks on TV, and his vibe is decidedly low-key. When I conveyed that bit of trivia about Wadkins and Snead, he gave himself a moment to digest the information, raised his eyebrows just a little, and nodded in mild appreciation, as if I'd just told him that Australia was home to 900 bird species. Nothing about him, then or later, screamed "greatness" to me.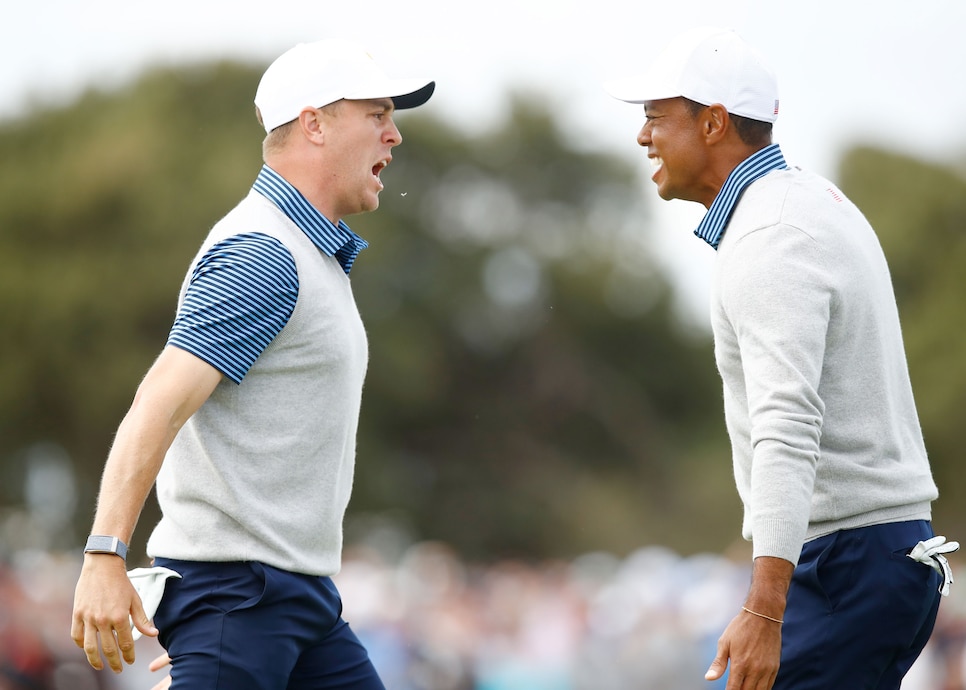 Thomas' emotions do come out on the course on occasion, as witnessed last December when playing with Tiger Woods at the Presidents Cup. But his mostly stoic demeanor impacts fans' perspection of his greatness.
Daniel Pockett
The net effect of this is that he doesn't quite get the credit he deserves when he wins, and seems stands in a harsher spotlight when he loses. After his victory in Memphis, there was a lot of focus on the very lucky shot that skipped across a bridge and through a clump of trees on the 15th hole to stave off disaster. At the Workday, he was taken to account for blowing a three-shot lead with three holes remaining en route to his playoff loss to Collin Morikawa. Even in his other 2020 win, at the Sentry Tournament of Champions, he made a mess of the 72nd hole and had to defeat Patrick Reed in extra holes.
To that, let's just say that victories in most golf tournaments come with no small amount of luck and sloppiness. When Rory McIlroy won his fourth major at Valhalla in 2014, the greatest shot of his round—the long fade to set up an eagle putt at No. 10—was an accident, and if it had gone OB left as he assumed it would off the club, he wouldn't have won. When Koepka won the PGA last year at Bethpage, he did so despite a disastrous five-over stretch in the last eight holes, and only Dustin Johnson's inability to seize the initiative saved Koepka from what would be looked at today as a clear choke. Instead, he's a four-time major winner trying to win a third straight Wanamaker Trophy at Harding Park.
The point is, we don't analyze those results with the same rigor, and it's because guys like McIlroy and Koepka look tougher; more like the warriors we think they need to be.
And yet, who's really tough? Last fall, Golf Digest's Brian Wacker put forth the case that Thomas is actually the best closer in golf. At the time, Thomas was 8-for-11 in closing out tournaments when leading or tied after 54 holes. That number is 8-for-13 now after losing the WGC-Mexico in February and the Workday, but he's added two come-from-behind wins since. As Wacker noted, those numbers compare favorably with McIlroy and Spieth, and Thomas has won more (and more consistently) than both players—and Koepka—in the past five years.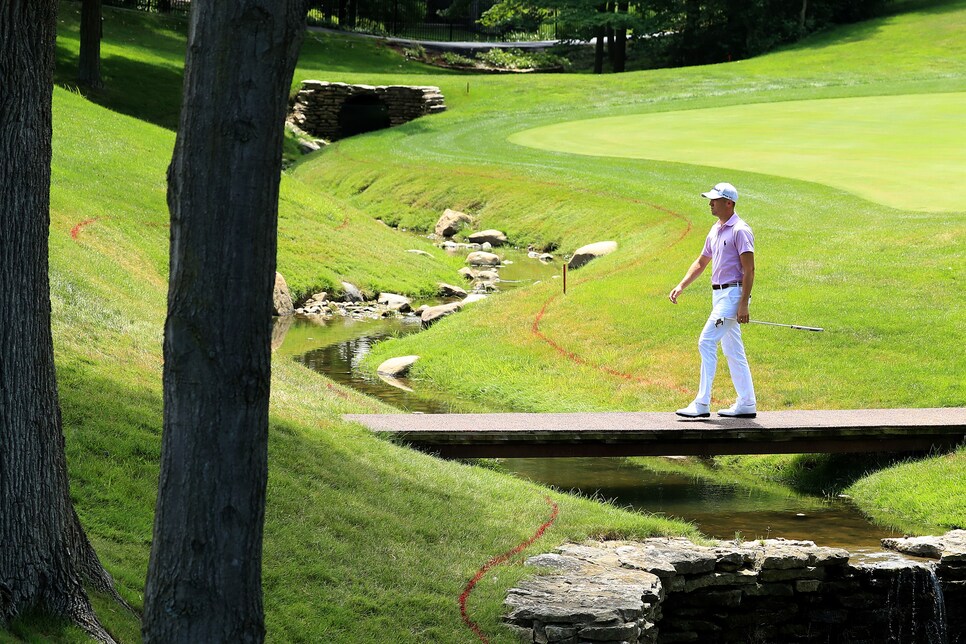 Thomas says he's better prepared to hold on to his World No. 1 spot this time than when he first held it in 2018.
Sam Greenwood
We can't forget international competition, either. Thomas was heroic in Melbourne, saving his team's bacon over the first four days and keeping the Americans close enough to pull off the Sunday comeback. Without his 3½ points in his first four matches, Team USA was dead. And it's also worth noting that Tiger valued him so highly that he chose him as partner for his pairs matches—when he wanted a win, he knew the man to pick. The Paris Ryder Cup is instructive, too. In the midst of that disaster, Thomas won four of his five matches and took down Rory McIlroy in singles while most of his teammates floundered. Thomas' career in international team events is still young, but his current 10-3-2 record is nothing short of spectacular, and he's already seized the Captain America title from Reed. (The fact that he happens to be a good teammate doesn't hurt.)
There's irony in this thesis, that the very qualities which make Thomas one of the best, grittiest golfers in the sport are also the ones that make us slow to recognize it. But ignorance can't reign forever, and if Thomas maintains his trajectory and adds to his major totals, the truth will become too clear to miss. If you're looking for the next big thing, he's right there, hiding in plain sight at the top of the list.