News
PGA Championship 2020: Why this year's winner won't deserve this (*) next to his name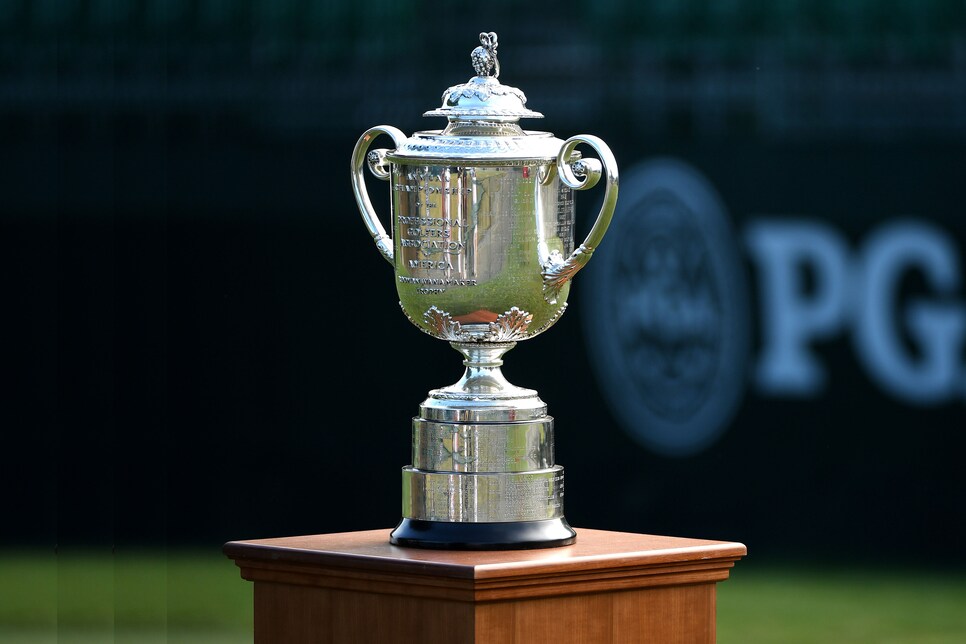 Question: If a major golf championship is played on an empty golf course, is it really a major golf championship? This is a little like asking, if a tree falls in a forest and no one is around to hear it, does it make a sound?
The player who wins this week's PGA Championship at Harding Park will be a major champion just as surely as that tree made a sound.
There are some wondering if the absence of spectators caused by the COVID-19 virus will somehow make this PGA not as major as normal majors played in front of thousands of spectators. There are others, noting the absence of players like three-time major champion Padraig Harrington, 2018 Open Championship winner Francesco Molinari and frequent major contender Lee Westwood—not to mention John Daly and Vijay Singh, past PGA champions who now compete as senior citizens—as somehow meaning that an asterisk should be placed next to the champion's name come Sunday evening.
They are wrong—completely wrong and totally wrong. How's that for redundancy?
It's there to make a point. Almost no major golf tournament is played with a perfect field—or under perfectly fair conditions.
The last time the notion of an asterisk was seriously brought up in golf was in 2008, when Tiger Woods was forced to sit out the second half of the year after winning the U.S. Open because he had to have surgery on his knee and leg. Back then, Woods was the most dominant player golf had ever seen—having won 14 majors in 11½ years. The most intriguing bet in sports in those days was Woods versus the field at the start of any major. The odds favored the field—but not by as much as you would think. Remarkably, even without Woods, the last two majors of the year were still played: the Open Championship at Royal Birkdale and the PGA Championship at Oakland Hills. Harrington won his second straight Open title and then followed up three weeks later by winning the PGA. Harrington is a lock to one day get in the World Golf Hall of Fame—should there be an asterisk on his Hall-of-Fame plaque?
There are all sort of examples of players who were one-time wonders in major championships. Orville Moody won the U.S. Open in 1969, then never won again until he reached the senior tour. Shaun Micheel won the 2003 PGA Championship at Oak Hill with one of the great finishing-hole shots, a 7-iron to 18 inches. He'd never won before, and he never won again. Todd Hamilton won the 2004 Open Championship at Royal Troon—his second PGA Tour victory that year and of his career. He never won again.
Do we put an asterisk of some kind next to their names because those events were their only moments in the high-noon sun of a major? Or do we applaud them for coming through in the sport's most intense crucible when history would prove they were punching well above their weight class?
There's an old saying in sports that you can only beat those who show up to compete against you. John McEnroe won seven major tennis championships. At Wimbledon, in 1983, he beat Chris Lewis in the final. Who? Does anyone say McEnroe won six majors and a seventh with an asterisk because he won a Wimbledon final against an unseeded player whose biggest career victory was in Munich?
Or, to put it in a different context: Should Woods' win at the 2019 Masters have an asterisk because almost every serious contender found water on the 12th hole on Sunday to clear the way for his victory?
There is no question that the conditions this week will be unique—at least until the U.S. Open is played next month at Winged Foot without spectators. Most players have experienced the "new normal" of empty golf courses, but the absence of noise with a major title at stake will be something new and, no doubt, challenging. There won't be any roars to give players adrenaline boosts or to keep momentum going. It will all have to come from within.
But someone is going to get it done. The conditions will be the same for everyone in the field and for everyone in contention on Sunday. In fact, that might be more fair than, say, two years ago at Bellerive, where the crowd was screaming every time Woods made a putt, while Brooks Koepka—the winner—was being applauded politely. Woods had what amounted to a home-crowd advantage. There will be no such thing for anyone this week.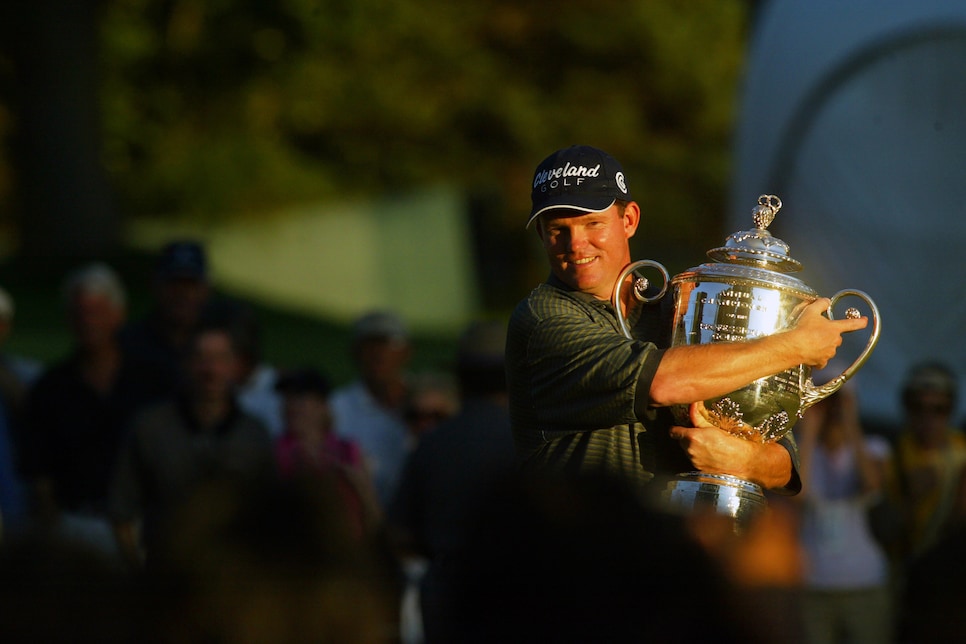 Shaun Micheel's lone career PGA Tour win was the 2003 PGA. Despite a thin resume, he still deserves the label major champion.
Darren Carroll
Consider this for a moment: Once upon a time, the most intense pressure outside of the four majors any player could face was at the finals of PGA Tour qualifying school. In the old days, before the tour decided to make its Triple-A tour (now sponsored by Korn Ferry) the major access route to playing with the big boys, dreams were realized and broken at the Q-school finals. The pressure was often unbearable—and the galleries consisted of friends, families and the occasional golf voyeur.
How intense was it? I still have marks on my arm from where Jay Haas dug his fingers into it as his son Bill lined up a six-foot birdie putt to make or miss the tour at the 2005 finals. (He made it, and Jay still apologizes to me to this day for almost putting me in the hospital.)
Winning a major championship makes you a part of golf history, gives you a permanent place in the pantheon of the game. Moody, Micheel, Hamilton—others who won once but never again on one of the four weekends that matter most—are part of golf's history. Tom Kite, who had won 16 times on tour before winning the U.S. Open in 1992 at Pebble Beach, probably summed up best what it means to win a major championship when he said after his Open victory, "Well, now I know what the first sentence of my obituary will be."
There won't be—and shouldn't be—an asterisk in that sentence because Kite won on arguably the windiest day in U.S. Open history when many in the field couldn't break 80 because the conditions were so brutal.
Patrons or no patrons (or fans in non-Augusta-speak), there won't be an asterisk next to the name of whoever wins the Masters this November, even though the golf course conditions will be very different than they are in April.
Every major championship is different. The U.S. Open and the Open Championship hold qualifiers (except for this year's U.S. Open because of the pandemic), which means a number of very good players from the PGA Tour and the European Tour don't get to play. The Masters tries to keep its field to fewer than 100, meaning many very good players don't get in. The year Kite won at Pebble Beach, he didn't meet the qualifying criteria to play at Augusta. Does that mean Fred Couples' victory should have an asterisk next to it since that year's U.S. Open champion didn't play?
There is no question that those who are absent—players and fans—will be missed this week. There's no doubt the way it feels coming down the stretch on Sunday will be very different. There is also no question that whoever is handed the Wanamaker Trophy will be a very deserving champion.
And no asterisk will be needed.