Golf & COVID-19
European Tour sticking with current schedule, scraps possibility of moving events to Florida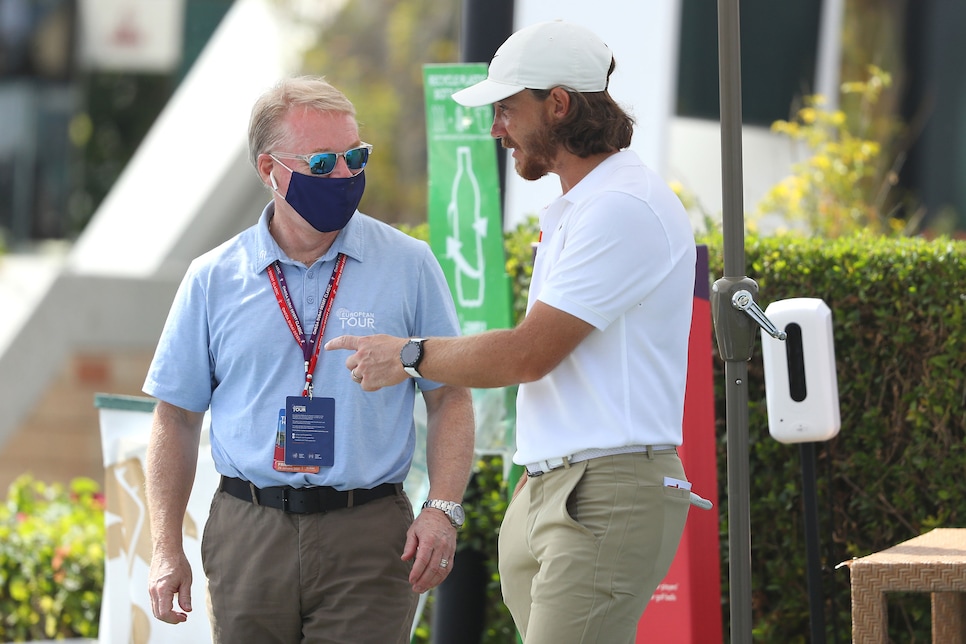 Euro Tour CEO Keith Pelley chats with Tommy Fleetwood on the 1st tee ahead the final round of the Omega Dubai Desert Classic in January.
Warren Little
One day after Rory McIlroy all but gave the game away during his press conference ahead of the Players Championship, and one week after European Tour chief executive Keith Pelley announced the possibility in a confidential memo to his players, it has been confirmed that the Old World circuit will not be making an unprecedented three-tournament visit to Florida next month.
In a confidential memo to his members sent on Wednesday, Pelley expressed thanks to the PGA Tour for an offer he described as "generous," but said that after "further evaluation" the intention is to "stay with our current schedule in Europe for April and May."
"The concept of playing in the United States was always part of our continuing investigation to explore all avenues to allow you to play a full schedule," wrote Pelley in his latest note to European Tour members, one seen by Golf Digest. "Even though we are not now going across the Atlantic, the offer to stage events in Florida was a generous one by the PGA Tour and shows the strength of the Strategic Alliance between our two tours that we announced late last year."
As things stand, this means the European Tour is sticking with a run of five events beginning in Spain, Portugal, France and England before the PGA Championship in May and another in Denmark one week later. All, however, are subject to the relaxing of travel restrictions currently in place due to the COVID-19 pandemic. By way of example, Pelley also reported to his players that although negotiations are on-going with the government officials in Kenya, European Tour members from Spain, Thailand, the Czech Republic and Switzerland will not be able to compete in this month's Magical Kenyan Open and Kenya Savannah Classic.
"Although this only involves a small number of people and the tournaments will definitely go ahead, rest assured we are working with the Kenyan authorities right now to gain exemptions for the players and caddies affected to be allowed access into the country," Pelley said. "We are also working non-stop with the governments in the countries we are due to be playing, in an attempt to clarify the ever-changing situation in terms of international travel restrictions as has been illustrated by Kenya. I am hopeful of giving you an update on our schedule plans for these months later this week."