News
European Tour Chief Keith Pelley Isn't Afraid To Try (Almost) Anything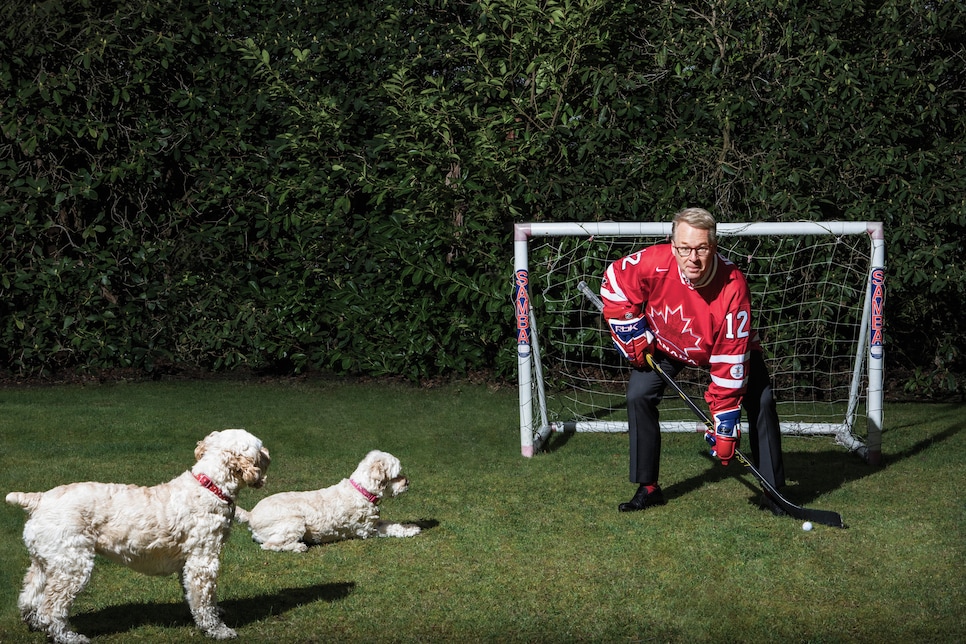 Photo By: Photos by Perou
WHEN I WAS IN HIGH SCHOOL IN TORONTO, my best pal and I started a DJ business. We called it 4D Sound, and our slogan was, "Music that takes you one dimension beyond." We started with albums, went to tapes and, eventually, CDs. I'm certain I've been to more wedding receptions and heard more renditions of the "Chicken Dance" and "The Hokey Pokey" than anybody in golf. As we were considering adding music to tour events recently, I thought back on those days. It occurred to me that the "Chicken Dance" was a metaphor for golf. If we don't continue to modernize, we're going to be left standing in the same place flapping our arms.
HOW WOULD YOU LIKE TO SEE A PORTION OF A TOURNAMENT—or a single, exclusive event—played within the confines of three holes, enclosed by grandstands, using different tee boxes? What if there were a match in which two players could use only a 1-iron and a wedge?
Mixed-gender teams, age-group showdowns, more nation versus nation? These are the type of things we have an open mind on. Faster, different, surprising and dramatic is where golf needs to head. The 72-hole stroke-play tournament will always be at the core of any tour. But the future growth of the sport is going to demand some interesting departures. Everything is on the table.
MORE ON THE MUSIC IDEA: At the BMW PGA, we're playing music—players' choice—on the range. Music is going to become commonplace over time, and we want to lead. What sport doesn't have music, at least during intermissions? We're on the verge of taking it further—players choosing their theme song to be played when they enter the first tee. You might start seeing and hearing two announcers, one to give a thrilling and informative introduction, then a separate one to give the more traditional announcement.
PRO GOLF IS ENTERTAINMENT. The idea is to be entertaining and fashionable, to make watching irresistible and our tournaments the place to be. What drives all entertainment is creativity. You need a working culture in which our employees can unleash their imaginations without restraint. We want daring ideas and want them put into action. We want our people to reek with positivity and know they have permission to fail. I want them to know that my first answer to their ideas will tend to be "yes" rather than "no" or "maybe." Some awesome ideas—or at least kernels of ideas—have come from this already.
BUT HERE'S THE DEAL: We will never mock the game, cheapen it or diminish its integrity. I think we know where the out-of-bounds stakes are. A 1-iron from 120 yards, yes; to a clown's mouth, no. But I think the transition to a younger generation demands that we tiptoe nearer the subjective lines. Not just in how the golf is played, but how it's presented at the highest levels. The game's got to be faster, even more exuberant and be more a reflection of the young people we're praying will fall in love with this wonderful game.
WHEN I WAS 12 AND JUST STARTING OUT IN GOLF, my parents dropped me off at Weston Golf and Country Club, the course in Toronto where Arnold Palmer won his first PGA Tour event. I walked over to the 10th tee and asked two guys if I could join them. They said, "Sure." One of them turned out to be Moe Norman. I had no idea who he was. Two things about that nine-hole round: One, Moe never missed a shot. Two, he never stopped chattering. It was an unending stream of encouragement and positivity. I'd blow it into the trees and he'd say, "You can make birdie from there. You can make birdie." I'd thin one, and he'd say, "Not bad. ... Good swing. ... Not bad." The only time he frowned was when I'd pick my ball out of the hole after making a bogey. "Birdies good; bogeys bad," he'd mutter, mostly to himself. I actually played very well that round. Moe's messages lifted me up. It was an early lesson in the importance of stressing to people the things they're doing right.
THERE ARE CERTAIN THINGS I'D CONFESS TO BEING ENVIOUS OF THE PGA TOUR. The size of its market—Americans comprise 60 percent of all golfers worldwide—is staggering. They have many choices for venues based on climate, and their tax-exempt status is beneficial. Combine that with corporate America's support and the multiplicity of TV networks that results in very high rights fees, and you have a solid base to work from. Less obvious, but very real, is the place professional sport occupies in the American psyche. The first thing the average American does when moving is to buy a cable-TV package that includes a ton of sports—golf included. It doesn't work that way in the rest of the world. But we have some advantages on the European Tour in the fact we are not the same old, same old every week. We play in iconic cities with magnificent cultures and give our members an opportunity to become global players and experience all the world has to offer.
I HAVE A LOT OF RESPECT FOR [PGA Tour commissioner] Jay Monahan. He's even newer in his position than I am in mine—I joined the European Tour in August 2015—so we haven't had a lot of discussions outside the board room. We haven't played golf together, though our handicaps are both in the 4 range, but with my short game I'd ask for a couple of shots a side. Maybe we can get together and play hockey in the morning—I know he admires Bobby Orr, which is a good sign—and then play golf in the afternoon. A day like that could go a long way toward making us the best of frenemies.
'We want our people to reek with positivity and know they have permission to fail.'
IT WOULD BE IRRATIONAL FOR ME TO VIEW THE EUROPEAN TOUR as being in direct competition with the PGA Tour. If you want to compare us in terms of resources and bottom lines, then perhaps a good analogy is Pepsi versus Coke. But I relish us as a slightly different brand, very much global and expanding. Like Pepsi, we're quite successful, and we lead in many markets outside the U.S. We're in a position where we're perhaps less protective and have all kinds of room to explore, innovate and lead.
THERE'S A BELIEF THAT IF THE RIGHT TRANSCENDENT PLAYER CAME ALONG—Seve Ballesteros is the example I hear most—that it singlehandedly would solve a lot of challenges we face. It's a much different time than when Seve was playing, and golf in Europe has evolved a great deal, but I think Rory McIlroy has a similar gravitas. He's a generational player who transcends the sport. I can tell you this: In every initial contact I've had with promoters, one of the first questions they ask is, "Is Rory McIlroy playing?"
IF YOU HAD SEEN RORY PLAYING IN SOUTH AFRICA EARLIER THIS YEAR, you'd realize what I mean. As he came up 18 in the final round, the children in the gallery began chanting, "Rory ... Rory." They burst through the ropes and swarmed him like he was some kind of deity. Nothing could stop them; they were there to embrace their hero. You rarely see that kind of adulation in any sport. Somebody said they hadn't seen anything like it since Muhammad Ali fought George Foreman in Zaire. Rory is the only contemporary player who has that kind of magic.
AS A CANADIAN LIVING IN ENGLAND, I choose to look at Donald Trump purely from a golf-business perspective. What I see is a guy who has 19 golf properties and is in the process of adding more. There's a course in Dubai with Tiger Woods, one in Indonesia with Ernie Els and another proposed in Bali. Trump has re-energized Turnberry. I look at him less as president of the United States and more as someone who has supported our game.
TO THE MODERN ATHLETE IN EVERY PRO SPORT, the most important component is money. It's just a fact and is the primary reason some European players have chosen to go to America. But we also know that once purses reach a certain threshold, other factors start to grow in importance. There are ways the European Tour can make up ground. The strength of the field impresses the best players to no end because it means better competition and more World Ranking points. The quality of the golf course is huge. You'd be surprised what a deal-breaker a poorly conditioned course or a bad layout can be. Next, is the venue near the player's home? Finally, what are the amenities like? Are the hotels and food good? Are there things for their families to do? The prize money in Europe is considerable and will get larger, but we will work harder to elevate these other factors so they match the siren call of the purse size.
IN MALAYSIA IN JANUARY—a murderously hot time of year there—Darren Clarke approached us early in the week, his clothes soaked through with perspiration. He wanted to know if the policy forbidding shorts could be addressed. "We're dying out there," he pleaded. We changed the policy immediately to allow shorts in all practice and pro-am rounds. Nobody has protested. A change some thought would signal the end of civilization hasn't done anything except make players happier. It wasn't desperation on our part, it was common sense. I see the PGA Championship in America is now going to allow players to wear shorts in practice rounds, too, so maybe it wasn't that bad of an idea.
WE'RE A PLAYERS' TOUR. We consult with players like Henrik Stenson before we lock down dates for the Nordea Masters in Sweden. When we go to Ireland or Spain, we want to make sure that Rory's or Sergio's foundations are recognized and that we channel our charitable giving in their direction. We want to showcase a player's sponsors and brands, strengthen those relationships so they're better compensated on the back end. Our philosophy is to spare nothing in demonstrating to each player that he's a special commodity—and reinforce our players-first philosophy.
EVERY KID IN CANADA GROWS UP WITH SKATES ON. Hockey is part of your life. I was one of millions of 8-year-olds who dreamed of one day getting to the NHL. About halfway through youth hockey in the Greater Toronto Hockey League, I stopped growing. I didn't have the size or the greatest skills. So I became extra aggressive—"chippy," it's called—and used my stick for things other than controlling the puck. I racked up misconducts and minors and spent my fair share of time in the penalty box. The scrappiness didn't make up for my lack of skill, and obviously I didn't make it to the NHL, but I did play at University at Ryerson, and the education I got there opened all kinds of doors for me. I'm not recommending to young people that they do things that get them sent to life's penalty box. But a little tenacity and chippiness can take a person a long way.
BUT I'M NO TOUGH GUY. When I called home to London last night, my 14-year-old son, Jason, told me that a raven had come down our chimney and had raised all kinds of commotion. "Did you get rid of it?" I asked. "No way," he said. "That thing scared me. I let Mom take care of it." Just as I was about to scold him for not being a little more brave and rescuing his mother, it struck me that when I was 14, I would have done the same thing.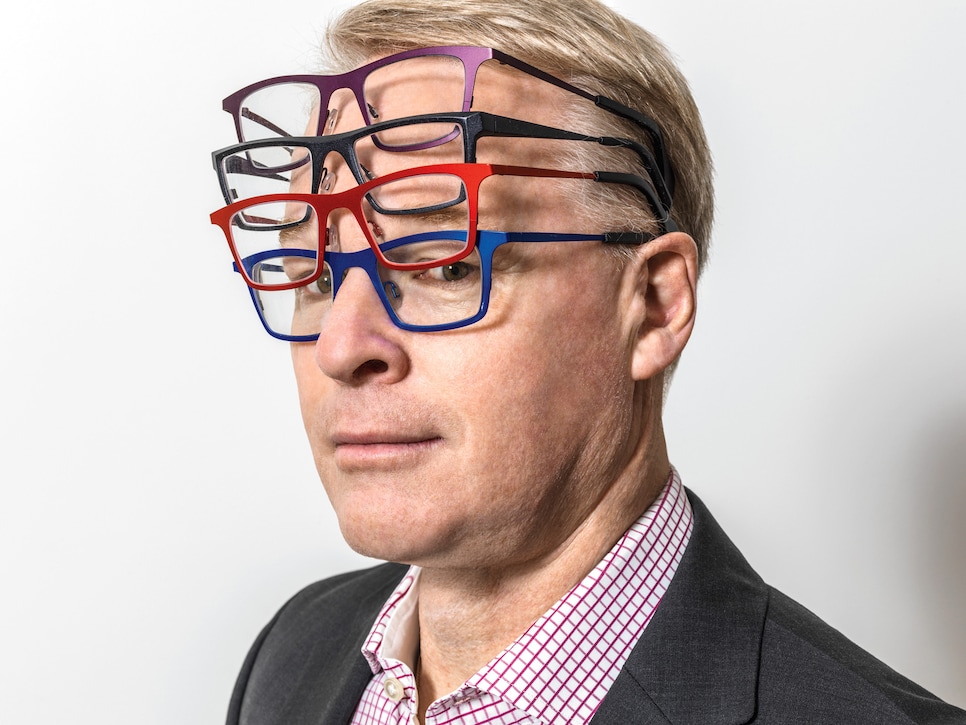 A LAST EXAMPLE OF INNOVATION IS THE INTRODUCTION OF A SHOT CLOCK. We did it at the GolfSixes. It was a formidable challenge for us. When did we start the clock? How long did we allow? But we're trying to distinguish ourselves by emphasizing pace of play. We've issued many fines over the years—we keep the details in-house—but it's an ongoing concern. We all know that young amateur golfers copy tour players, and we want to give them something good to emulate.
COULD THERE BE A TRUE WORLD TOUR? I'm asked that a lot, the idea of a tour distinct from the European Tour, PGA Tour and other tours. One that would possibly be conducted jointly. We've studied it in a limited way. Conceptually, the idea holds water. For now, I pride the European Tour as being a global tour already. We play in 26 countries on several continents. It could happen in the future, but it's a fairly long way out.
THE MEDIA IS AS INCREDIBLY POWERFUL AS EVER, though in a far different way than it was even five years ago. The traditional platforms of TV, newspapers, radio and websites might actually have been surpassed by social media. There came a point where provocateurs came to gain traction and credibility. Through the layers upon layers of nonsense on social media—there's good stuff but mountains of nonsense—opinions are formed and perceptions altered. It's effective, it extends deep, and it's massively influential. It can make a brand and come close to breaking one. Social media alone is a shaky way to grasp what's really happening, but it's the most prominent platform on the media landscape.
WHEN I WAS WORKING IN TELEVISION for The Sports Network in Canada, there was an instance where we were negotiating our deal with the Canadian Football League. A game between Hamilton and Saskatchewan had just drawn a historically low TV rating. I said, "Why don't we try something different? How about we stage a game on Fridays, and call it 'Friday Night Football'?" Our head of programming said, "Keith, we've been broadcasting games on Friday nights for the past five years. Nothing has changed." I said, "Yes, but if we give it a name and tell people it's important, maybe they'll watch." So we started calling the broadcasts "Friday Night Football." In the first year, ratings went up 262 percent. That's the power good marketing can have on a product.
I'VE BEEN IN SPORTS FOR MORE THAN 30 YEARS and thought I'd seen all the great events: Super Bowls, NBA Finals, World Cups, even Holyfield versus Tyson. But nothing aroused the businessman in me like what I saw at the 2016 Ryder Cup. We were walking around on Wednesday amid the face-painters, people draped in European flags and Uncle Sam getups. I stopped and said to my wife, Joan, "Honey, there are 45,000 people here, and the competition doesn't start for two more days." I was dumbfounded but immediately knew this was much bigger than I had anticipated. If there's a single advantage we have over the PGA Tour, it's that we are the managing partner of Ryder Cup Europe, working alongside the PGA of America in the U.S., not the PGA Tour. The Ryder Cup is financially important to our overall business, but that's not what I saw at that moment.
'A change [allowing shorts] some thought would signal the end of civilization hasn't done anything except make players happier.'
WHAT I SAW WAS TRIBALISM, the only pure example of it in pro golf. At that Ryder Cup, I studied the fans closely. There were three types. There was the diehard golf fan, who would never even dream of missing a Ryder Cup. There were the fashionistas, people there mainly to be seen and be part of something culturally significant. And then there were the bandwagon jumpers who were tribalists, fans who don't really care about golf but are intensely interested in that one week. This was the group that fascinated me the most. How could we put tribalism to work for the European Tour? It was the impetus for the GolfSixes event I mentioned earlier. It consisted of two-man teams from 16 countries, with a different scoring system in the group stages preceding quarterfinals, semifinals and a final. Amphitheaters were set up around the greens. Players visited fan zones between matches to talk with their followers. It was golf, but not as you know it.
THE TYPICAL RYDER CUP FAN OUTSIDE OF EUROPE and America tends to root for the Europeans. All things being equal, people will pull for the underdog. America is so prosperous and powerful, a leader in so many ways, that even when the Europeans field a better team on paper, they're considered an underdog. I'll admit that, as a Canadian, I've rooted for America only once in international competition, when the U.S. beat the Soviets in hockey at the 1980 Olympics. I love our cousins to the south, but the Queen's image is on our money.
I OWN 11 PAIRS OF EYEGLASSES. It's an indulgence that has gotten out of hand. Just how much I'll find out next month when I have to buy 11 new pairs following my last eye test. But I will definitely be keeping a blue pair—my 87-year-old mother got a kick out of somebody on social media comparing me to Elton John when I wore them!