The Loop
ESPN is getting a little sabermetric crazy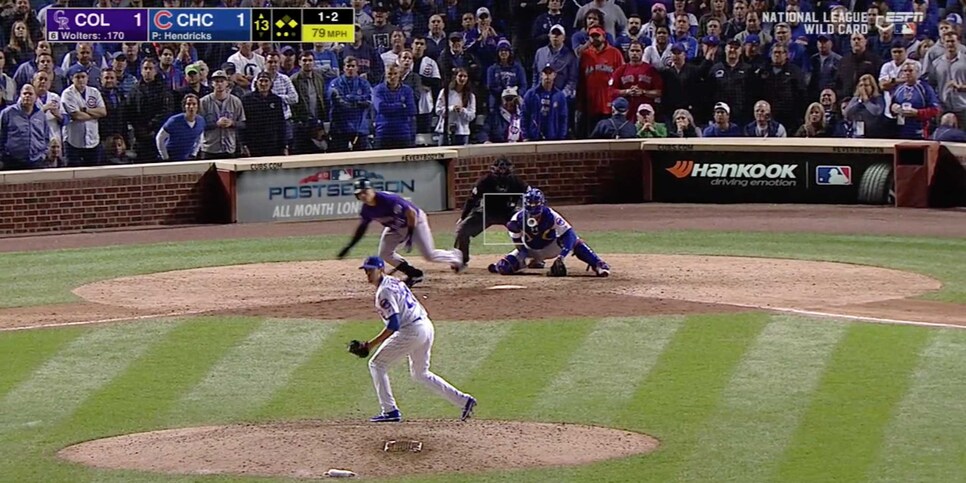 What are ESPN's baseball announcers talking about? What do their words mean? Who designed this bottomless portfolio of popsicle-colored Super NES graphics? What or where is a Hard Hit Rate? Why do their stat charts take up a third of my screen real estate? If Charlie Blackmon is -8 outs above average, is that good or bad for Charlie Blackmon? How does an allegedly helpful stat use a triple negative? USE YOUR WORDS, PEOPLE, you sound like you've just arrived from Planet Boring and learned the speak the language entirely by going through Theo Epstein's unshredded recycling.
To address your question, yes, I am 74 years old, I like my black socks two feet long, my playlists all Billy Joel, my discounts senior and my baseball announcers to use fully formed English nouns like the ones that appear in my Wednesday crosswords (because Thursday's are too hard.) The amount of time these trig-obsessed dimwits on the Worldwide Leader in Putting the Percent Symbol On TV spent on Tuesday's NL Wild Card game in Chicago talking about WAR and Hard Hit Rate and and Outs Above Average was exceeded only by the number of times they closed by saying, "But really baseball just comes down to emotion and intangibles. For instance, last night a third-string catcher with a .170 average collected the game-winning RBI against Kyle Hendricks. WHERE IS YOUR SABERMETRICS GOD NOW?"
Here are the Cubs outfielders surrounded by enormous red Topgolf crop circles, the kind of thing you'd expect to see if you were about to control them with a joystick. Here's a gradient Xbox graphic showing something about Blackmon's lead off of first base, I looked away to write this sentence and missed the explanation. Here's a chart showing where Kris Bryant is likely to hit the baseball, five independent figures required to convey the following information: It's to the left side, because he's right-handed.
It's not just the stats. There's an annoying little rectangle over the strike zone. A 3-D graphic dominates the top left of the screen, a dodecahedron through which ESPN can fire virtual baseballs. Actually this is not a joke: The crawl at the bottom just displayed a list of the AL pitchers with lowest ERAs and I nearly passed out from understanding.
Information is fine, but ESPN is clearly out to shove so many stats down our throats that we vomit them back up with an 120 mph exit velocity, part of some implicit strategy to rewrite the scope of baseball statistics. Managers and GMs get paid to parse sabermetrics and that's great, it's working. That's their job; my job is to watch baseball on Tuesday night in my house and not have to think for one hot second about apexes. Average and ERA are for your grampappy watching for the W flag on his L ride back home from lighting the lamps on Clark Street; you, the Feisty Millennial, must know when the outfielder has overplayed the average, the only feasible way to drain the last droplets of joy from a routine fly ball.
Sabermetrics are nice and entertainment and they brought a World Series to Chicago, and for that I would like to buy them waffles. It's interesting to know how fast Anthony Rizzo's HRs (at least the ones he hit before the Cubs' latest inexplicable offensive drought) leave the yard, in the sense that I like to know where Boba Fett is from, or that Bruce dropped a verse from the final version of "Glory Days," which is to say it's exceedingly extraneous data that's nice to have and means very little. Given the choice, I'll watch Thor whale on some alien demon-dogs first and worry about what planet he's from later, much later, if at all, on my own time. Numbers are good, guys, words are better.