News
Ernie Gonzalez dies at 59; cherished his lone victory on PGA Tour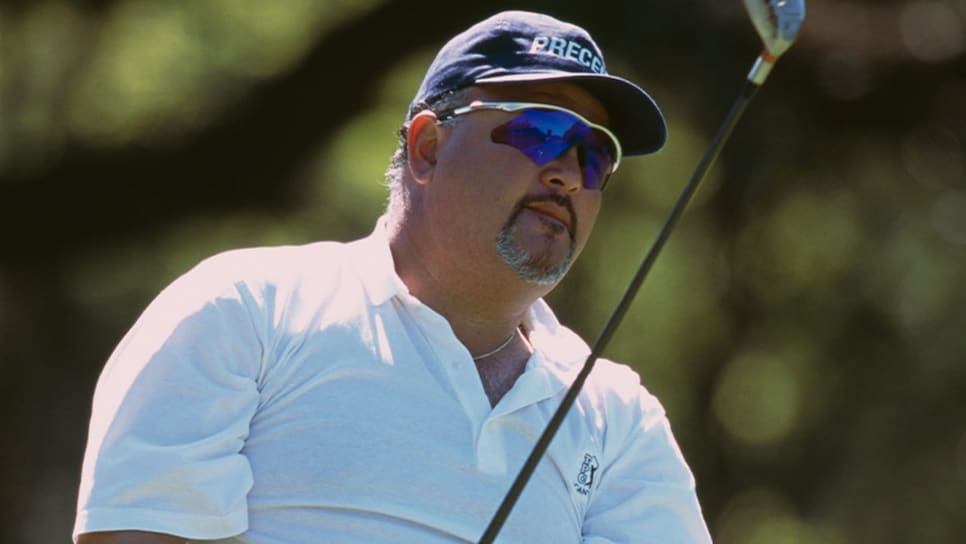 His PGA Tour ride long since over at the age of 48, Ernie Gonzalez was working graveyard shifts in a Las Vegas beverage distributorship when he Monday qualified for the 2009 Justin Timberlake Shriners Hospitals for Children Open.
Incredibly, just getting in wasn't good enough. In the second round, Gonzalez fired an eight-under-par 63 to make his first cut in a Tour event in eight years. Those flashes of brilliance didn't come often enough to forge much of a sustained livelihood for the San Diego native of Mexican and Puerto Rican descent, but Gonzalez always portrayed a certain peace with that.
Gonzalez died at the age of 59 on Friday in a Chicago hospital due to the effects of Alzheimer's disease, according to the PGA Tour.
"I am a Christian," Gonzalez told the Las Vegas Review-Journal after that strong showing in 2009. "I am a believer. Whatever the plan God has for me, that's what will happen."
The path included a single PGA Tour victory, in the 1986 Pensacola Open that was shortened to 36 holes because the course was flooded by heavy rain, with Gonzalez leading Joey Sindelar by one shot. Gonzalez opened the tournament with a 63 that he called the best round of his life.
At the time, Gonzalez became only the third left-hander to win on Tour, following Bob Charles and Sam Adams.
Of the victory, Gonzalez said, "It's a win, and I'm happy. Realistically, my goal was to keep my card. Getting the win is a surprise and a big break."
Born in San Diego in 1961 and raised in the same suburb, Chula, Vista, as World Golf Hall of Famer Billy Casper, Gonzalez stayed home to play college golf at United States International University. From there, he turned professional in 1983 and reached the PGA Tour in 1985. A placing of 171st on the money list sent him back to Q School, where Gonzalez regained his status for '86, leading to his lone victory.
The year would mark his career highlights, which also included a tie for third, behind winner Ben Crenshaw, in the weather-shortened, 54-hole Vantage Championship in San Antonio. The $48,000 payday for third was $7,500 more than he earned for the Pensacola win because the purse was reduced due to the lost rounds.
Gonzalez's last season on the PGA Tour was 1988, and his appearances in the Masters, U.S. Open and PGA Championship in 1987 all resulted in missed cuts. He played sporadically on the circuit now known as the Korn Ferry Tour and made only one start in PGA Tour Champions.
The story most often associated with Gonzalez wasn't about his own golf. In San Diego, he developed a friendship with another lefty, Phil Mickelson, and the younger player has enjoyed recounting through the years that it was Gonzalez who arranged for a then-17-year-old Mickelson to play a Tour practice round at Torrey Pines with his idol, Seve Ballesteros. It was one of the most impactful moments in Mickelson's formative years.
"He was everything I hoped he would be and more," Mickelson tweeted about Ballesteros this past April. "Thank you for never letting me down and for the friendship we developed. Admiration and respect forever."
Mickelson likely would say the same about Gonzalez.