The Grind
Emiliano Grillo's painful hangover, Steve Stricker's big birthday gift to his daughter and the grossest golf prank ever pulled
Welcome to another edition of The Grind, where we wish we could pick golf winners like we can call the end to TV shows. NO SPOILERS here for the series finale of "Succession," but yeah, I nailed that one. And if you haven't watched the series finale of "Succession" yet, what are you doing with your life? Anyway, we're back after a fun Memorial Day weekend that even saw this dad get out on the course a couple times. But I'll spare you the hole-by-hole details of my rounds and focus on what else is happening in golf. Let's dive in.
Emiliano Grillo: Seven-and-a-half years after winning his first PGA Tour title in his first start as a member, this Argentinian finally got win No. 2 at the Charles Schwab Challenge. And boy, did he look like a guy trying to win for the first time in seven-and-a-half years on the final hole of regulation, finding an aqueduct on Colonial's 18th that there's no way Ben Hogan even knew about. It also seemed like a seven-and-a-half year wait for his golf ball to come to rest in the creek (And who knew you would be allowed to hit a moving golf ball in that situation?!).
But after what could have been an all-time crushing double bogey, Grillo bounced back to beat Adam Schenk in a playoff. And he didn't even have to get his clothes wet. More on his long-awaited celebration in a bit . . .
Steve/Izzi Stricker: Forget Jon Rahm (or Brooks Koepka in majors), Steve Stricker is the most dominant force in golf right now. The guy plays a part-time schedule, shows up at senior majors and absolutely cleans up. A few weeks after winning the Regions Tradition by six shots, the Strick Show beat Padraig Harrington in a playoff at the Senior PGA Championship for his sixth major on the 50-and-older circuit.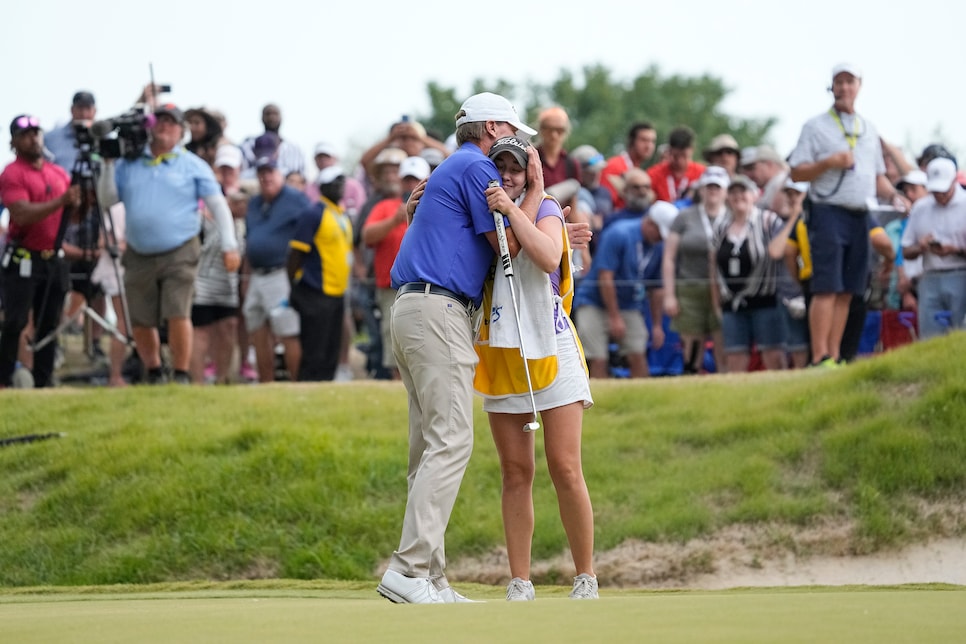 And this one had to be by far the most special as he did it with his youngest daughter on the bag. Steve gave Izzi, the reigning Wisconsin girls state champ, the gig as a birthday present, and boy, did it turn out to be a great gift. We'd love to see a video of her showing her dad how much she earned on a calculator like Michael Block's caddie did after the PGA Championship. If Izzi gets the normal caddie cut, she's going to be driving to senior year of high school in style this fall. And she's also clearly more competent than any of the Roy children.
This house in Calgary: At least, we wish we could buy it. Because in addition to being an absolutely spectacular house, it comes with a nine-hole golf course—and an absolutely spectacular clubhouse!
That looks like a property one of the Roys could buy. It also would give them a chance to try to run something just a tad smaller than a media conglomerate.
Mocking Michael Block: Wow, this turned quickly. Yeah, yeah, Michael Block's comments when asked to compare himself to Rory McIlroy (and other top players in the world) were a bit much, but c'mon. Now you have the cool kids of Golf Twitter knocking this guy who gave us one of the coolest golf stories in recent years? It's sick.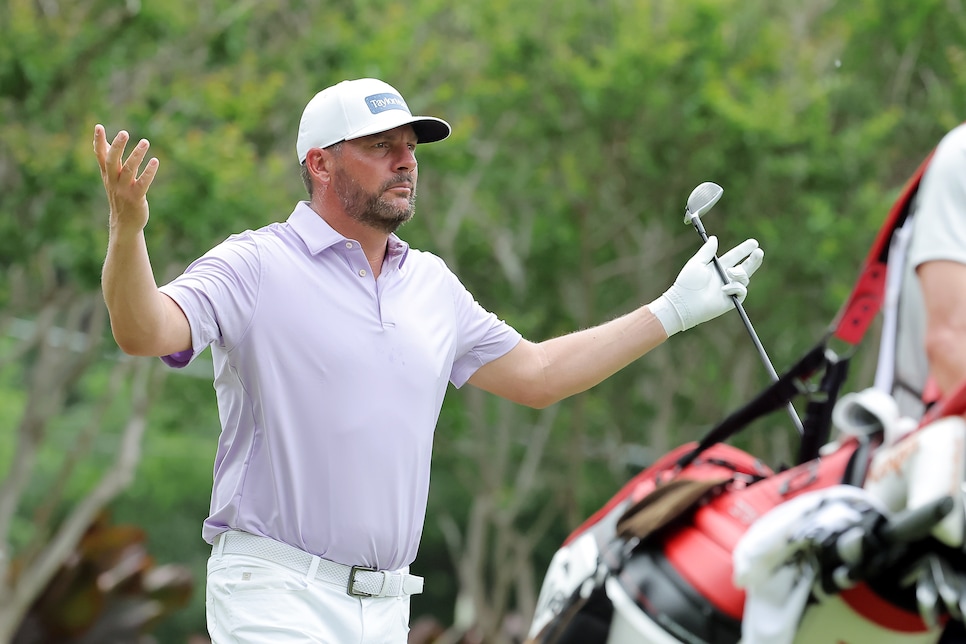 Look, did the media (myself included) maybe got a bit overboard with the coverage of the 46-year-old club pro during the PGA? Of course we did. But don't take that out on Block by making fun of him for struggling in a PGA Tour event. And for those knocking his "world-class short game comments," the guy is ranked No. 515 in a sport that approximately 70 million people play. That's pretty "world-class" to me! Anyway, it was a bit sickening to see people get a kick out of the guy finishing DFL at Colonial. Team Block 'til I die over here.
Being impaled by a wooden tee: Oregon golfer Greg Solhaug suffered one of the freakiest golf injuries ever when he stepped on a tee and it went through his shoe and into his foot.
Talk about bad luck. At least when he returns to campus he can show all the Oregon football players that golf is a dangerous sport. Actually, on second thought, he probably should try to steer clear of those guys.
This prank: Staying with (weird) college news, apparently recovering Stanford star Rachel Heck put the rib she had removed into . . . Rose Zhang's golf bag. As some sort of "prank."
Imagine unzipping your bag and seeing that? That's worse than finding a year-old banana in there. Anyway, despite this, Zhang went on to win the NCAA individual title for a second consecutive year. With that kind of focus, she really might be the next Tiger Woods.
The PGA Tour heads to Ohio for the Memorial, AKA that one Jack Nicklaus hosts, AKA that one at Jack's place, Muirfield Village, AKA that place with the great milkshakes. Now I'm sure they're amazing, but people do realize that all milkshakes are amazing, right? There is nothing better on the planet. By the way, Michael Block is not in the field this week, but I hope he's enjoying some milkshakes—or some other type of celebratory beverages—at home. It's been a heckuva couple weeks.
Random tournament fact: Roger Maltbie won the inaugural Memorial in 1976, beating Hale Irwin in a playoff. Even better? This wasn't the winner's check that Rog infamously lost in a bar.
RANDOM PROP BETS OF THE WEEK
—A golfer will have to WD from the Memorial due to stepping on a tee: 1 MILLION-to-1 odds
—Jon Rahm will win the Memorial: 7-to-1 odds (Actual odds)
—Jon Rahm won't have to WD with a big lead after 54 holes due to COVID: LOCK
After winning at Colonial, Grillo put on his sweet new jacket, hopped in his sweet new ride and got the party started right away.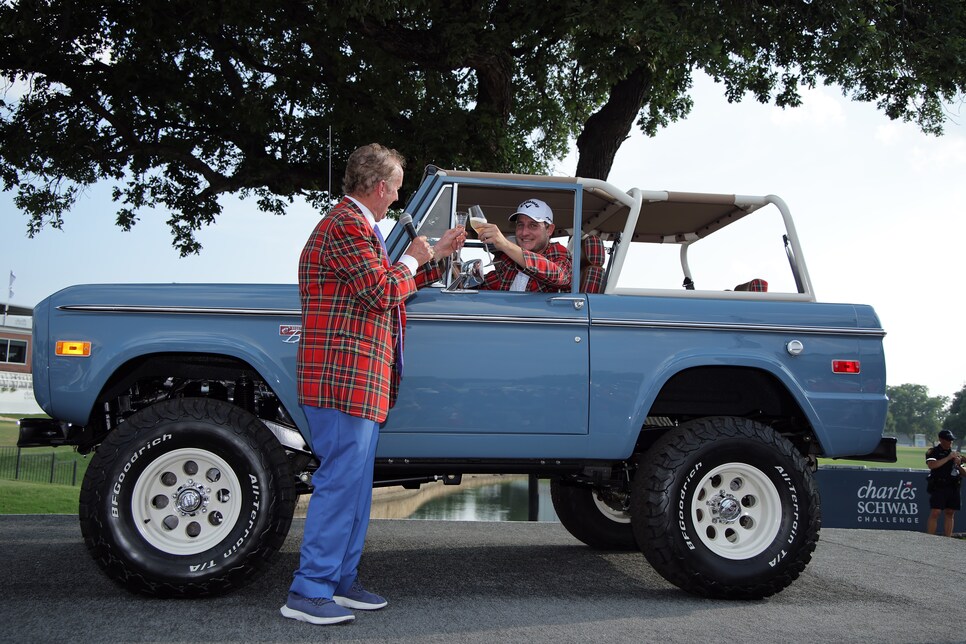 Good for you, Emiliano. Unfortunately, he was feeling it the next day, especially with a travel hiccup.
Hey, some hangovers are totally worth it.
CLUB PRO GUY TWEET OF THE WEEK
Love seeing so many of my beloved (minus Charles Smith) ex-New York Knicks playing this great game. And my main man, John Starks, looks like he could still give you 20 minutes off the bench at 57. Smith also looks great, but even though it's been 30 years I'll never forgive him for Game 5 of the 1993 Eastern Conference Finals. Sigh.
VIRAL VIDEO OF THE WEEK (PGA TOUR DIVISION)
This is one of the coolest things I think I've ever seen in sports. Ahead of a playoff and fresh off a brutal double bogey, Emiliano Grillo interrupted his practice to let a couple kids come onto the course and hit a few shots with his clubs.
Talk about GROWING THE GAME! What a gesture! And what a moment for those two kids. After, Grillo said it helped him reset, but also that Jose Coceres did that for him when he was a kid and he never forgot it. I'm a big Grillo fan for life now. Just like those two boys.
VIRAL VIDEO OF THE WEEK (KORN FERRY TOUR DIVISION)
Just watch Rico Hoey's reaction after winning his first Korn Ferry Tour title at the Visit Knoxville Open:
Don't worry, Rico, it's getting dusty in here as well!
THIS WEEK IN PUBLIC DISPLAYS OF AFFECTION
OK then. Congrats to Austin and Sam.
"Sixteeen came out of nowhere. So, essentially, I went in the toilet. The door was locked. Took me a few minutes to realize there wasn't somebody in there, another while to get the door open. As we are on the Champions Tour, I had the longest pee ever. And then I kind of rushed down the fairway and hit my shot." —Padraig Harrington explaining the bathroom break that may have cost him a major. Been there, done that, Paddy. Well, the "longest pee ever" part, not the whole contending in a major.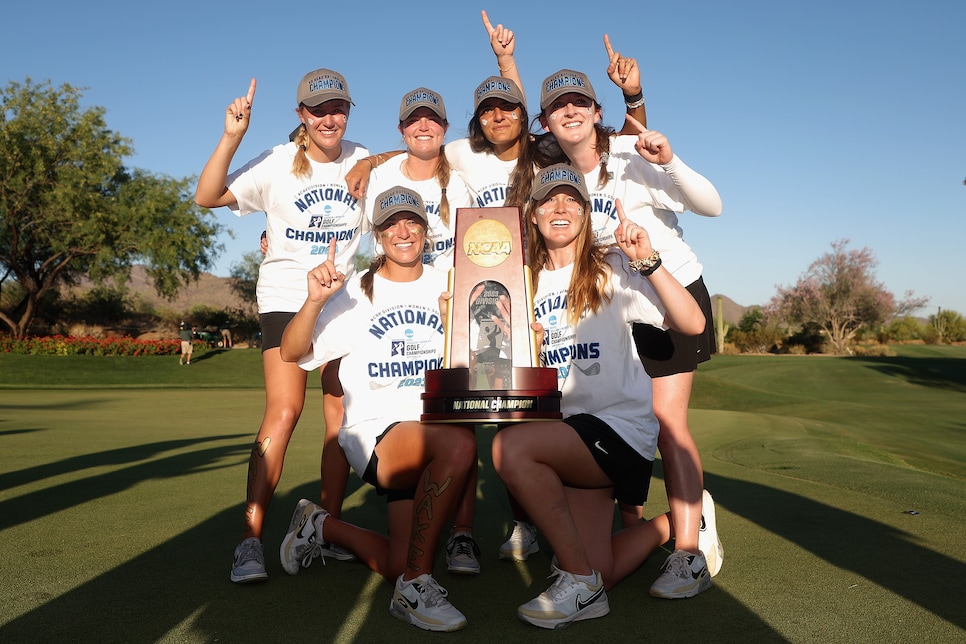 Go Deacs! . . . Congrats to Florida's Fred Biondi for winning the national title and locking up his Korn Ferry Tour card through the PGA Tour University standings. It's always nice to graduate and have a job lined up. . . . And speaking of jobs, Rose Zhang is turning pro, which is good news for her fellow college golfers. We could be witnessing a "Hello, world" 2.0. . . . Harold Varner III won his first LIV title and his first pro title in the U.S. He also made nearly twice as much in one week as he did in any season on the PGA Tour. . . . And, finally, on Memorial Day I treated myself to a couple of these from a recent impulse buy at Costco:
And my impulse was on point, because they're fantastic.
RANDOM QUESTIONS TO PONDER
Can I caddie for Steve Stricker at the next senior major?
What's the best birthday present you've ever received?
Will there (please) be a "Succession" spin-off?