NCAA Women's Championship
Wake Forest women add first national championship to Demon Deacons' golf legacy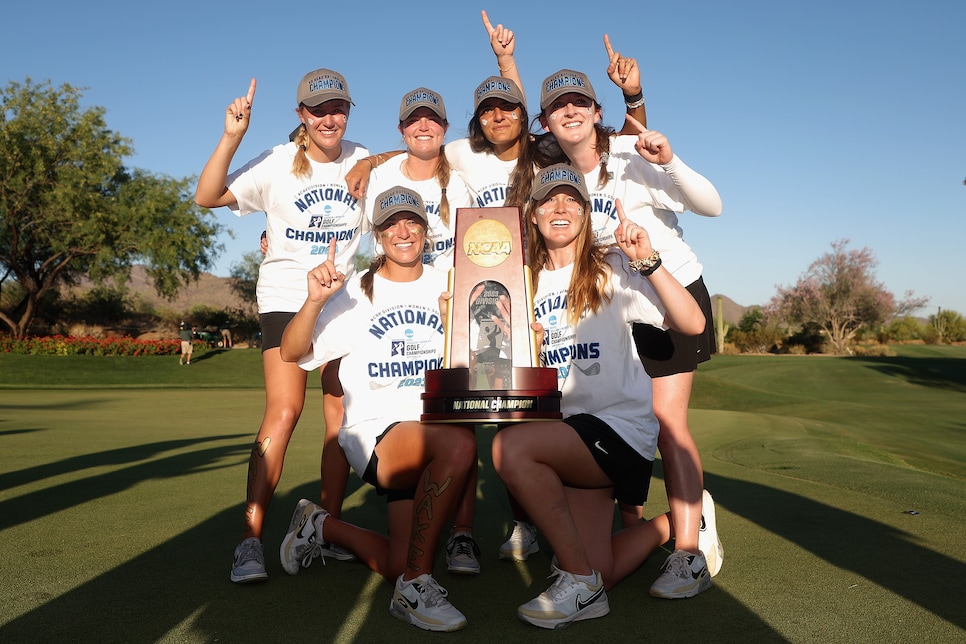 Wake Forest has a renowned golf pedigree, its foundation provided by the inimitable Arnold Palmer and reinforced through the years by Lanny Wadkins and Curtis Strange, among others, as well as three NCAA men's team championships. This time, the Demon Deacon women made their own remarkable contribution to Wake's golf legacy.
The Wake Forest women's team won its first NCAA Championship on Wednesday, defeating the University of Southern California, 3-1, at Grayhawk Golf Club in Scottsdale, Ariz.
"It's easy when you have a team like this," a euphoric Wake coach Kim Lewellen said. "They get along so well. They practice so hard and they're veterans. They've been in this type of position before and they pulled it off. It was unbelievable to watch how they kept their grit and kept their foot on the pedal and got it done.
"Look at them and look how happy they are. They worked incredibly hard. They are always working at the small things, the big things, anything they can do to gain just a half a stroke. They made history for Wake Forest and these young ladies will have memories of a lifetime."
Senior Rachel Kuehn, whose mother Brenda Corrie Kuehn was a Demon Deacon star and is in the Wake Forest Athletic Hall of Fame, set the tone with Wake's first point, a 6-and-4 victory over USC All-American Amari Avery.
"I feel great," Kuehn said. "It's been a long week and we're all tired. I don't think Amari quite had her A-game today, so she let me off the hook a couple of times. We battled rally hard all week."
The second point was delivered by Emilia Migliaccio, 4 and 2, over Cindy Kou. Migliaccio returned for a fifth season in six years at Wake Forest. "I came back and my goal was to help my team win a national championship," she said. "It's been really emotional."
The winning point came from Lauren Walsh, a senior from Ireland, 3 and 2, over Brianna Navarrosa. "I was happy to go out last," Walsh said. "My goal today was to put up a point for the team. It's so special."
USC's only point was delivered by Catherine Park, who finished second in the NCAA individual competition on Monday. Park defeated Carolina Lopez-Chacarra, 3 and 1. Wake Forest's Mimi Rhodes was leading USC's Chrsinte Wang, 2 up with two to play, when the Demon Deacons clinched their third and decisive point.