U.S. Women's Amateur
In day of big upsets at U.S. Women's Am, a former college star turned media intern stays alive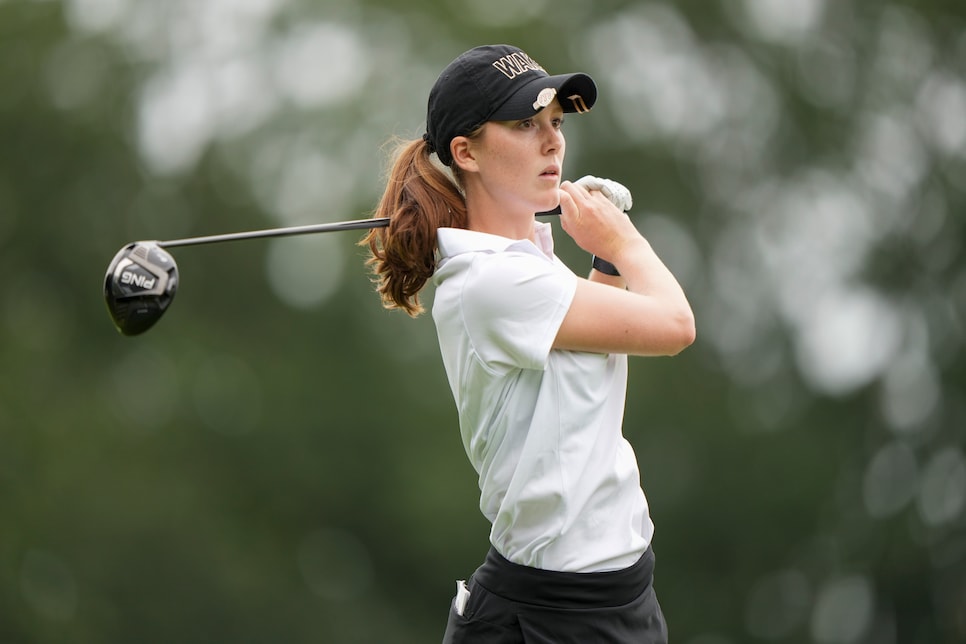 Emilia Migliaccio tees off on the fifth hole during the round of 64 at the 2021 U.S. Women's Amateur.
Darren Carroll
Since losing a playoff in the Augusta National Women's Amateur in April, Emilia Migliaccio has done more talking and writing about golf than actually playing it. She graduated in the spring from Wake Forest and took an internship with the Golf Channel, for which she's covered a number of events as a reporter, including as a writer for the U.S. Women's Open and a commentator at the U.S. Girls' Junior. Former competitors joked that it was funny to see her on the other side of the podium.
This week, Migliaccio is doing the extremely rare double: competing in the U.S. Women's Amateur at Westchester Country Club in Rye, N.Y., and then commentating on it for the Golf Channel. And when we say competing, we're talking about playing like she's done nothing but hit golf balls for the last few months.
Migliaccio, of Cary, N.C., shot 74-69 in the stroke-play portion of the Women's Am, and on Wednesday she outlasted Ting-Hsuan Huang of Chinese Taipei over 22 holes in the match play round of 64. In a tremendous match, Migliaccio birdied the 17th hole to go 1 up, only to see Huang tie it up with a birdie at 18. The American finally won when she made par and Huang bogeyed the fourth extra hole. She'll now face Brooke Seay, of San Diego, who won 3 and 2 over Savannah Barber of Fort Worth.
"I'm really treasuring this week because it's going to be my last competition for a while," said Migliaccio, who reached the Women's Am quarterfinals last year. "They're both so exciting. Commentating was as close to playing golf as I could get. So, if I can keep doing that I'll be pretty satisfied."
In the ANWA, Migliaccio shot two-under-par 70 in the final round at Augusta National to forge a tie at one over with Japan's Tsubasa Kajitani, who prevailed on the first playoff hole by making par.
For that week, Migliaccio had her mother, Ulrika, on her bag. For the Women's Am, her boyfriend of three years, Charlie Doran, is the looper, and it seems they're working as a team just fine.
"It's our first time, and in stroke play we were just having a blast," Migliaccio said. "He was making me laugh the whole time.
"In match play it was really nice to have him there. Just felt really relaxed and focused, and like it's really nice to have someone by your side that you can emotionally connect [with] and also talk through shots and stuff."
It was a day of upsets in the match play. The world's top-ranked amateur and defending champion Rose Zhang, coming off her dominating run in the U.S. Girls' Junior, was beaten 1 up by University of Pennsylvania sophomore Elle Nachman. The No. 1 seed coming out of stroke play, Rachel Kuehn of Wake Forest, was also defeated, losing 1 up to upcoming Kentucky junior Marissa Wenzler.