Sweet, Sweet Revenge
Half the receivers in the NFL have chosen violence on Monday as Eli Apple gets roasted into another dimension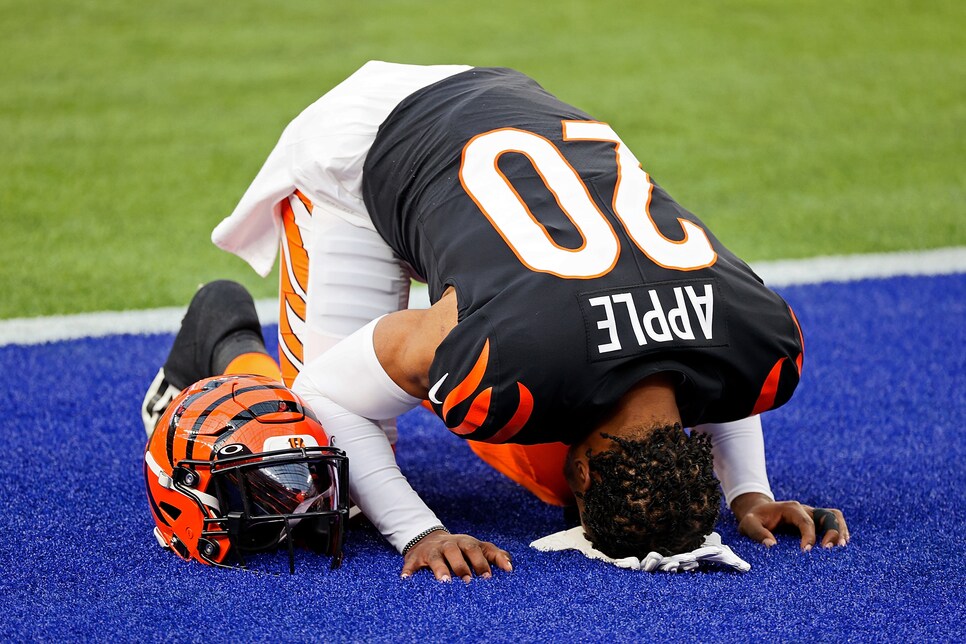 Eli Apple did something incredibly stupid before his Cincinnati Bengals played in the Super Bowl against the L.A. Rams - he began mouthing off on social media. After beating the Kansas City Chiefs in the AFC Championship, Apple took to Twitter and began firing away, specifically at two of Kansas City's top wideouts, Mecole Hardman and Tyreek Hill, who Apple stopped at the goal line before the end of the half in a game-altering play:
Now, in fairness to Apple, he earned that. After three horrific stints with the New York Giants, New Orleans Saints and Carolina Panthers, Apple appeared to have finally found a home in Cincinnati. And while he was never going to be mistaken for Jalen Ramsey or prime-Richard Sherman, Apple had seemingly improved at corner and without question made one of the game-defining plays in the AFC title game. For the first five seasons of Apple's NFL career, all he did was get shredded both on the field and off of it by the haters on social media. Finally, it was his turn to talk a little smack.
But, in doing so, Apple opened himself to an absolute WORLD of pain should the Super Bowl not go his way. And by God did it not go his way. As many expected, Apple got cooked by Cooper Kupp on two separate occasions, including the game-deciding touchdown at the end of the game. This "lowlights" tape covers just about everything (warning: this one features some language):
A tough scene, to say the least. The scene got 10 times tougher for Apple late Sunday evening and now on Monday morning, as half the receivers in the NFL have chosen violence, each one roasting Apple harder than the last. Mecole Hardman got the festivities going early:
Sheeeeeeeesh. Tyreek Hill joined in as well, naturally:
Former teammate of Apple's Michael Thomas, who hasn't taken a NFL snap in quite some time, kept the party going:
Almost the entire Baltimore Ravens roster piled on:
Step right up ... C.J. Gardner Johnson?
Man, when two former teammates are coming at your neck, including one from your position group, you must have really rubbed people the wrong way. Apple should take some cues from his quarterback Joe Burrow, who likes to let his play do the talking. Though, I guess that's how Apple got himself into this mess in the first place.