Editor's Letter
The ultimate life of a band of golfers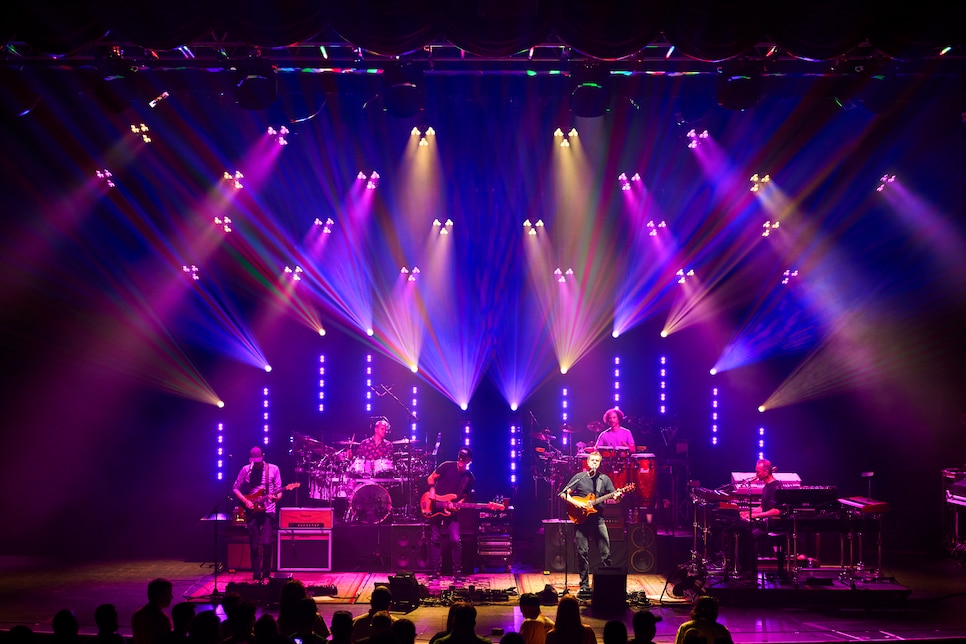 TOUR PROS Umphrey's McGee has played 2,702 shows and countless rounds of golf. Photographs by Nick Laham
As a golfer, I'm not scared by the thin end of a limb, so I'll say it here: No rock band has a greater collective golf IQ than Umphrey's McGee.
Five of six band members are avid. They first performed together while students at the University of Notre Dame in 1998, and in the 2023 documentary "Frame X Frame: A celebration of 25 years of making music and the next best show," an early group golf photo pops from a montage depicting about what you would expect: sex, drugs, bars, travel, inspiration, tragic death (founding drummer Mike Mirro died at 36), reformation and the ecstasy of performing before increasingly larger audiences. Any UM concert will feature an impressive sea of noodlers, but the group has also opened for mega acts like the Red Hot Chili Peppers, Dave Matthews Band and Willie Nelson.
Perhaps it's the golfer constitution, but few bands rival their longevity. A bunch of dudes in their later 40s, they're not exactly the Rolling Stones (Who is?), but UM has performed 2,702 shows as of this writing. They play hard. Drummer Kris Myers, whose pro-golf dreams received a crashing cymbal at age 11 when he finished a distant second to future PGA Tour player D.A. Points in an Illinois junior tournament, takes an ice bath after every show for his wrist, elbow and shoulder joints. He plays to a 9-handicap.
Bassist Ryan Stasik, who won the 2022 member-guest with his father at Snee Farm Country Club in Mount Pleasant, S.C., credits golf with providing the band regular doses of fresh air and exercise to counterbalance life on the road, displacing other midday options like gambling on sports and nursing Budweisers. As keyboardist Joel Cummins (who grew up caddieing in Illinois) says humbly while holding a 6-iron: "The savants can party and play great, but some guys perform better healthy and rested."
I think he was talking about music.
This summer I played a round with Umphrey's McGee on the members course at Lake of Isles, a 36-hole facility associated with Foxwoods Resort Casino in Connecticut, where that night the band was playing the first of three consecutive shows. We were a fivesome—the three aforementioned plus percussionist Andy Farag (guitarist and vocalist Brendan Bayliss was out with a tweaked neck), and the lone holdout who doesn't golf, lead guitarist and vocalist Jake Cinninger, "has been utterly faithful his whole life to one muse, his guitar," one of the roadies told me later during a backstage putting competition.
Our 10:30 a.m. tee time got pushed to 10:50 because the man responsible for keeping time, Myers, was late. The irony delighted Stasik. "We're actually quite punctual! We're the only band who when the ticket says 8 p.m., we start playing at 8 p.m. I know what it's like going to see a show with my wife, and we've got a babysitter on the clock."
Andy Farag doesn't look like the best golfer in the band—maybe it's the pale skin and puffy afro or the burning roll of "jazz cabbage" betwixt his fingertips—but he is. With a textbook swing and chill temperament, his best round is 75. According to hazy memories, Farag was a big contributor when UM defeated Widespread Panic, another band with deep golf roots, before (or was it after?) a show in Burlington, Vt., when the two groups were touring together. Worth a footnote about jam bands: Word is The String Cheese Incident violinist Michael Kang once shot a 73 on acid. To nip any concerns from shocked readers, yes, this is an especially exploratory issue of Golf Digest. Staff writer Chris Powers investigates golfers seeking to improve their games with plant-based psychedelics in his feature "Golf Trips."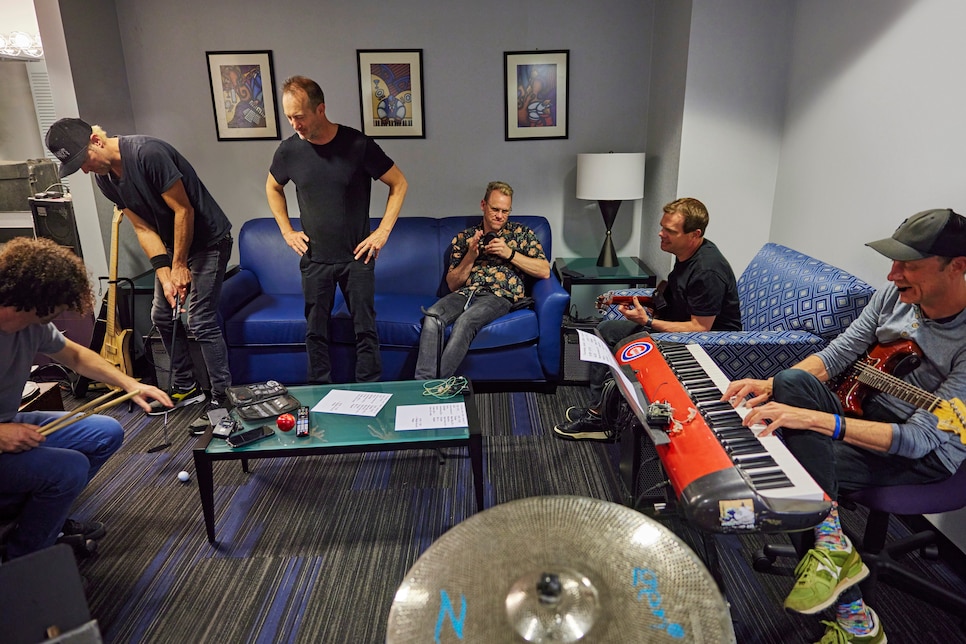 WARMING UP The band tunes instruments and putting strokes backstage.
Back to jam bands: Umphrey's McGee doesn't care for the label, which could imply a messiness about their highly structured improvisation. "We're self-indulgent orchestral rock," Stasik once told me in Augusta, the year UM dubbed their concert coinciding with the Masters the "Major Rager."
Progressive rock and math rock are other terms you'll hear to describe their technically complex style. Although many of their hits feature whimsical lyrics and softer, poppy sounds, concertgoers know to expect anything from lengthy, wordless heavy-metal rampages to spectral covers of entire albums by Pink Floyd. That no two shows are ever the same is why UM can book "residences," or playing the same venue in the same city in front of mostly the same fans for multiple nights. The most famous current band with this extreme capability of range and variety is Phish.
'The savants can party and play great, but some guys perform better healthy and rested.'
Playing golf with Umphrey's McGee, the thought occurs these guys are living the ultimate life. They are not burdened by fame, and their fans adore them, and every work trip has the potential to also be a golf trip. Shows in Portland usually wind through Bandon Dunes, and over the years their national network at private clubs has grown, often by swapping concert tickets for guest fees. "It works well when just three of us want to play, so we can be hosted by the member," Farag says. As I was riding in a golf cart with Cummins, he was on his phone fielding a golf invitation for the next day from a fan who had reached out via social media. Many musicians prefer golf on off days, but UM has the stamina for "good days on," which has included going skiing and then hitting the stage hours later in places like Aspen. Sometimes a power nap is key.
Despite all the fun, "professional" is another word apt for UM. Two tour buses for equipment and crew and related expenses are a lot of overhead, and our 19th-hole conversation made clear every band member actively participates in the marketing and economic strategies. They know which cities they can sell and which they can't and execute four- and five-day trips instead of marathon tours like more famous bands. "We run it like a business," Stasik says. "We hit Q1 hard and see if we can go easy in Q4." After all, they have families and home courses, too.
If Stasik were president, he says he would nuke recorders and instead give every fourth-grader a plastic ukulele. "Kids could strum the songs they hear on the radio, and that's how you foster a love of music."
Maybe "golf " IQ is an unnecessary modifier.