News
Dylan Frittelli talks about what it was like to return to play while still testing positive for COVID-19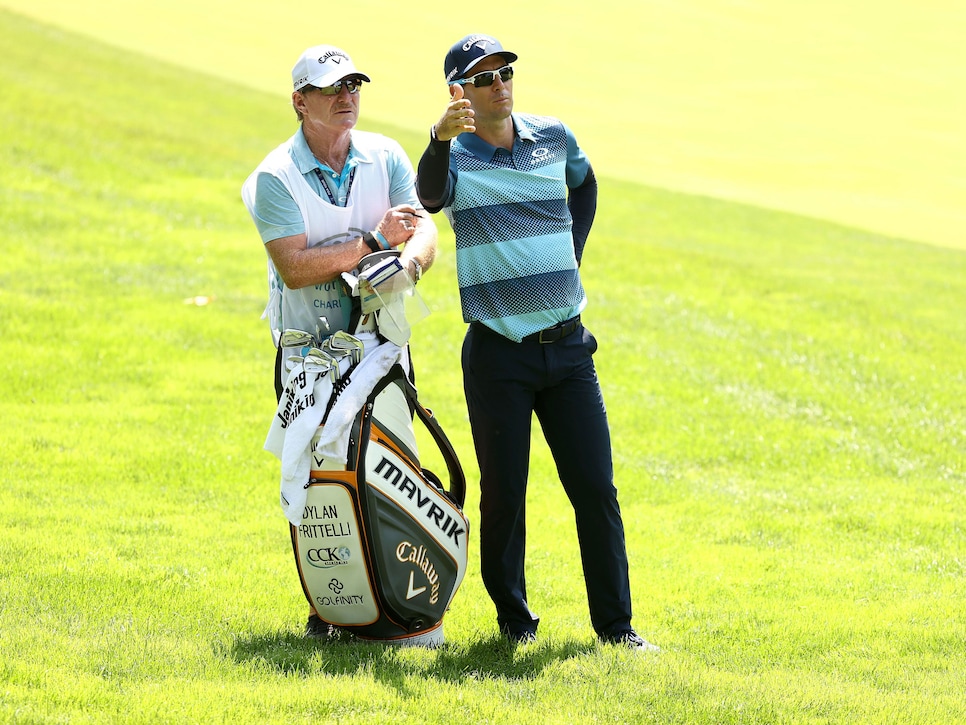 Dylan Frittelli talks with his caddie on the 15th hole during the first round of the 2020 Workday Charity Open, his first start since testing positive for COVID-19 nearly two weeks ago.
Gregory Shamus
Dylan Frittelli had to prepare a little differently than most for Thursday's opening round of the Workday Charity Open. He stretched and ate breakfast in his hotel room. He also put on his golf shoes there. When he arrived at Muirfield Village Golf Club, he went straight to the driving range.
"I felt like Water Hagen," he said.
Or like a weekend warrior. Welcome to golf in the COVID-19 era.
Because Frittelli, who first tested positive for coronavirus nearly two weeks ago and continued to do so this week, showed no symptoms in recent days, he was permitted to play this week in the first of back-to-back events at the Dublin, Ohio, course. Ditto Nick Watney and Denny McCarthy, as the tour on Wednesday night clarified its guidelines for players and caddies who are symptom-free beyond 10 days, deeming them safe to compete. Still, the three men, each playing for the first time since their first positive test, were paired together out of an "abundance of caution."
Call it the COVID-19 group.
"It's definitely weird," Frittelli said of the pairing.
It beat the alternative, though.
"I saw a positive [test result] and I thought, 'OK, I can't play this week, we've got to time out a bit longer and wait,' and then when I spoke to the tour's physician, Dr. [Tom] Hospel. He basically explained, 'OK, you haven't had a symptom now since Wednesday afternoon or evening, and at the time that was Tuesday evening, so that was a whole 5½ days, almost six days of no symptoms.
"I figured the two tests was a firm hard thing in the sand, but I guess the tour has changed their policy now from those CDC guidelines."
Indeed the tour had, after consultation with medical experts and adhering to the CDC's updated Return to Work guidelines.
"The mindset is that they have complied with the guidance from the CDC," said Andy Levinson, senior VP of tournament administration for the PGA Tour. "They have met the medical requirements for isolation, and with respect to the opinions of our medical advisors, including infectious disease experts and the CDC, they're clear to play. They're clear to return to work, whether it was a player, a caddie, you or me."
Frittelli, who first tested positive as part of the tour's pre-charter flight testing after missing the cut at the Travelers Championship nearly two weeks ago, and subsequently suffered from nasal congestion, slight muscle aches, headaches and loss of smell, tested positive again this week on Tuesday afternoon after undergoing a saliva test the day before. Then he tested positive again on Wednesday following a nasal test.
He said he wasn't surprised by the recent results, even though he no longer has any symptoms. Still, he has to make adjustments. Frittelli and the others aren't permitted in clubhouse and fitness trailer, or basically anywhere under the clubhouse roof.
"We've got our own little pocket down underneath I guess [in] the old pro shop," he said. "So the three of us can go in there and have a meal and just chill out together."
As for how they played? Frittelli and McCarthy each shot one-over 73, while Watney struggled to a 77.
Naturally, it was a topic of conversation among the three as well.
"I asked Nick how his quarantine went, what he did," Frittelli said. "He just said he stayed in South Carolina 12 days and then drove back to Texas.
"I chatted to Denny a bit about, hey, did you test positive, and he goes, yeah. I said, dude, we're probably going to have those tests for the next two weeks, it will take some time for the virus to be completely gone from our body."