The Loop
Dustin Johnson's dominance, The Rock's ridiculous golf claim, and a model works around her golfer's tan
Welcome to another edition of The Grind, where we've started our Masters prep extra early again. Last year, it was all about sharpening our ping pong skills; this year, it's all about shedding a few pounds with a diet. Why? Well, let's just say I wasn't joking about putting on "The Masters 15" in 2016. And with a dicey weather forecast on tap, I could be spending extra time in that fancy new media center eating Augusta National's good old chocolate chunk cookies.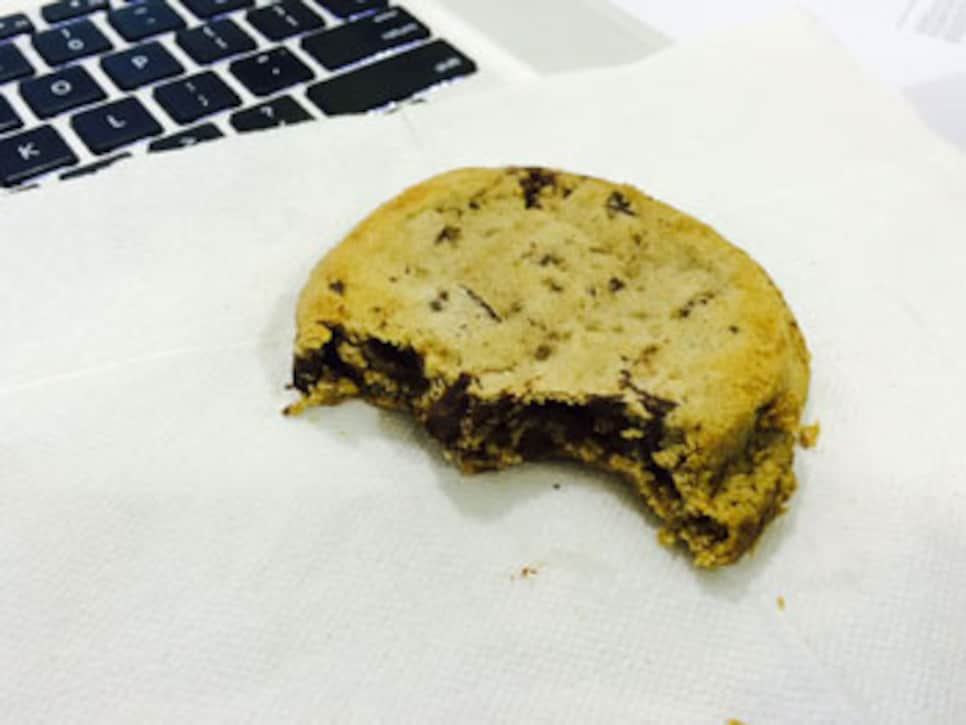 The struggle is real, my friends. So have a salad in solidarity with me and let's dive into what else is happening in golf.
Dustin Johnson: What can you say? It doesn't matter the course, the country, or the format, the guy wins every week. With a third consecutive victory (and these are not just any non-major events) at the WGC-Dell Match Play, Johnson took an even stronger hold on the No. 1 ranking and officially became the Masters favorite in Vegas (What took so long, Vegas?). Incredibly, Johnson never trailed in any of his matches, and he didn't even seem to notice this party boat:
The rest of the semifinalists: Golf's Final Four over the weekend matched up to the real thing pretty well. Johnson and Jon Rahm were the two heavyweights (UNC and Gonzaga), Bill Haas was the talented program finally getting over the hump (Oregon), and Hideto Tanihara was the Cinderella story (South Carolina). It was a nice mix and they put on a great show. And using that analogy, UNC is definitely winning it all.
Puerto Rico Open: Speaking of nice mixes on the leader board, this tournament gave us D.A. Points as a winner and Bryson DeChambeau and 48-year-old Retief Goosen as runner-ups. Throw in 2010 U.S. Amateur champ Peter Uihlein (T-5), Sam Saunders (T-5), and Andrew "Beef" Johnston (T-10), who was in contention before stalling on Sunday. Not too shabby for an opposite-field event.
Austin Country Club: When you've been cooped up indoors as long as I have this winter, any golf course looks appealing. But Austin Country Club looks like an especially fun track and it is a perfect venue to host match play. In particular, it's tough to think of a cooler back-to-back stretch of holes than the par-5 12th and the short par-4 13th -- especially when it produced high-drama moments like this:
Sorry, Sergio. Maybe try rain gloves next time.
The Rock's "490-yard drive": Did you see this Instagram?
With all due respect to The Rock, c'mon. Golf fans just spent a week watching the game's best players hit absolute bombs on Austin Country Club's downhill par-5 12th, and not even DJ came close to hitting one 490. I'm sure The Rock can crush a golf ball, but like John Daly said, we have to see it to believe it.
Round-robin format: I liked this change when it was first implemented -- and I fully understand why it was, but the first couple days of this event have lost their juice (multiple early withdrawals didn't help). Yeah, it's great to ensure guys like Rory McIlroy and Jordan Spieth stick around for three days, but if they're playing meaningless matches on Friday, who cares?
Masters weather forecast: Hello, friends. This doesn't look good.

On the bright side, weathermen are wrong 97 percent of the time they make predictions a week out. Look it up.
The PGA Tour stays in Texas for the Shell Houston Open, aka the last event before the Masters. It's also the last chance for Grayson Murray to win to get into the Masters -- and get model Lindsey Pelas to caddie for him at the Masters Par 3. Pressure's on, Grayson.
Random tournament fact: You'll hear a lot about the Golf Club of Houston being set up like Augusta National this week, but since the tournament became the last tune-up before the Masters, only one winner has registered a top 10 at the year's first major. That player? Anthony Kim in 2010. Let's move on before we start tearing up.
RANDOM PROP BETS OF THE WEEK
-- Anthony Kim will show up in Houston to announce a comeback: 1 MILLION-to-1 odds
-- Dustin Johnson will win the 2017 Masters: 5-to-1 odds (Actual odds)
-- Dustin Johnson will NOT wear those awful boots he got for winning in Austin: LOCK
VIRAL VIDEO OF THE WEEK (SCARY DIVISION)
Gators eat golf balls. Who knew?
VIRAL VIDEO OF THE WEEK (FUNNY DIVISION)
Kudos to this local sportscaster reminding everyone that Shooter McGavin blew a four-shot lead to Happy Gilmore 21 years ago.
The NBC crew (Sadly, sans Johnny Miller) crashed a bachelorette party in Austin during the WGC-Dell Match Play.
Don't be fooled by Roger Maltbie's calm demeanor. The dude is a party animal.
"How do I like it? I don't care." -- Dustin Johnson on being the Masters favorite.
THIS WEEK IN DUSTIN JOHNSON-PAULINA GRETZKY-WAYNE GRETZKY PUBLIC DISPLAYS OF AFFECTION
The Great One had a major hand in the golf great's latest triumph: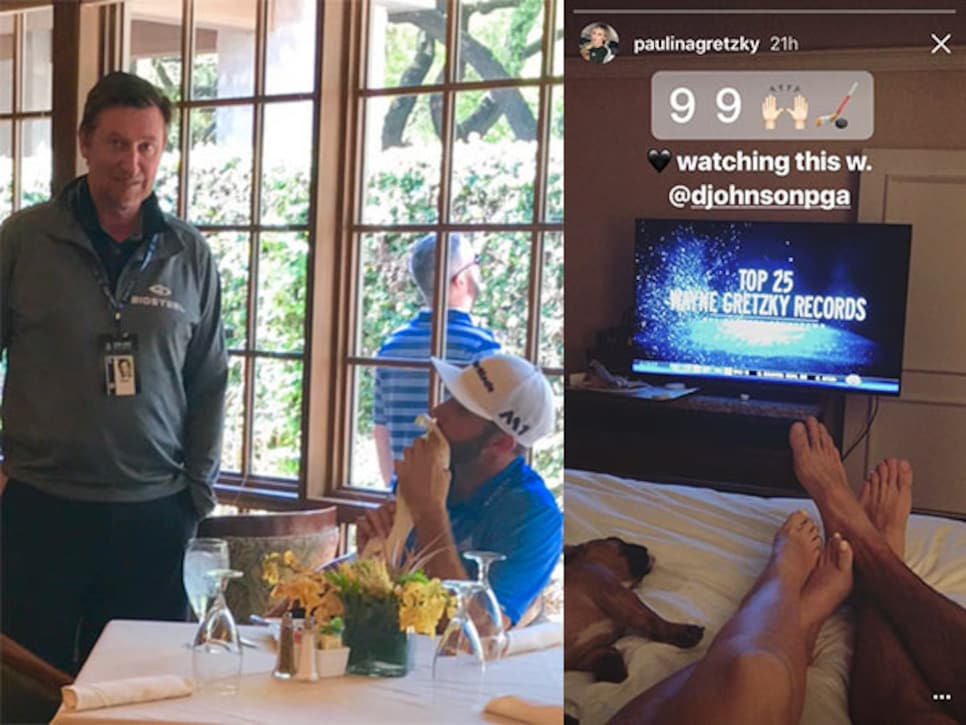 THIS WEEK IN CELEBRITIES PLAYING GOLF
Mark Wahlberg showed the lengths he's willing to go to hit balls on a daily basis during the winter:
And Tom Brady played Augusta National with Jordan Spieth:
THIS WEEK IN MODELS PLAYING GOLF
Hayden Sylte took some time off from photo shoots to hit the links.
Looks like her putting stroke is still solid, but her golf is affecting her modeling:
Been there, Hayden. Been there.
THIS WEEK IN CELEBRITIES TALKING ABOUT GOLF
J.R. Smith remains the world's biggest golf fan. First, he gave a shout-out to his "guy," Puerto Rico Open champ D.A. Points:
And then to another one of his friends, Dustin Johnson (Side note: How cute is this photo?):
Then Charles Barkley went on The Dan Patrick Show and told a story about Michael Jordan facing a putt for $300,000(!) against someone else in their group.
Barkley got out of MJ's way before the putt. That's proper golf etiquette when there's that much on the line.
Mirim Lee won the Kia Classic by six shots. Good timing by Lee to peak with the season's first major, the ANA Inspiration, this week. . . . Speaking of that tournament, Lucy Li qualified for the event by winning the ANA Junior Inspiration. A 14-year-old qualifying for a major seems like a huge deal until you remember Li played in the 2014 U.S. Open when she was 11. . . . Trey Mullinax shot 63 to take the lead in Puerto Rico just five days after getting married. He shot three consecutive 72s after that, though, to only finish T-44. Chalk it up to wedding fatigue. . . . And check out these awesome scorecards Golf Digest photo editor and Grind executive producer (not a real title) Ben Walton created for our office putting green: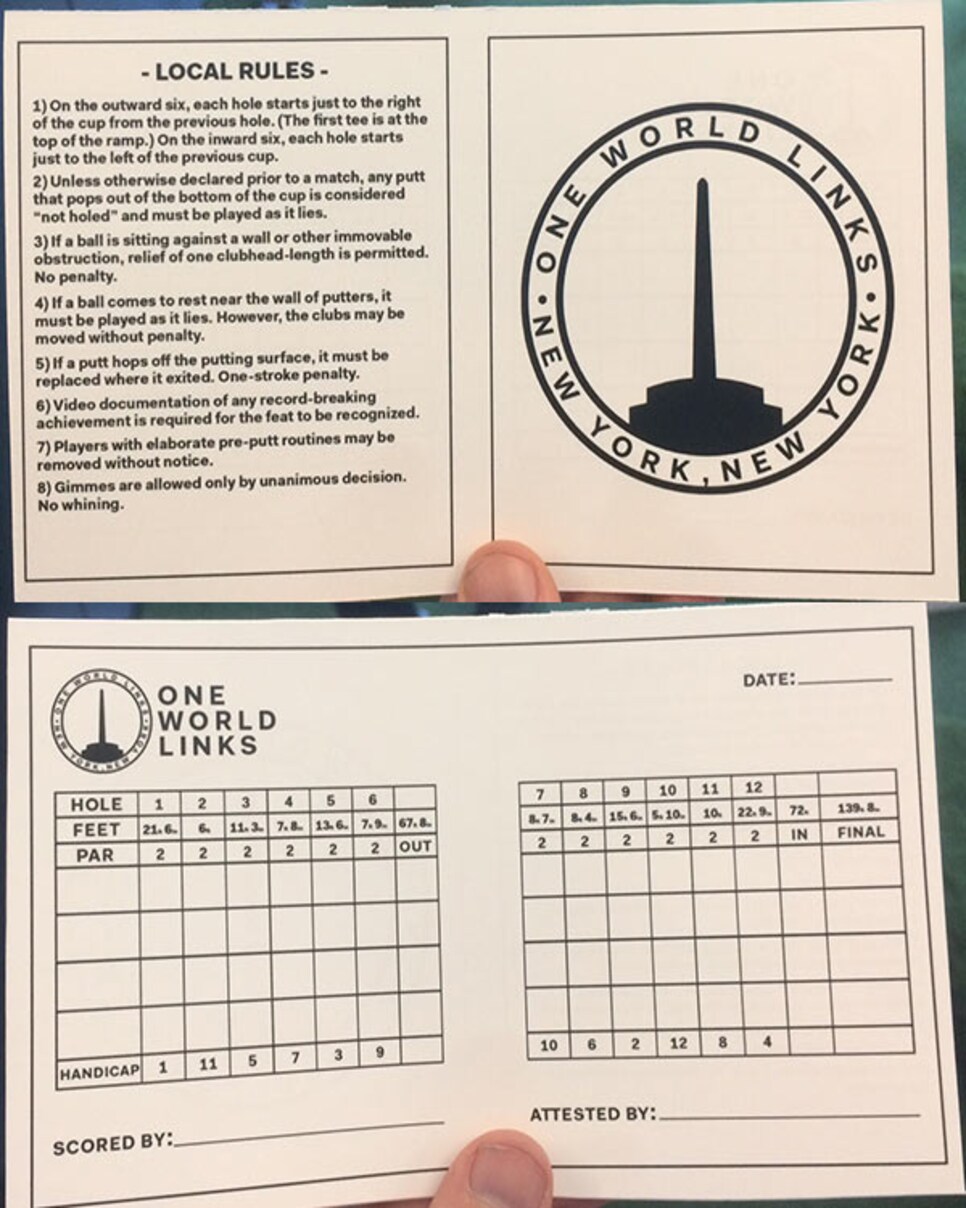 So swing by One World Links for a putting contest sometime. Well, check with us first before coming. Building security is pretty tight.
RANDOM QUESTIONS TO PONDER
How far can Gary Player hit it?
How far can The Rock actually hit it?
How much money has Michael Jordan won/lost on the course?