News
Dustin Johnson two off the lead despite a pair of triple-bogeys at the Northern Trust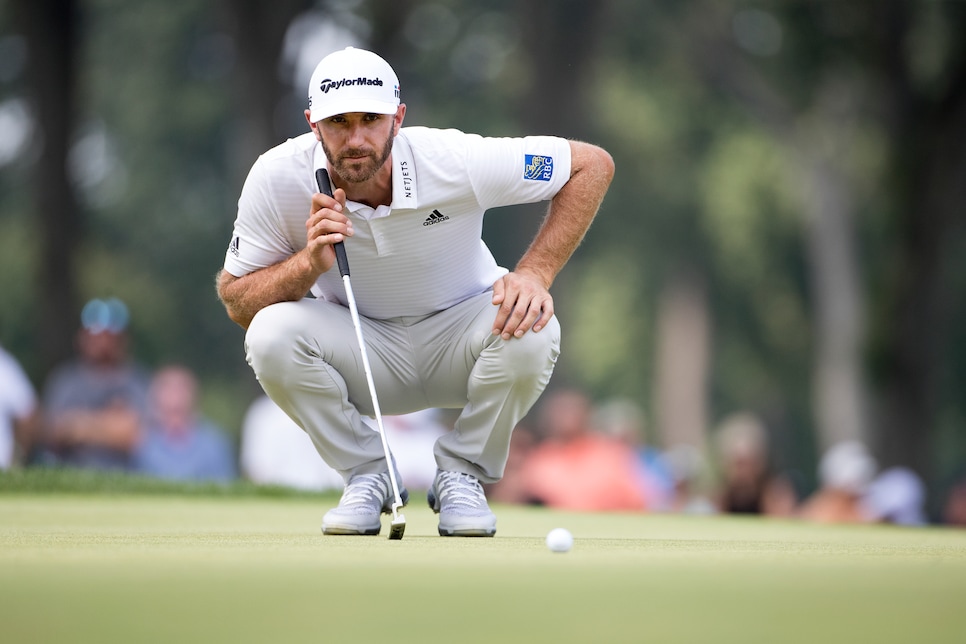 PARAMUS, N.J. — If anybody can overcome a triple-bogey, it's Dustin Johnson, something he impressively did on Thursday at the Northern Trust, finishing with a four-under 67 despite a snowman on his scorecard. But two triple bogeys? In the same tournament? No, not even the world No. 1 can bounce back from that, right?
With Thursday's triple in his rearview mirror, Johnson started fresh on Friday at Ridgewood Country Club, facing the short par-4 first to begin his round. At 380 yards, it's merely an iron and a wedge for a player with his length, a great birdie opportunity to start the day. After finding the right rough, Johnson proceeded to make a mess of the hole, making his second triple bogey of the week and falling back to one under par. In typical DJ fashion, he found it amusing.
"Yeah, that was not a fun start," said Johnson before changing his mind. "Well, I was laughing because I couldn't believe I just made a seven on that hole. Yeah, it was funny. There was nothing to do but laugh at that point."
After laughing it off, Johnson did the unthinkable yet again, fighting back to card a second straight four-under 67 that has him at eight-under 134, just two off the lead of Brooks Koepka and Jamie Lovemark. Aside from two ugly holes, he's feeling good about his game, especially after finishing off a back-nine 31 without a bogey.
"I felt a little better today, but even yesterday, I felt like I hit my irons really well," Johnson said. "Today, the driver was closer. Still wasn't great, but I felt like I swung it a little bit better. I kept it, you know, in between the trees, at least. Kept it in play.
"Other than that, I felt like I hit the ball very well. I hit a lot of great iron shots. Rolled the putter good, and other than the first hole, it was a really good day."
Heading into the weekend, Johnson has put himself in good position to take a run at a third victory in this event, the last coming a year ago at Glen Oaks in a playoff with Jordan Spieth. He'll likely have to track down a familiar foe in Koepka, who has gotten the better of him on multiple occasions this season, including Friday as he beat Johnson by two with a six-under 65. Only Adam Scott has had a better round this week, a seven-under 64 that also came on Friday and has him one off the lead.
Meanwhile, Lovemark, a former college star at USC, has yet to earn a breakthrough victory. Following a pair of 66s, he's confident that he can make it happen on the big stage this weekend.
"The goal at the start of the week is to lead and to win it," said Lovemark. "I'm in great shape. Going to take tomorrow one step at a time and go from there."
The leader board gets even more intriguing as you make your way down, featuring names like Bryson DeChambeau (eight under), Tommy Fleetwood (seven under) and Phil Mickelson and Justin Thomas (both at six under). Also lurking at five under is Jason Day, who won this tournament the last time it was in New Jersey in 2015 at Plainfield Country Club.