News
Tiger Woods 'didn't make anything' Friday at the Northern Trust, makes cut on the number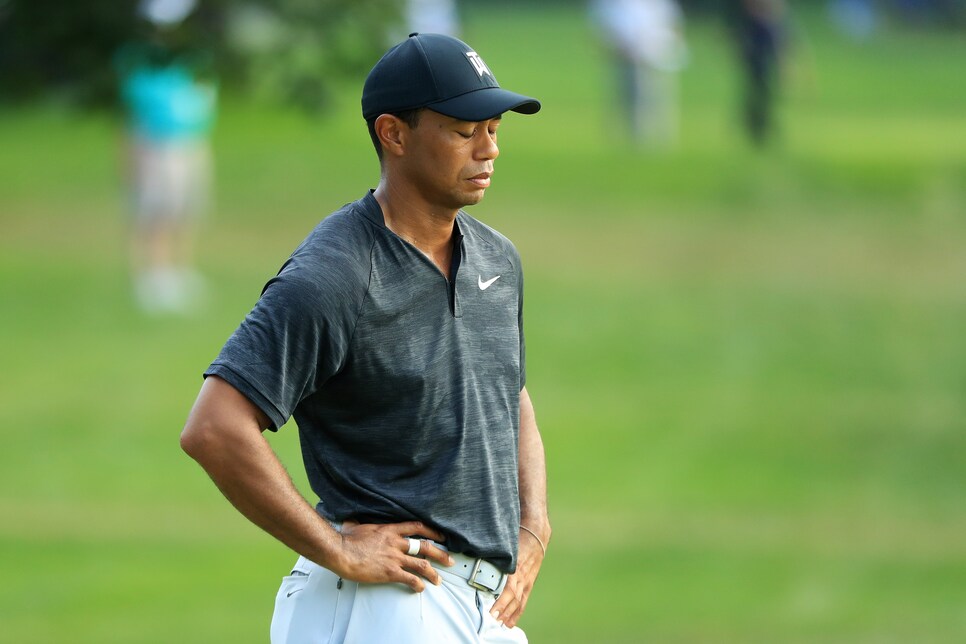 PARAMUS, N.J. — No one on the PGA Tour has been better on Saturdays this season than Tiger Woods, who ranks first in third-round scoring with an average of 68.42. Following a pair of listless, even-par 71s at the Northern Trust, the latter of which saw Woods' putter go ice cold, living up to those lofty Saturday standards could prove to be a tall task.
Woods, who struggled to find birdie opportunities on Thursday at Ridgewood Country Club, gave himself plenty of chances in his second round, hitting 16 of 18 greens and leaving himself eight looks at birdie from 16 feet or less. He made two of them, one from six feet at the par-4 seventh and the other from five feet at the par-5 13th. In total, he made just 40 feet of putts, and he three-putted twice. It was not a pretty display, but as he's shown this year, things could change quickly from round to round.
"It's just one day," said Woods, who made the cut on the number and is 10 off the lead of Jamie Lovemark and Brooks Koepka. "Golf's one of those things where you just have to make putts. I mean, no matter how good you hit your golf ball tee to green, still got to hole it. Today was one of those days when I didn't make anything. Just got to do some work."
If there's a positive to take from Friday for the 14-time major winner, it's that he did hit the ball well from tee to green, hitting nine of 14 fairways and gaining over two strokes on the field on his approach shots. But like we've seen on a couple occasions this season, Woods has had trouble getting every part of his game in sync on the same day.
"No matter how good your drive is, you've still got to roll them and still got to make putts and I didn't putt very well today. I had a hard time seeing my lines, and consequently, didn't make anything."
It wasn't just the medium-length putts Woods struggled with, either. Early in his round, he had a chance to get it going at the par-5 third, where he hit the green in two and faced a 99-footer for eagle. He was able to roll it all the way to the top shelf of the multi-tiered green, leaving himself just four feet to clean up for birdie, but he missed that as well. Following a birdie at the par-5 13th, Woods stuck one to eight feet at the 14th and missed again. At the 18th, facing a 28-foot downhill putt for birdie, he came up three feet short and missed the ensuing par putt. It was a testament to his grinding that he still managed to finish with a 71 and make the weekend.
"Yeah, you know, I called Joe [LaCava, his caddie] in for the read [on 14] and it was a really tough putt. It was such a short one. It was left early, right late. Everything on that green says it has to go towards the front but it really doesn't on that putt. I happened to be on just the right side of the fault line.
"I didn't trust what I was -- well, I didn't trust my sight. I was going with my feel, and my feel and my feet betrayed me on that one."
Woods has made just four birdies on the week, a total he'll need to eclipse in his third round alone to even sniff the leaders. He'll tee off Saturday morning at 7:50 a.m. EDT alongside Ian Poulter.