Instruction
Masters 2020: No, we can't copy Dustin Johnson's swing, but here are some things we can steal from him
The running joke within golf teacher circles Sunday night was that practice ranges around the country would be filled the next day with weekend hackers trying to bend their left wrists at the top of the backswing to copy the new Masters champ.
It was a joke—sort of—but illustrative of one of the problems in basing golf instruction on PGA Tour player maneuvers. They're super talented, physically fit and practice way more than you. Still, there are some elements you can take from Dustin Johnson's dominant performance at the Masters. We asked two top teachers, Terry Rowles and Bernie Najar, to explain.
Copy processes, not movements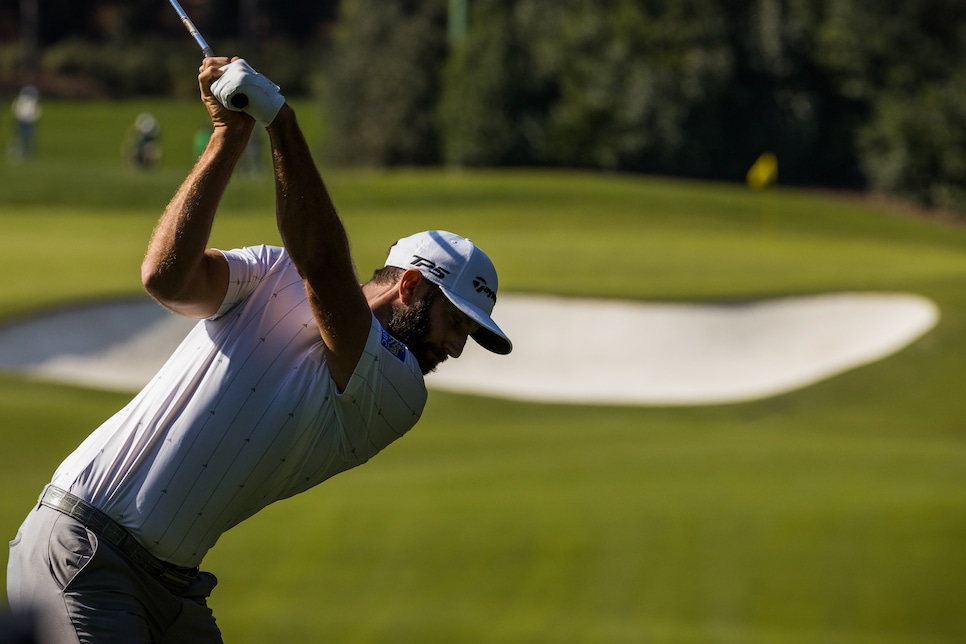 "What you saw DJ doing with his swing was pretty much the same thing he's done his whole career," says Rowles, a top New Jersey teacher based at Mountain Ridge Country Club in West Caldwell. "His swing hasn't changed. His approach hasn't changed. He loves to forward press, side bend, aim down the left and hit cut after cut. What changed is he developed a process for his putting."
With the help of putting guru Dr. Craig Farnsworth, Johnson and his caddie (brother, A.J.) worked out exactly what they should do from the time they walked onto the green—from reading to pre-putt routine. "He doesn't get credit for what an intelligent golfer he is," says Rowles. "Players struggle when they want to be somebody else instead of achieving being the best version of themselves. He got his processes down, and went out and just did DJ."
Use physics, don't fight it
Tour players make golf look easy, and bunker shots are no exception. The sand at Augusta National is some of the finest on tour—both literally and figuratively. It is high-dollar North Carolina quartz almost talcum powder-like in its consistency. DJ had two crucial moments in the bunkers on his front nine, particularly at the par-5 third. After laying up, he duffed his third shot into the front right bunker. Facing a potential dropped shot, Johnson hit the delicate shot to two feet. He did the same at the seventh hole after a rare missed fairway.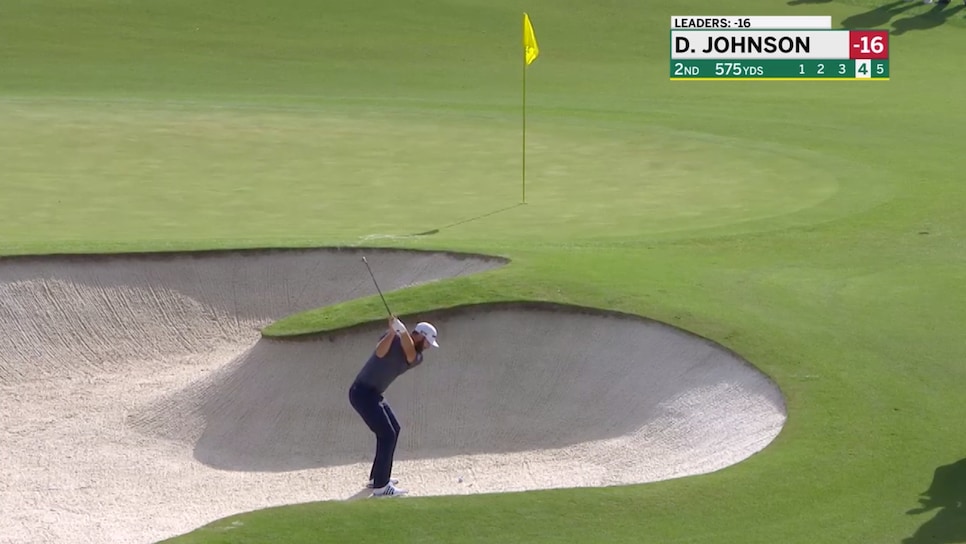 "The difference is that he doesn't do what the average weekend player does," says Golf Digest 50 Best Teacher Bernie Najar, who has tour-caliber bunkers to teach out of at his home base of Caves Valley outside Baltimore. "A lot of players put a death grip on the club and smash down way too far behind the ball."
The secret to hitting DJ's "gentle" bunker shot? "Grip the club light enough that you can feel the weight of the head," Najar says. "Take a few practice swings above the sand, counting '1' for the backswing and '2' for the finish, which will help you make a smooth, uninterrupted swing. Then set your soft focus on the back of the ball and make a swing with that 1-2 tempo with the intention of splashing the sand out from under the ball."
It's speed and clean contact, not aggression that makes the ball come out high with spin. "You want that club to sizzle through the sand, not hit it like a sledgehammer."