European Tour
Dustin Johnson is in an awfully familiar place at the Saudi International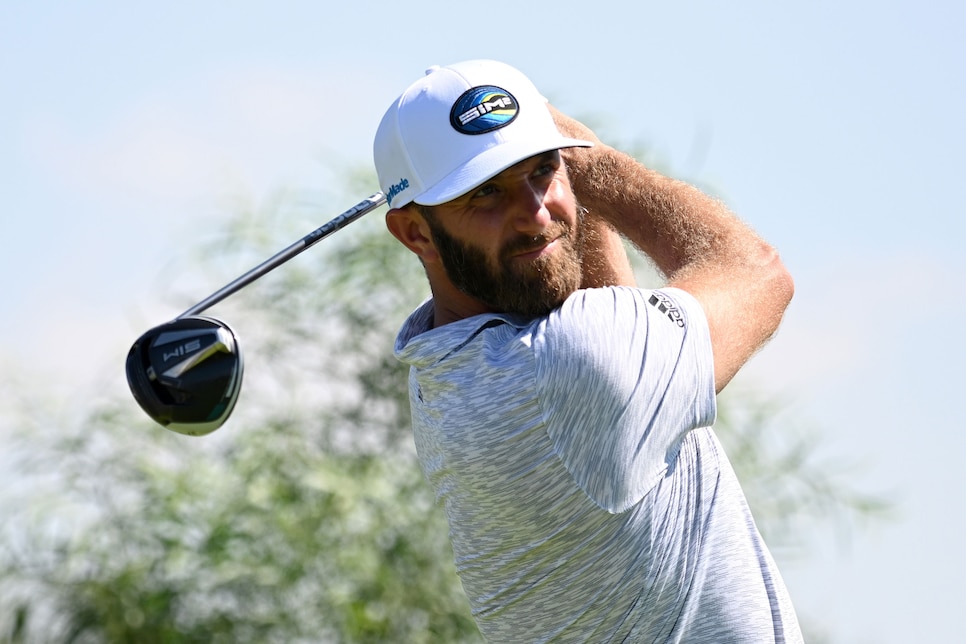 Dustin Johnson's birdies on the last two holes pulled him into a two-shot lead entering the final round in Saudi Arabia.
Ross Kinnaird
This year it took Dustin Johnson 44 bogey-free holes to get there alone. But when the World No. 1 did hit the front in the Saudi International the feeling of dread amongst the other contenders must surely have been palpable. It would certainly have been justified, then intensified by the sight of Johnson closing his third-round 66 with a brace of birdies.
In two previous visits to the Middle Eastern Kingdom, Johnson has finished first and second at the Royal Greens Golf & Country Club. So his presence at the head of proceedings is nothing new, no surprise and ominous for anyone else harboring ambitions of ultimate victory. With 18 holes to play, the Masters champion has a two-shot advantage over the field and, perhaps more importantly, a more sizeable mental edge.
It wouldn't do for him to take too much for granted, however. For one thing, the sloppy double bogey Johnson made at the par-4 13th—his only over-par lapse so far this week—was an indication that even the planet's best golfer is not above human error. For another, the leader's so-far struggles on the greens offer encouragement to those in pursuit. And for a third, that chasing pack is not lacking in quality. The likes of Viktor Hovland, Martin Kaymer, Sergio Garcia, Tyrrell Hatton, Tony Finau, Justin Rose and Victor Perez are all within four shots of Johnson's 12-under-par 198 total.
"I felt like I played really well all day, other than 13," Johnson said. "Even there, I didn't think I hit that bad a shot. I pushed it a hair right of the flag, but it came up well short of where I thought it would. I feel like I'm playing very solid. I'm seeing a lot of the same things each and every week with my game. I'm pleased with where it's at and where it going. I was a little frustrated on the greens today. I feel like I'm trying to read them as good as I can. I'm hitting good putts where I'm looking. Just having a tough time reading them. They are in good condition. They are just really tricky."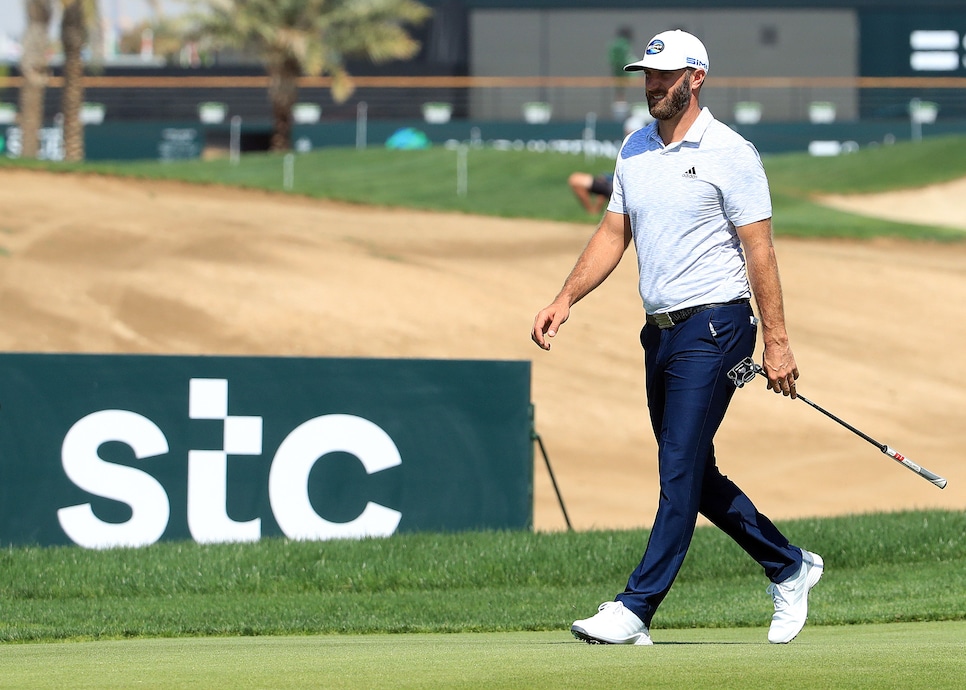 Dustin Johnson walks on the first hole during third round of the Saudi International.
Andrew Redington/WME IMG
Of those piled up behind the leader, Victor Perez is closest at 11 under. The Scotland-based Frenchman, already in a strong position to become the fourth from his home nation to play in the Ryder Cup (Jean Van de Velde, Thomas Levet and Victor Dubuisson are the others), shot a bogey-free 66 that matched Johnson's effort. Just one under par through 20 holes, Perez has accelerated rapidly since. His last 34 holes have included 11 birdies.
"I will obviously need to make some putts tomorrow," Perez said. "I don't know what the weather is going to be like. But if it's good, somebody is going to have put in a low one to win. And if it's going to be windy, it's going to be a grind coming down the stretch for sure. But playing with Dustin is as good as it gets. I am excited for the challenge. This is what we all strive for."
Perez was not alone in his anticipation. Despite the enormity of the task ahead, at least some of those in Johnson's slipstream were still making positive noises with regard to what might be required to beat the favorite over the final 18 holes.
"I think probably somewhere around 65 is what we're looking at," said Tony Finau, whose 67 has him 10 under par and tied for third alongside Hatton and two others. "I think 15 to 16 under is probably a good number to shoot for tomorrow. You never know what the conditions are going to be like, but I reckon one or two guys will start pulling away right around that. So I have to be aggressive tomorrow. That's all there is to it."
Rose was equally optimistic, even if the former U.S. Open champion is five back after a 68. "All is not lost," he said. "I'm right there in that chasing pack. If I put a special round of golf together, I can still get the job done."
There is also the chance that Johnson may falter. It's happened before, although not recently. But funny things can occur on this 7,010-yard layout that sits by the Red Sea. Even amidst a flurry of low scores from those most likely to deny the leader, there was evidence of real danger lurking. Case in point: Kevin Na stood 12 under par on the 13th tee, tied for the lead, only to play the last six holes in five-over par to plunge from close contention.
Golf is still golf, and nothing is guaranteed.