The Loop
Dustin Johnson extends an impressive streak, Ian Poulter passes some impressive gas and a funny WAG story you have to hear
Welcome to another edition of The Grind where we have never been so thrilled to get a haircut. My appointment felt like what I can only imagine having a tee time at Augusta National feels like. I was so excited I could barely fall asleep the night before. And when I finally got into that chair, I didn't care about the result, just that I was there after four long months in which a mop had grown on top of my head. Was it the best haircut I've ever gotten? No, that's still the time I got styled for a GQ shoot (true story). But for 17 bucks, I'm not complaining. Anyway, let's talk some golf.
Dustin Johnson: Apparently this guy didn't like falling out of the top five in the Official World Golf Ranking for the first time in four years. Johnson's response was to win his next start at the Travelers Championship to move back to No. 3. More impressively, that's now 21 career PGA Tour titles and a 13-season winning streak that's only behind Jack Nicklaus, Arnold Palmer, Billy Casper, Lee Trevino and Tiger Woods. Decent company.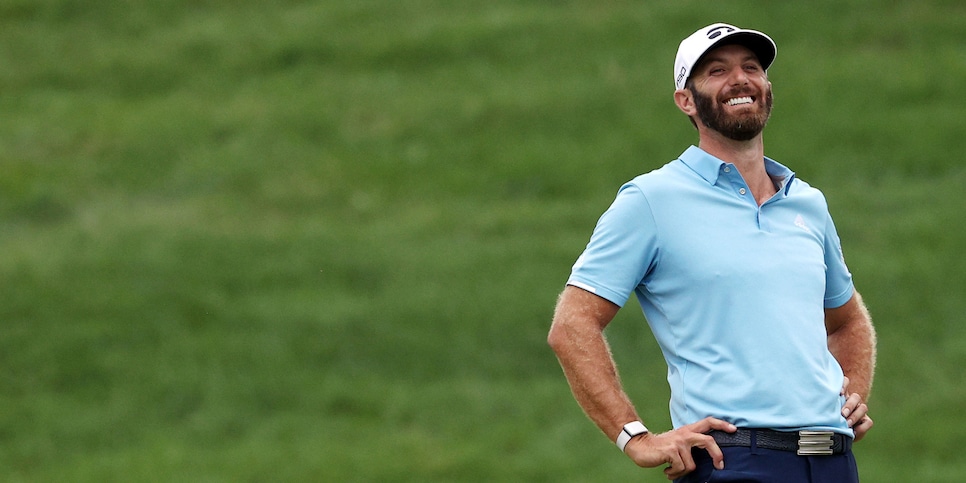 Also decent? The payout I received from betting on DJ to win, making it two weeks in a row for yours truly after wagering on Webb Simpson at the RBC Heritage. I didn't make nearly as much as the guy who won 20 GRAND betting on Mackenzie Hughes as a first-round leader, but at least my barber trips should be covered for the next couple years, or decades depending on the quarantine situation. Thanks, DJ!
Jayson Tatum's swing speed: Speaking of quarantine, the Boston Celtics star caught the golf bug during his and began taking lessons. According to Tatum's instructor, he already has elite PGA Tour swing speed that reaches 125 miles per hour despite his silky-smooth action:
How about that "bunt driver" that goes 315 yards? Must be nice to be 6-foot-8 and freakishly athletic. OK, so I'd settle for just being somewhat athletic.
NBC's USGA deal: The Peacock is getting golf's national championship back beginning this year at a sweet discount since Fox will reportedly pay more than half of what's remaining on the seven-year deal. Ouch. While we admire some of the innovations Fox added to its coverage these past few years, it still felt weird when the network parachuted in to broadcast only USGA events. There will be more continuity to NBC's coverage. And more importantly, Yanni's IN CELEBRATION OF MAN is BACK!
Between my haircut, the DJ bet, and that, it's been quite a week.
The Summerhays family: First, 15-year-old Grace shot 76 from 7,000 yards at a Monday qualifier for the Korn Ferry Tour's Utah Championship. Then her 17-year-old brother, Preston, shot a pair of 70s in the actual tournament to narrowly miss the cut. But Uncle Daniel saved the best for last. The PGA Tour veteran, who previously announced his hometown event would be his last start before walking away from competitive golf to become a teacher and coach at his former high school, nearly pulled off a walk-off win. Summerhays shot a final-round 62 but lost in a three-man playoff eventually won by Kyle Jones.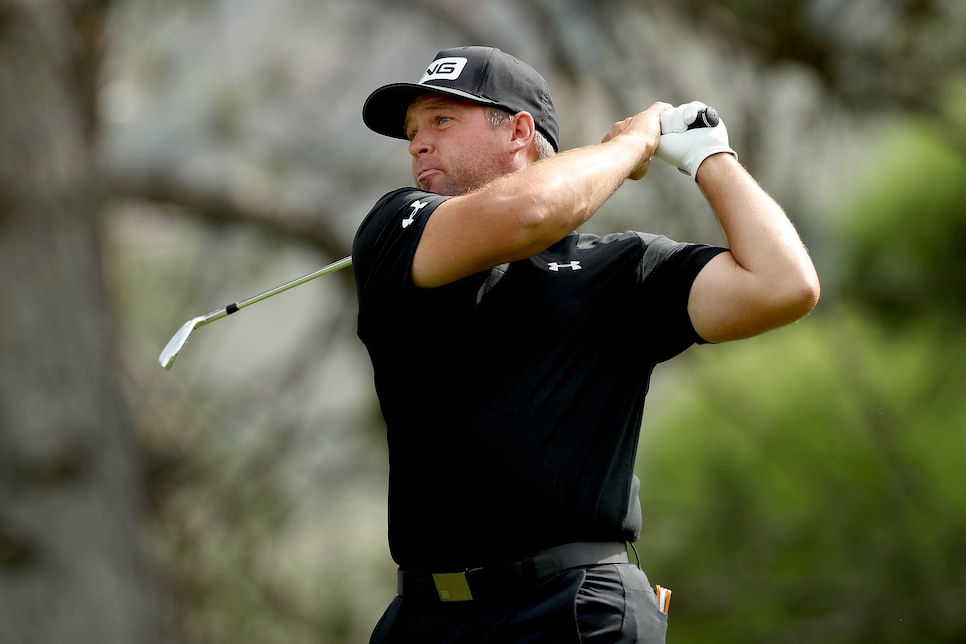 What a way to go out. Except …
Daniel Summerhays' retirement: The guy is playing in this week's TPC Colorado Championship on the Korn Ferry Tour.
He's back! There are retirement speeches that lasted longer than that retirement. No, all kidding aside, Daniel still plans to walk away from competitive golf full time. You just can't walk away while you're on a heater. We get it.
More COVID WDs: Sadly, the list of these on the PGA Tour is starting to grow rather quickly. On the bright side, though, positive tests seem to be relatively contained and players seem to be taking things very seriously. Brooks Koepka and Webb Simpson were among those pulling out despite not testing positive for the virus themselves. And players like Jason Day have quickly gotten tested when feeling symptoms. Let's hope this remains the case—even with guys who find themselves in contention.
Being paired with Ian Poulter: Greg Chalmers' Sunday 73 seems a lot more impressive when you consider the tough scoring conditions he faced. Just watch and listen to this epic fart by playing partner Ian Poulter:
How can anyone concentrate with that sort of flatulence around? No wonder Poulter is such a dominant force at the Ryder Cup.
The PGA Tour heads to Detroit for the Rocket Mortgage Classic, AKA that new event last year that Nate Lashley went wire-to-wire and won by six shots as an alternate who got into the field on the eve of the tournament.
Random tournament fact: Again, a guy who got into a PGA Tour event on the eve of the tournament as an alternate went wire-to-wire and won by six shots. It doesn't get much more random than that.
RANDOM PROP BETS OF THE WEEK
—Nate Lashley will win by six shots again this year: 1 MILLION-to-1 odds
—Bryson DeChambeau will win this week: 6-to-1 odds (Actual odds, he's the favorite)
—Joe Buck won't miss getting roasted by Golf Twitter: LOCK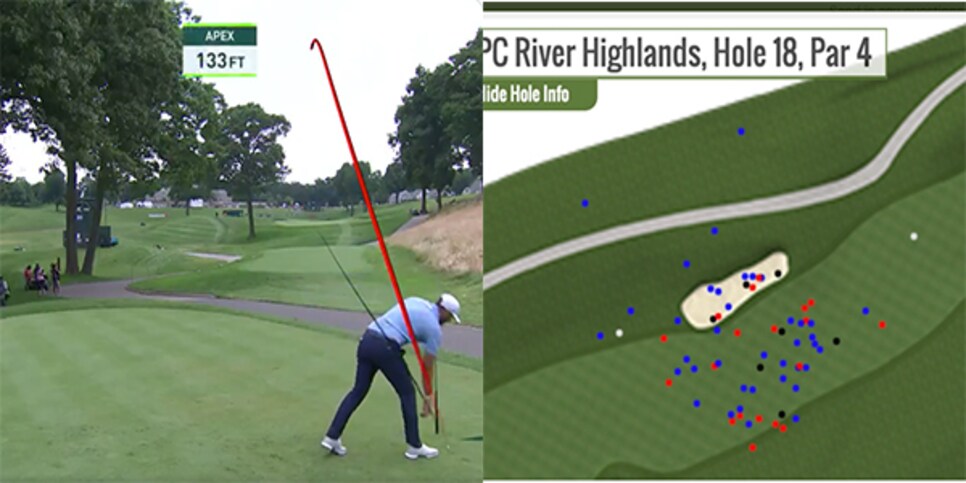 Absolutely majestic. And yes, that little white spot is where DJ's drive ended up on the final hole. My word.
Check out Martin Kaymer telling a funny story about being single at the 2016 Ryder Cup and being able to hear what was going on in a teammate's neighboring hotel room:
"Others had more fun than me." Classic. It looks like we won't have a Ryder Cup this year, but in the meantime, we'll take more Ryder Cup stories from Martin Kaymer, please.
THIS WEEK IN TOUR PRO PUBLIC DISPLAYS OF AFFECTION
With the new COVID-19 rules, Paulina Gretzky wasn't able to congratulate her man on his victory in person, but she did post this after DJ fired a Saturday 61:
I could kiss DJ, too, after he won me that bet.
If you're not following Ben An on Twitter, you're doing Twitter wrong. Here he is playfully taking a jab at Rory McIlroy:
And here he is acknowledging why he was selected as a feature group:
THIS WEEK IN PHIL BEING PHIL
What a week! In his first PGA Tour start as a 50(!)-year-old, Mickelson took the 36-hole lead. Then news came out that he has trademarked the phrase "Hit Bombs" for a clothing line. Let's just hope these joggers don't make the cut …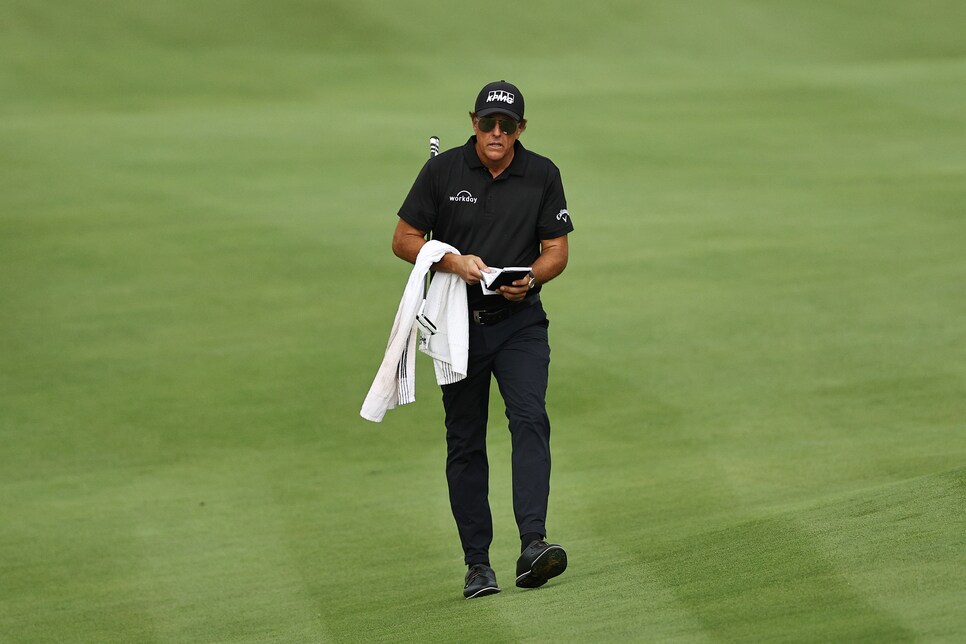 "But what I have to do is imagine I'm the casino and just keep playing." —Bryson DeChambeau, who after finishing T-6 at the Travelers hasn't finished worse than T-8 in his past eight starts. I believe Bryson was referencing that he's close to winning again because over time, "The house always wins." But in the meantime, he's still making money like a casino. And now he's earned a new nickname: Bryson DeCasino. Congrats, Bryson.
In other failed nicknames, I started calling Brendon Todd "Bren Hogan" after he missed just one fairway through three rounds at the Travelers. That didn't age well with his tough Sunday, but I'm still going to try to get this one to stick. … Collin Morikawa had his streak of made cuts since turning pro snapped at 22, just three shy of tying Tiger Woods' record. Now he can get to work on breaking Tiger's overall consecutive cut record of 142. Good luck, Collin! … Toptracer announced the introduction of a new game, GO FISH, at 250 range locations worldwide. We in golf always talk about finding ways to grow the game and this could be a good one. Once my daughter realizes the difference between a golf club and a broom, I'm in. … And finally, congratulations to our John Strege for retiring after 51(!) years in the business. I'm guessing this retirement will last longer than that of Daniel Summerhays. All kidding aside, it was an honor and a pleasure working with you, John. Here's the send-off video we made for him:
OK, enough of the sappy reminiscing, John. Go get that handicap down!
RANDOM QUESTIONS TO PONDER
Who was Martin Kaymer talking about in that Ryder Cup video?
What will Phil sell next?
Is Johnny Miller free the week of Sept. 14?