News
Birdie-fest or brutal test, Dustin Johnson making bid to win back-to-back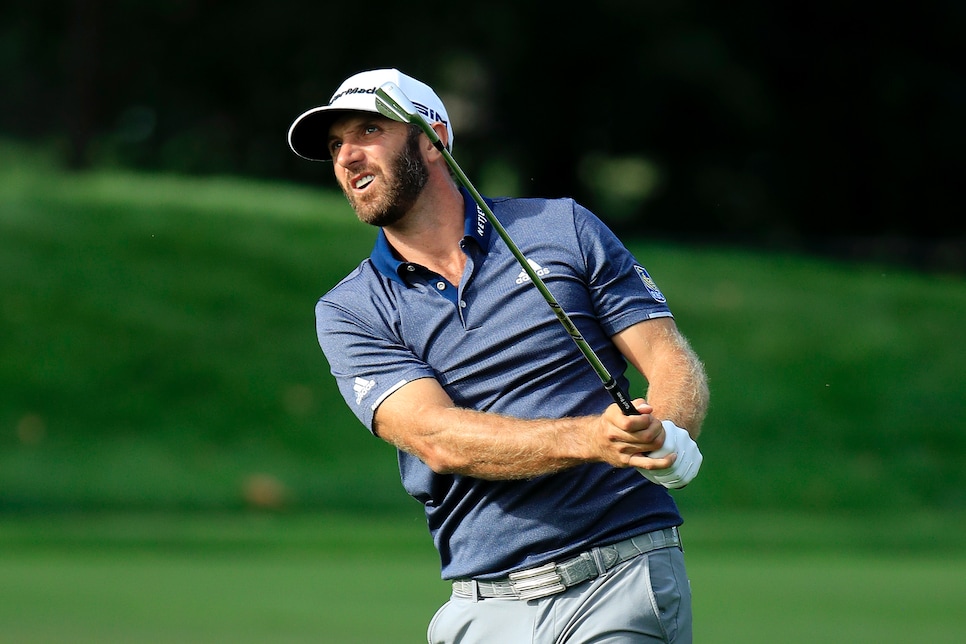 Dustin Johnson watches his approach to the 18th green in the third round of the BMW Championship.
Andy Lyons
OLYMPIA FIELDS, Ill. — One measure of athletic greatness is versatility. Golf is no different. It's why the career Grand Slam club—membership: five—remains the most exclusive in the sport. To be one of the greats, you have to get it done everywhere. It's one thing to win a birdie-fest. It's quite another to win a battle of attrition.
Dustin Johnson is not one of the five to have won each of golf's four majors. As Brooks Koepka reminded us a few weeks ago, Johnson "only" has one. But he's one more gritty round away from pulling off a rather dramatic back-to-back in tournaments that could not be more different.
Last week, at TPC Boston, Johnson held the 54-hole lead by five at 22 under. This week, at brutal Olympia Fields, he holds a share of the 54-hole lead at one under. Hideki Matsuyama is also at one under, no one is at even, and Adam Scott, Mackenzie Hughes and Joaquin Niemann are at one over.
Last week, in winning The Northern Trust by 11, Johnson became the first man to reach 30 under par at a golf course other than Kapalua. This week, at the BMW Championship, even par just might get the job done.
"I feel like it's fairly similar," Johnson said of his standard of play compared to a week ago after he shot a second straight one-under 69 on Saturday. "Just obviously these conditions and the greens are a lot more difficult."
The scoring average on Saturday, on this par-70 layout, was 71.391—and that was more than a full shot easier than the course played on Thursday and Friday. This is shaping up to be one of the most difficult non-major PGA Tour events in history. Should even par be the winning total, it will be the first time that has happened in a non-major since 1995. If it bleeds into over-par territory, well, that hasn't happened since the 1981 Byron Nelson.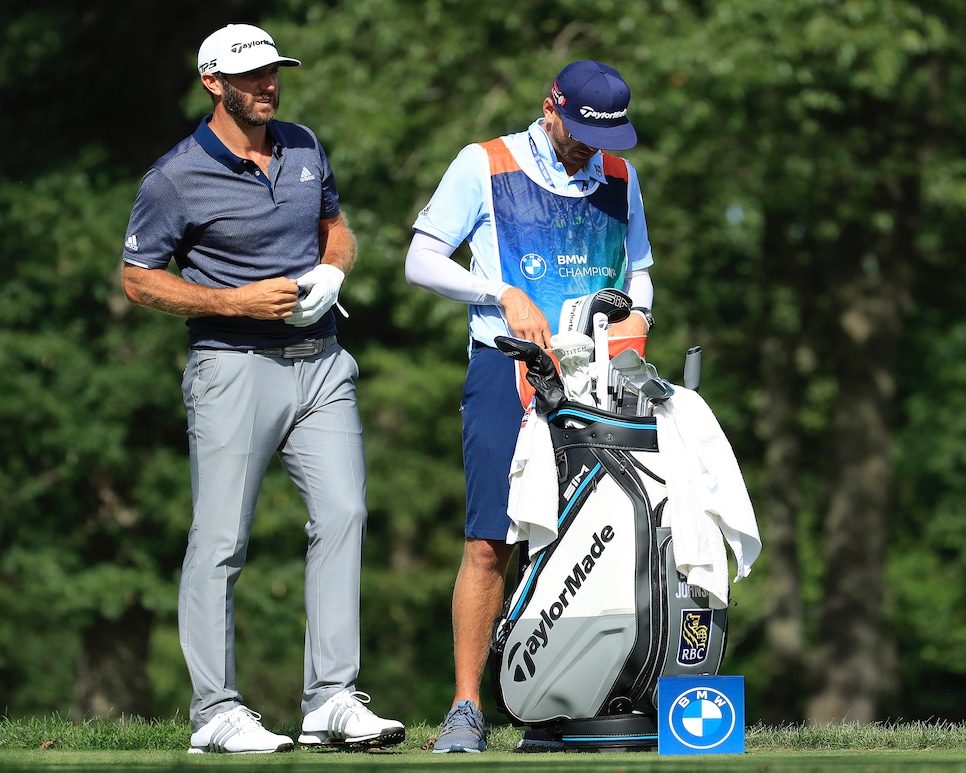 Dustin Johnson waits with caddie and brother, Austin Johnson, on a tee during the third round of the BMW Championship.
Andy Lyons
"It's a completely different golf course," Johnson said. At TPC Boston, 10 under didn't even get you a top 25. This week, no one's even reached five under. "Completely different conditions. It's pretty easy to get into the mindset of four under being a good score. This is pretty much a major championship venue, and the conditions, the way it's set up, it's playing just like a major."
Johnson's triumph at TPC Boston was a tour de force, a generationally talented golfer at the absolute height of his abilities. Somewhat fitting, then, that the victory saw him re-take the world No. 1 ranking. When Johnson's cooking like he was last week, it's almost automatic: power fade off the tee, short iron that lands just short of pin-high, takes one bounce and stops, putt in the center of the cup.
That kind of driving range, TrackMan-friendly golf simply isn't possible at Olympia Fields. This course has hosted two U.S. Opens but has never played quite this difficult. It's been lengthened since the last one—in 2003, won by Jim Furyk—the rough is just as long and, crucially, the weather has been the stuff of USGA dreams. Thursday and Friday were uncomfortably hot and humid, and the wind blew primarily from the south. There was rain in the forecast for Friday night, but it never showed. Saturday brought slightly cooler temperatures and no humidity, which only further dried out the greens, and the wind came from the north. A new challenge entirely.
And if you were expecting the tour to set things up easier on the weekend, guess again. They're leaning into it. Everyone seems to be.
"Such a demanding golf course out there, you just have to think over every shot," said Rory McIlroy, who had his own struggles in shooting two-over 73 to drop from first to a tie for sixth. Notice the word choice. Demanding. In golf, that's a compliment. "You can't have a lapse in concentration."
Johnson, for all the good-natured ribbing he takes for not being the deepest thinker, knows his way around a vexing golf course. Knows how to maintain focus. The guy won a U.S. Open at Oakmont while in limbo over a maybe-penalty. That victory altered his legacy. A victory on Sunday, which would be the 23rd of his career, would not.
But what it would do is send a message to the rest of the handful of players vying for the title of Best in the World: Dustin Johnson can win anytime, anywhere, on any course.