News
Dustin Johnson and Jordan Spieth, together again, with a similar result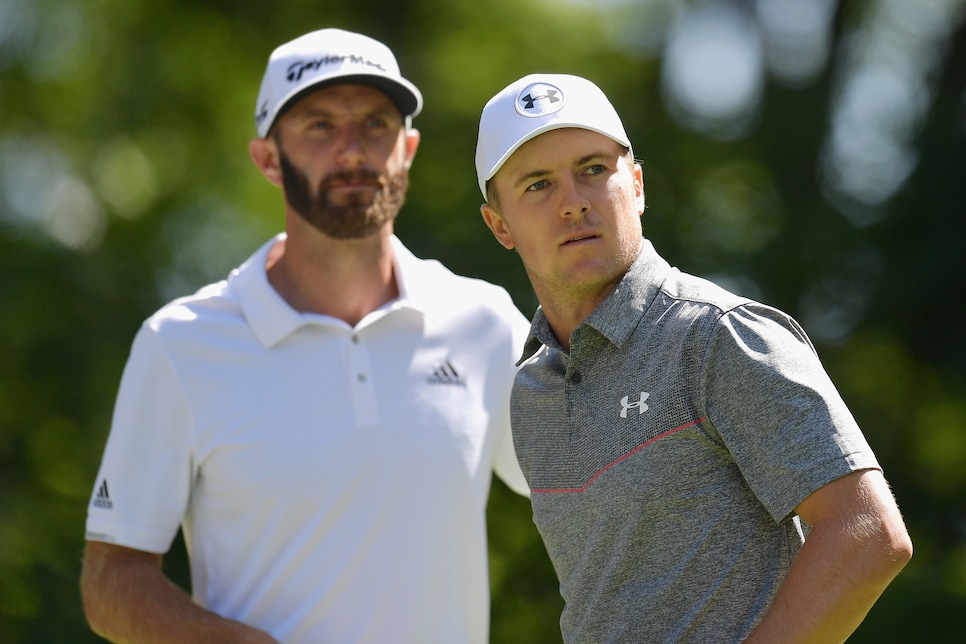 NORTON, Mass. — So much for Jordan Spieth vs. Dustin Johnson, Part II. At least on Friday, anyway.
Five days after dueling in a playoff in the first event of the FedEx Cup Playoffs, the two were grouped together, along with Justin Thomas, for the opening round of the Dell Technologies Championship on Friday.
This one went to Johnson, too.
On a cool, breezy morning at TPC Boston, Johnson made five birdies, an eagle and two bogeys en route to a five-under 66 to take a one-shot lead over Kyle Stanley, Marc Leishman and Sergio Garcia.
Spieth, meanwhile, made three bogeys in his first seven holes and shot 71.
"I finally feel like I'm swinging the club how I was, you know, when I was playing really well at the beginning of the year," Johnson said. "I've got a lot of control over it.
"When you win, you're playing well. So it gives you a lot of confidence. For me, that was one thing that was probably lacking a little bit the last few months is just the confidence, just because I wasn't seeing the shots that I wanted to see. I wasn't consistently hitting them. So the confidence was just down a little bit."
It didn't take long to get going on Friday.
Starting on the par-4 10th, Johnson began his round by pouring in a 25-footer for birdie. Then he made a good par after driving into thick rough in the middle of the fairway on the newly redesigned (and much criticized) 12th.
"I thought it would be 10 yards shorter into the fairway and it ended up down the hill," he said about his 3-wood off the tee. "It wasn't a great lie. Ball was way below my feet. But hit a pretty good shot to get it on the front edge of the green there."
Johnson sandwiched two more birdies around a bogey over his next three holes and on the par-5 18th reached the green in two, sticking his approach from 220 yards to four feet to set up the eagle.
"After last week, obviously I've got a lot of confidence now," said Johnson, who earlier this year ascended to No. 1 in the World Ranking following three straight wins, but suffered a back injury to miss the Masters. "I feel like the things I've been working on, they are back to working."
Spieth, on the other hand, struggled right from the start, missing the fairway left with his opening tee shot, chopping out and failing to get up and down from just inside 50 yards.
Two holes later, he drove into the new fairway bunker added to the middle of No. 12, pitched out and two-putted from 30 feet for bogey.
After another bogey at 16, Spieth bounced back with two birdies over his final six holes but it still left him in the middle of the pack.
Thomas, meanwhile, shot 71 and was the lone player among the three to take the alternate route on 12, playing his tee shot up the 13th fairway in an effort to leave a wide-open view of the green and a shorter club in. Only he drove it too far left and had to slash out of the rough, getting up and down to save par from just short of the putting surface.
"It just all depends on the wind," Thomas said. "I still don't think it's a very good hole, but I just felt like with when it's a little bit helping like that, you can hit it far enough up that left."
Rory McIlroy chose to play his tee shot down the middle of the 12th, making par. It was the hole before that gave the defending champion more trouble. After hitting his tee shot to 11 feet on the par 3, he took four putts and made double bogey. He shot 72.
Meanwhile, Phil Mickelson, who is vying for a spot on this year's Presidents Cup team, which will be finalized after this week, opened with a 69.