European Tour
An unusually patient Tyrrell Hatton persists through trying conditions at Dunhill Links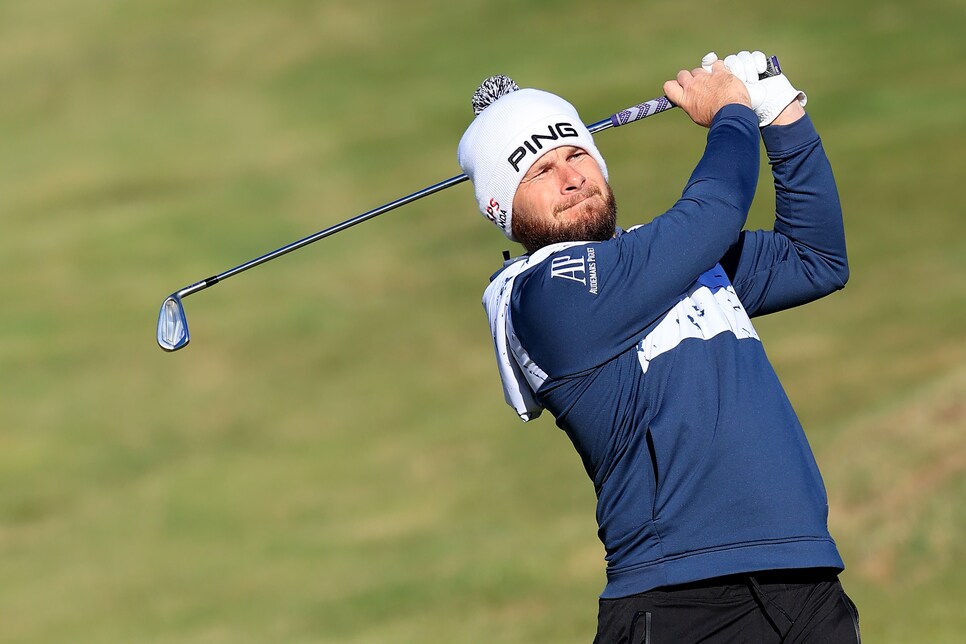 ST. ANDREWS, Scotland—It was a day for patience out on the links. With a brisk autumnal breeze sweeping towards the ever-chilly North Sea, tough questions were being asked of the players in the Alfred Dunhill Links Championship. There were answers to be found though. And so far no one has come up with more correct responses than—oh, the irony—Tyrrell Hatton.
In conditions calling for calmness of thought, stoicism, self-restraint, fortitude and endurance, the man who often enough displays only traces of those attributes is at the top of the leader board after adding a two-under par 70 at Kingsbarns to his opening 64 at Carnoustie. On ten-under par, Hatton leads by a shot from the recent winner of the ISPS Handa World Invitational, Daniel Gavins. Two other Englishmen, the formidable pair of Danny Willett and Tommy Fleetwood, are in the top-five, both within three-shots of the leader.
Still, despite his propensity for loud self-abuse, Hatton's pace-setting is no real surprise. Twice a winner of this event in 2016 and 2017—he also finished T-2 in 2018—the 29-year old clearly has affinity for both this event and golf by the seaside. Which only makes his pitiful record in the Open Championship more difficult to understand. Nine times Hatton has teed-up in golf's oldest and most important event; six times he has been home for the weekend.
There will be none of that this week. Everyone in this AT&T National Pro-Am-like event is guaranteed three rounds—one on Carnoustie, one at St. Andrews and one at Kingsbarns. By far the youngest of the three, Kingsbarns is also the most exposed. Shane Lowry's 67 (the Irishman is T-7 on six-under par) was the best of the day on the acclaimed Kyle Phillips-design.
"It was really tough out there," confirmed Hatton, who made two birdies in his last four holes. "We had a lot of crosswinds. It seemed as though we were getting a little bit of hurt one second then a little bit of help the next. That made it so hard to get the club right. And, when we did finally get to the green, putting was so hard. Most times, I just wanted to two-putt and get out of there. I'm pretty happy about how I fought though. I didn't get off to the ideal start and, after I made a birdie, it seemed I'd go and make a bogey within two holes. So it was hard to get any momentum. But it was nice to finish fairly strong."
Still, familiarity with the courses and memories of past success are not the only factors contributing to Hatton's unusual level of relaxation so far. The almost complete contrast with the craziness of last week's Ryder Cup is playing a part. As is being paired with his father, Jeff, who doubles as his swing coach. HIs presence and proximity has surely helped smooth out his son's rough edges, both technical and psychological.
"It is nice to have my dad out here with me this year," said Hatton junior. "It's a pretty chilled week compared to any other tournament we play in. He's never played these courses before and, after today, I don't think he'll want to play them again! It was a tough day, bless him. But it's nice to walk the fairways with him and share this experience with him. It doesn't feel as stressful as a normal tournament, which helps after a Ryder Cup. It's a good setup here and we are well looked after. I especially like the little donuts they have—they are dangerous."
Fleetwood, another veteran of last week's record-breaking defeat for Europe at Whistling Straits, was nevertheless also purring with pleasure at the state of his game. His long game at least. While he excelled tee-to-green, the endlessly hirsute 30-year old was less than chuffed by his efforts on the greens.
"I played amazing," Fleetwood claimed. "I missed two greens, one of them the first hole of the day and that was by a tee-shot. I had complete control of my ball. I hit some really strong tee-shots. My iron-play was great. One-under feels like the worst it could have been. Putting is the toughest part of the game in these conditions. Especially short putts. And I kept leaving myself those. I didn't have great pace. I kept ramming them past. I don't know why. I look at things as daft as the 9th. I've misjudged what I wanted to do with the pitch shot—float it in the air—which is poor. Then I knocked the putt six-foot past. I felt like I was leaving those all day. I was making it too difficult really. The good thing was I stayed stubborn and kept knocking them at the hole."
Stubborn eh? Maybe that's the secret. Amidst his many foibles, Tyrrell Hatton is definitely stubborn. And, this week, the man to beat.