Scottish weather
'Absolutely horrible': Wicked weather made Friday's round at the Dunhill Links one of the all-time worst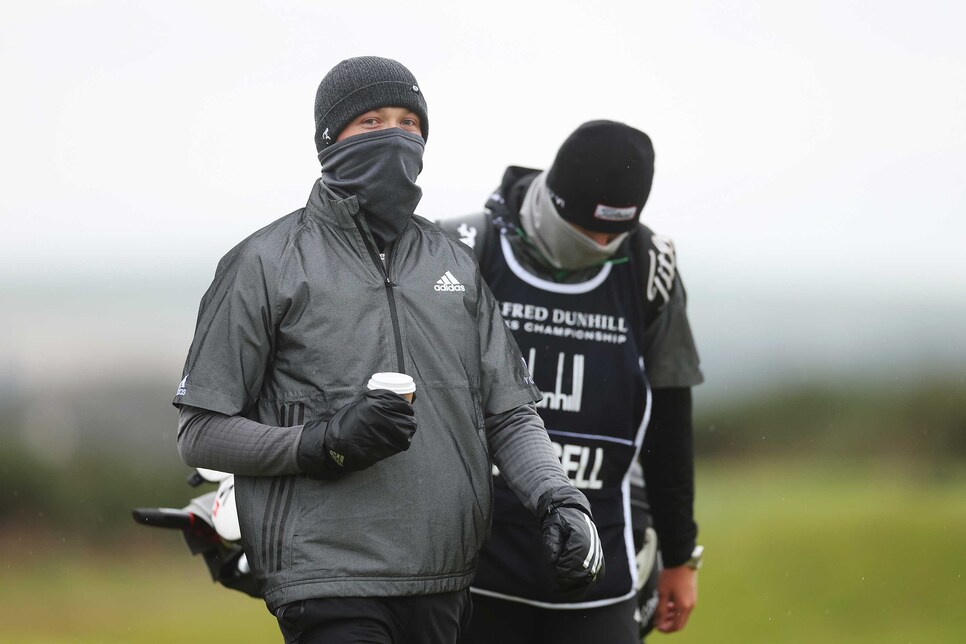 Richard Mansell handled the bad weather best on Friday at the Dunhill Links Championship, somehow posting a four-under 68 at the Old Course to take the Day 2 lead.
Oisin Keniry
ST. ANDREWS, Scotland — It wasn't impossible, as tournament leader Richard Mansell's four-under-par 68 over the Old Course illustrated amidst much carnage elsewhere. But no one in the 168-strong professional field was arguing the case that the second round of the Alfred Dunhill Links Championship at St. Andrews, Kingsbarns and Carnoustie was anything other than a thoroughly unpleasant experience.
In the sort of weather—strong winds and sideways rain—that grounds seagulls and keeps even the hardiest Scots indoors, scores typically soared. Some examples:
One day after shooting a course record-tying 61 at St. Andrews, Frenchman Romain Langasque staggered off Carnoustie having expended 19 shots more.
Former U.S. Open champion Geoff Ogilvy's bogey-free 66 on Day 1 almost turned into a birdie-free 76 on Day 2. Only once, at the par-5 fifth on the Old Course, did the Australian dip under par amidst his five dropped shots.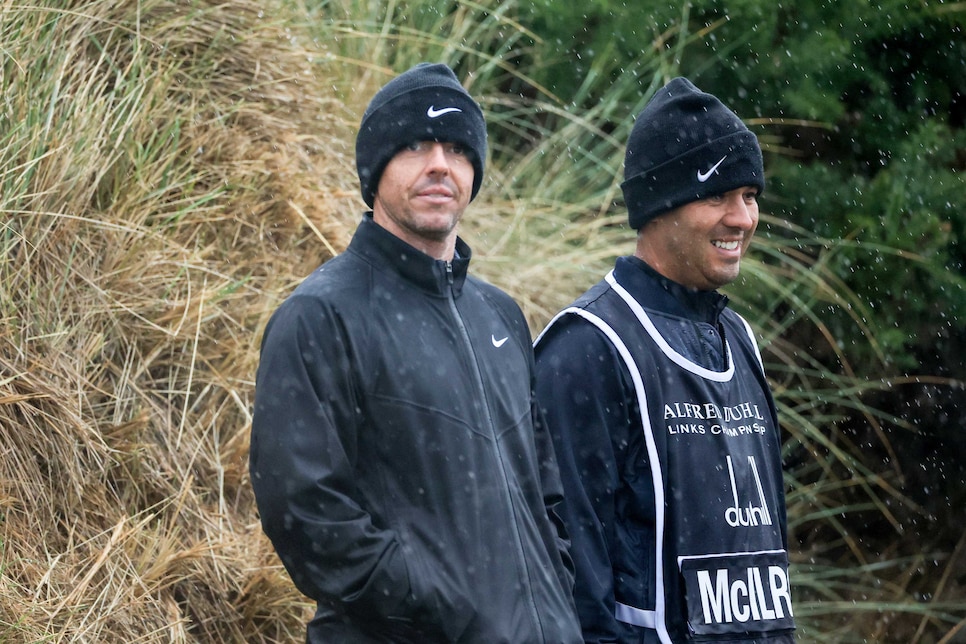 Rory McIlroy tries to manage the elements while playing at Kingsbarns on Friday.
David Cannon
Other notables also struggled too as officials had the whole field playing in a shotgun start on the three courses. Rory McIlroy's 75 at Kingsbarns has the World No. 2 nine shots off the lead with his one-under-par total. U.S. Open champion Matt Fitzpatrick is but one stroke better after a 71 on the same course, although the Englishman has the slight consolation of being one of only eight men to have broken par in both rounds (American Billy Horschel is another). Not that such a fact seemed to be cheering him up any.
"Miserable, wet, cold, windy, it was absolutely horrible," said Fitzpatrick, whose partner in the team competition is his his mother, Susan. "Top-three worst conditions for sure, absolutely certain of that."
The worst score of the day, however, was the 88 posted by Alexander Knappe at the Old Course. Starting at the par-5 14th, the German made his opening par safely, but then needed 23 shots (6-9-8) to complete the next three holes. Out of sequence, he actually played the front-nine in a level-par 36, before roaring home in 52. Still, Knappe was far from alone in his despair. As many as 34 other professionals failed to break 80.
Inevitably, as is always the case where world-class players are concerned, there were those who prospered. But even then it wasn't much fun.
"It got to a point where it wasn't even golf," said Robert MacIntyre, the Scotsman's 70 at Kingsbarns hauling him up to a tie for sixth place on six under par, four shots back of Mansell. "It was just the best attitude got you through the game, and today I was playing with somebody I get on really well with in Tyrrell [Hatton]. We just had a laugh. But I'm soaked through. I've got water in my shoes. I just poked it around. It was a day when you couldn't be perfect. It was just about being mediocre and making sure you didn't make a big mistake."
Speaking of Hatton, his "attitude" toward the conditions came with the two-time Dunhill winner's usual bit of sarcasm as he was interviewed on the broadcast during the round.
In second place on eight under par, Alex Noren nipped McIntyre by a shot and joined Mansell and Alex Fitzpatrick (younger brother of Matt) as the only men to break 70. And yes, the Swede was equally breathless at the end of what was basically a test of endurance as much as golf.
"I love wind, but I hate this rain, even though I played well," said the former European Ryder Cup player. "I just had to trust that I could actually play golf because I couldn't feel my hands. I couldn't do anything other than try to keep the ball low, even downwind. Just keep it low was my aim, that and try not to be a hero."
Even a hole-in-one on the par-3 eighth wasn't doing much to lighten Eddie Pepperell's mood after a 74 at Kingsbarns.
"The worst ever," he said of the conditions. "I don't think we've ever played in stuff as difficult as that. It was just brutal."
Antoine Rozner went even further after adding a commendable 74 at Kingsbarns to the startling 63 he shot over the Old Course on day one.
"I'm very proud of myself because it was such a grind," said the Frenchman, who sits three off Mansell's pace. "It was probably one of the worst days of my life."
Ah, but we can always rely on Padraig Harrington to come up with a contrary view. Ever perverse, the former Open champion was all smiles at the end of his 71 at Kingsbarns.
"It was tough out there, but it wasn't that windy and it obviously wasn't cold," claimed the Irishman, who is six shots back on four under par. "You just had to keep your head in the game all the time. Like everybody, I made a few mistakes, but I also holed a few putts which you need it do on a bad day."
One last thing. Just to rub in the misery endured by the competitors (other than Harrington), the sun came out just as the last few groups were finishing. Welcome to Scotland everyone.