DP World Tour
Geoff Ogilvy shows no signs of rust, smoothly shoots 66 at Kingsbarns to start Dunhill Links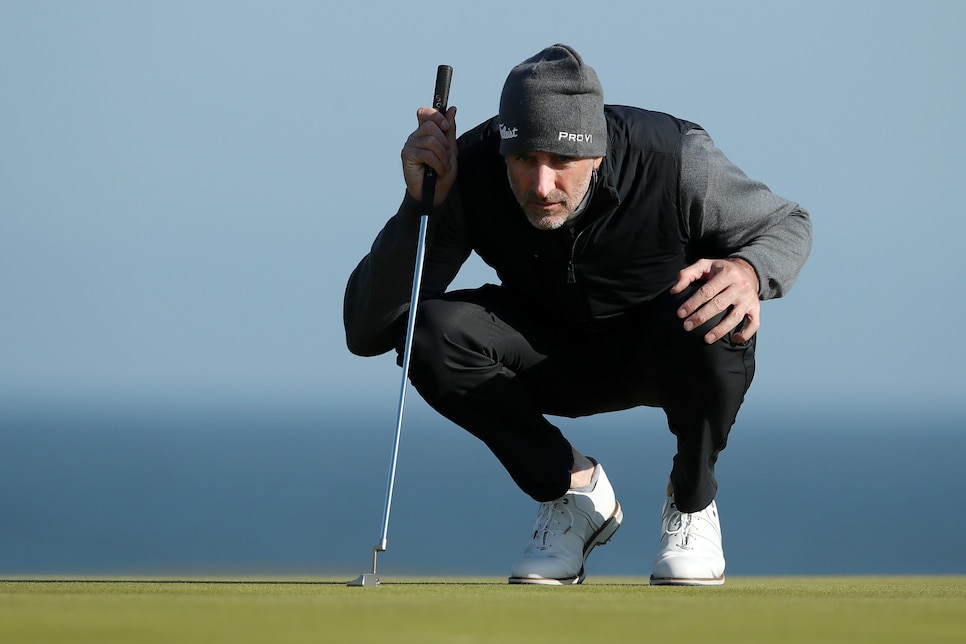 ST. ANDREWS, Scotland — It was the sort of comment only an old friend or colleague could make. Walking to the practice range on Tuesday, caddie Alistair "Squirrel" Matheson turned to his old boss, Geoff Ogilvy, and said, "now don't be embarrassed." The comment was understandable considering that the 2006 U.S. Open champion hasn't played much competitive golf lately, outside of a two-tournament trip to the PGA Tour a couple of months ago.
Still, as it turned out, Ogilvy's brace of missed cuts at the Rocket Mortgage Classic and the Barracuda Championship were far from bad omens. Finding something like the form that saw him win eight times on the PGA Tour, the 45-year-old Australian, an assistant captain to International skipper Trevor Immelman at last week's Presidents Cup, nipped around Kingsbarns in a bogey-free six-under 66 in his opening round at the Alfred Dunhill Links Championship.
While that was far from the best score of the day on the Kyle Phillips design, only five men managed to shoot lower. So Ogilvy was understandably pleased with his day's work of six birdies, 12 pars and symmetrical halves of 33. He is tied for 11th place, five shots behind Romain Langasque, who shot 61 at the Old Course.
"I came here not having played at all for the last two weeks. I came here with zero expectations," said the Melbourne native. "But I have been out there a couple of times a week at home, as well as a bit of practice. But I'm not competitively sharp, although my swing feels pretty decent to be honest. My chipping and putting were solid too, which is normally the part of the game that suffers most when you haven't played much."
Ogilvy's birdies were mostly stress-free on day that "just got better and better" weather-wise. Which is in complete contrast to the forecast for Day 2. A shotgun start at 8:30 a.m. local time will see Ogilvy begin Friday's second round on the eighth tee of the Old Course at St. Andrews. That is, he feels, the place to be if the wind blows as hard as it is supposed to.
"The Old Course is the easiest of the three to play in the worst weather," he said. "There is a bit of space and on most holes you can bump-and-run the ball onto the greens. At Carnoustie there is nowhere to hide from the elements. And Kingsbarns is so exposed a high wind there is always going to cause problems."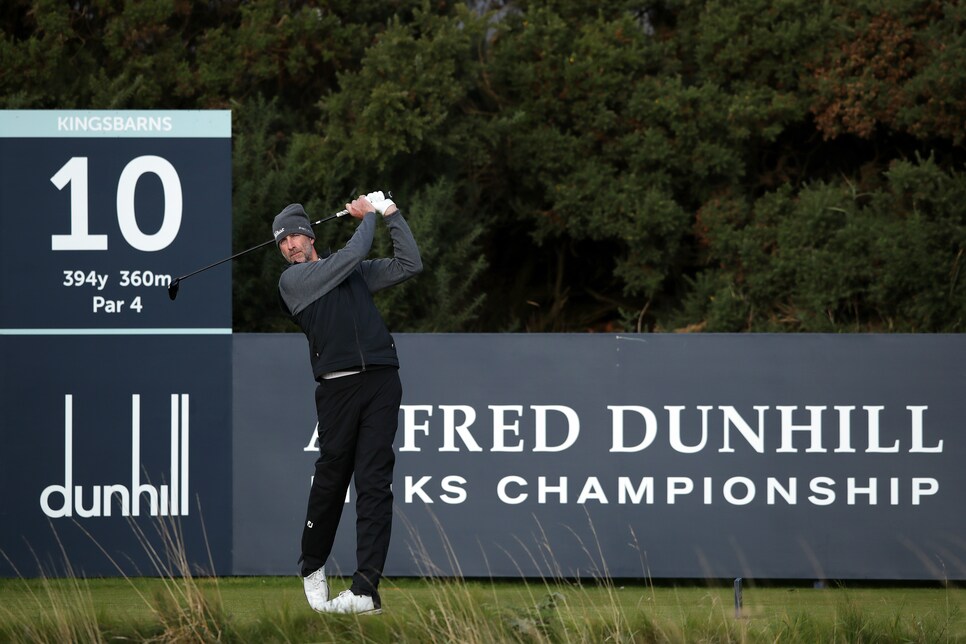 Perhaps the most impressive aspect of Ogilvy's play is that he did it with a brand new set of clubs. Both his golf bag and his suitcase have failed to arrive from the United States. Both were last seen in Newark, N.J.
"The club thing is not ideal, but it isn't the disaster it would have been a few years ago," Ogilvy said. "Thanks to the guys at Titleist, I am playing with a set that is identical to my own. They had all my numbers on the computer and so they could reproduce them easily. So there was no real adjustment there. At home my golf had been feeling pretty decent—I was improving every time out since July—and that continued today. But you never really know when you're not match fit. Golf at home is not the same as golf on tour.
"But my shots went where I aimed them and the right distance. And I holed a pair of nice putts in the middle of the round on the first and second greens. I birdied three of the par-5s. My only real mistake was driving into a fairway bunker on the 14th. But I laid up to a nice spot and got up-and-down for par."
Also helping the cause was Ogilvy's reunion with Matheson. The pair worked together between 1999 and 2012. And today was like "all our yesterdays" for the old chums.
"It was fantastic," Ogilvy said. "Squirrel was telling all his old stories. I'd heard them all abettor but it was nice to hear them again. We were together so long, today felt very trustworthy. We were like a well-oiled machine even if we haven't been working for a while. He is such a great caddie."
Matheson got the last word saying, "Geoff was much better than I thought he would be."