DP WORLD TOUR
DP World Tour pro's pregnant wife takes matters into her own hands to get husband his missing clubs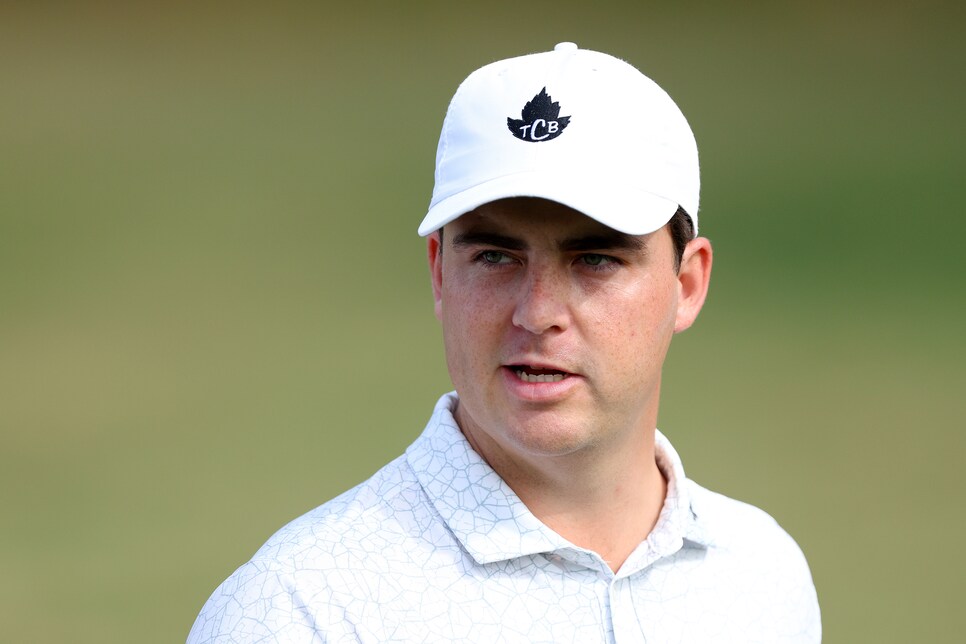 Aaron Cockerill on the fifth hole Thursday during the first round of th Mallorca Golf Open at Son Muntaner Golf Club.
Andrew Redington
Whether Aaron Cockerill keeps his DP World Tour card with his play at this week's Mallorca Golf Open, he will have a pretty amazing story to tell. And his wife Chelsea will be the real hero.
Cockerill, 30, was a man without golf clubs this week until Chelsea—who also happens to be six months pregnant—hopped a 90-minute flight, retrieved the clubs, then took the 90-minute flight back to deliver the goods.
The Cockerills had flown from their home in Canada to Mallorca, Spain, so Aaron could play in this week's Mallorca Golf Open at Son Muntaner Golf Club. His clubs did not arrive.
Aaron did what many would do during these times: He sent a tweet to Air Canada asking them if they could kindly find the clubs and get them to him. That tweet had a screenshot from a bag tag that showed his clubs were 6,074 kilometers (3,775 miles) from where he was standing with a comment that said, "job on the line."
Job on the line was in reference to Cockerill's ranking of 110th on the DP World Tour. He has a DQ, four missed cuts and a 51st place tie in his last six starts and needs better results over the last month of the season to keep status for next year.
The clubs finally made their way to Madrid, but still, that's 450 miles from Mallorca. So Chelsea did the only thing she could think to do—she hopped on a one hour, 20 minute flight to Madrid, found the clubs, took the flight back and got them to her husband late Wednesday, in enough time for him to have a quick range session before darkness.
"It's OK, if you hit the ball where you're looking, you'll be OK," Aaron said.
He did plenty of that during the first round Thursday where he made seven birdies, two bogeys and a double bogey to shoot three-under 68. He's tied for 16th place.
The Cockerills' first child is scheduled to arrive at the beginning of the new year. This is probably Chelsea's last trip until after the baby is born.
"We wanted to do a trip somewhere together so this actually worked out great, coming to Mallorca. It's an amazing place," Aaron said. "This might be the last trip she does before the baby comes and hopefully we have a good week on the course and make the most of it and have a few days after as well just to relax."