LPGA Tour
Team Korda is back, with Nelly soaring on top of the world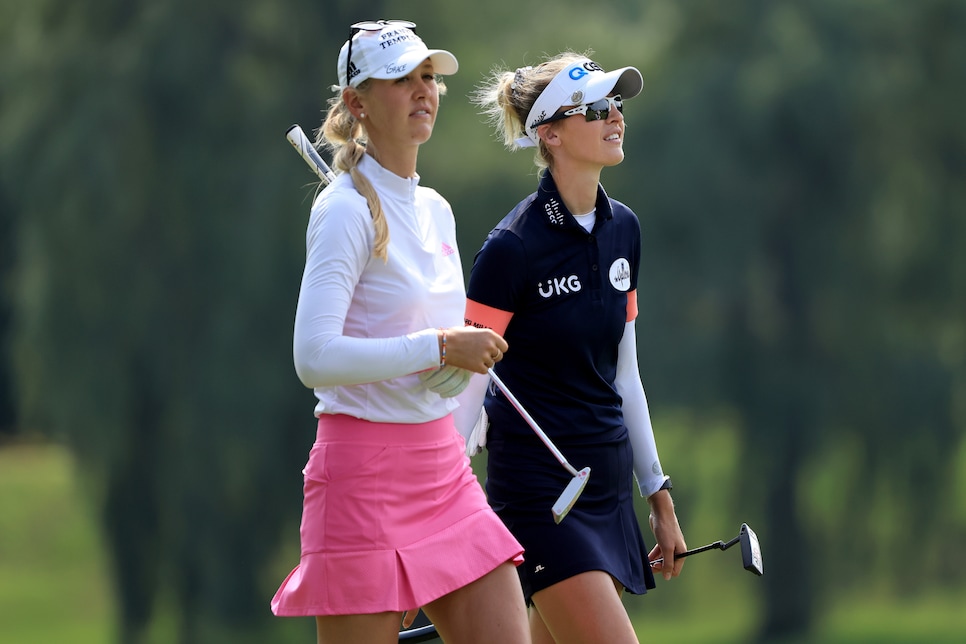 Jessica Korda (left) walks down the 16th fairway with her sister and teammate Nelly Korda during the first round of the Dow Great Lakes Bay Invitational.
Sam Greenwood
The Dow Great Lakes Bay Invitational on Wednesday marked the official coronation of the new Rolex World Ranking No. 1 Nelly Korda. New LPGA Commissioner Mollie Marcoux Samaan strode across the first tee and handed the emerald green World No. 1 bib to Jason McDede, Korda's caddie, for the first time. Marcoux Samaan then wished them good luck before Korda started her maiden round atop the world alongside her sister and teammate Jessica. The day ended with the pair in a four-way tie for the lead after shooting five-under 65 in Midland, Mich.
"Playing in this team event and playing alongside Jess, I think made it a lot easier for it to be my first tournament as a World No. 1," Korda said. "But I just had a lot of fun. I was a little nervous on the first tee shot, but after that we just kind of stuck to our plan and had fun."
During Nelly's two weeks away from the LPGA, she felt significant pressure. Not from herself and the challenges of being the top player, but for her brother Sebastian's Wimbledon debut from late June through early July. He advanced to the round of 16.
"We used the word stress a lot in our group chat," Korda explained. "I was so sweaty from how stressed I was."
Nelly also took a few days off for herself and then returned to the grind of preparing for a swing of key events coming up. She's playing in the Armundi Evian Championship next week, followed by the Olympics in early August, then the AIG Women's British Open, and finally the Solheim Cup at the start of September.
"You don't even have the time to kind of let it [becoming the new World No. 1] sink in, in a sense to kind of enjoy it," Korda explained.
Being on the outside and admiring her sister's achievement, Jessica appreciates Nelly's accomplishment of becoming World No. 1 and continues to be her little sister's biggest cheerleader.
"I'm so proud, just because I know how hard it is and what kind of work it takes," Jessica said. "I don't know, everything has to come together. The level of golf out here is insane. These girls are so good. And to do what she's done is incredible. Being a golf fan, you just sit out there and just slow clap it because, seriously, it's so impressive. I'm so proud of her."
The younger Korda is also becoming acquainted with the responsibilities of being the top player in the world. She met with the commissioner for the second time yesterday after introducing themselves to each other at the KPMG Women's PGA Championship. They went over the process of handing the bib over before beginning play at the Dow Great Lakes Bay Invitational.
The Korda sisters' success Wednesday at foursomes (alternate shot) came from leaning on their experience from this tournament in 2019 and the last Solheim. They remained true to the game plan they developed ahead of the 2019 Dow Great Lakes Bay Invitational, which they carried over to the Solheim. They defeated Jodi Ewart Shadoff and Caroline Masson 6 and 4 in Friday foursomes, then took down Bronte Law and Carlota Ciganda 6 and 5 in Saturday foursomes.
Their continued alternate-shot success Wednesday extends Nelly's recent run of dominant LPGA play. The World no. 1 has shared or held the lead in six of her last seven rounds.
"It's the rhythm of it," Jessica explained. "Alternate shot is a completely separate beast. A lot of chemistry between the two players is important, and in my opinion, having a similar game is really important. That way you hit very similar shots that you're used to, and that's what we were trying to do today, really stay present."