lpga tour
LPGA team event can serve as preview of duos in Solheim Cup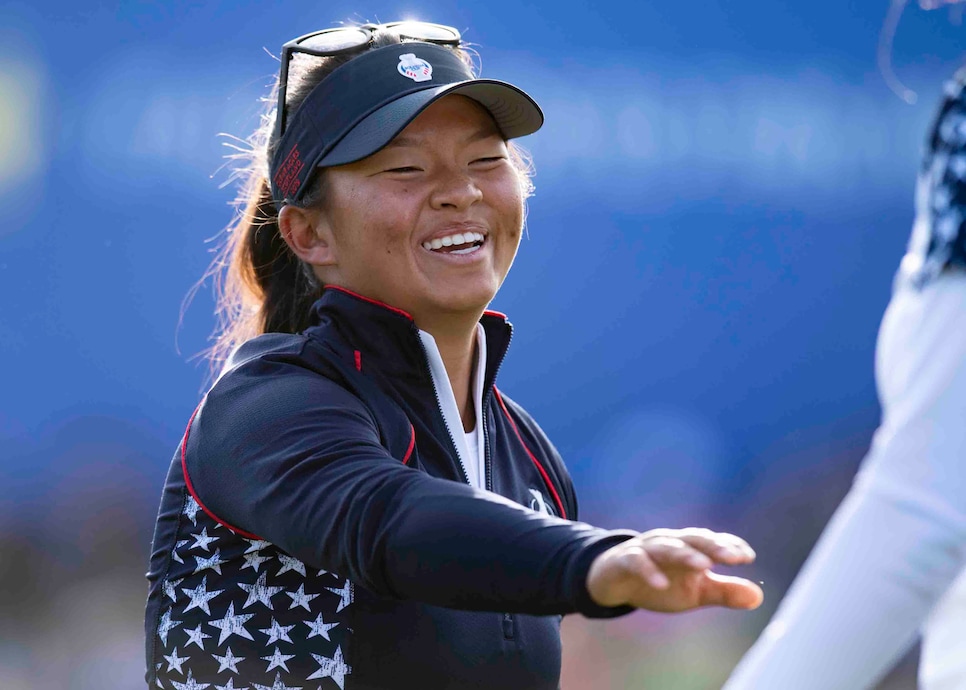 Previous Solheim Cup player Megan Khang will team up with likely teammate Ally Ewing in this week's Dow event.
Ross Parker - SNS Group
Ahead of the 2019 Solheim Cup, a reporter asked Nelly and Jessica Korda how their temperaments could work playing together on one of the LPGA Tour's biggest stages. The Kordas pointed to the Dow Great Lakes Bay Invitational as the breeding ground for their possible success. They became the first sisters to be paired together in a Solheim team match and finished 2-0-0 in group play.
"So I think we handled it [playing together] quite well at Dow and kind of got a game plan going," Nelly Korda said.
The 2021 Dow Great Lakes Bay Invitational, returning to the LPGA schedule after being postponed last year due to the coronavirus pandemic, provides a unique opportunity to see potential pairings for Solheim captains Catriona Matthew and Pat Hurst. The team event is the only tournament on the LPGA schedule to feature four-ball and foursomes formats, mirroring the Solheim that will be played in September.
Megan Khang, currently in the seventh qualifying spot in the U.S. Solheim Cup standings (the top eight are automatic), partnered with Annie Park at the Dow Great Lakes Bay Invitational in 2019. They finished T-6, and Khang believes that left an impression on 2019 U.S. Solheim captain Juli Inkster.
"I can't speak for Juli," Khang explained Tuesday, "But I like to think we played so well at Dow it proved that we could play together [at Solheim], and it'd be hard to put us with other people that wouldn't necessarily know as much about each other. We're happy we got to play together."
Khang and Park played four-ball together at Gleneagles PGA Centenary Course, one of three Solheim pairings to team up for the U.S. at the 2019 Dow Great Lakes Bay Invitational, alongside the Kordas, and Danielle Kang and Lizette Salas. Anna Nordqvist and Caroline Hedwall paired up at Dow and played together for Europe as well in 2019.
This week, Khang is again teaming up with a potential Solheim teammate Ally Ewing, who is third in the U.S. Solheim Cup standings. The most important lesson Khang learned from playing with Park that she hopes to translate with Ewing is not saying sorry to each other, as everyone is playing the best they can and not aiming to leave their teammate in a bad position.
"Ally was joking she has a ruler in her bag," Khang said. "I don't know what she uses it for, [joking that] I will whip out the ruler if you say sorry."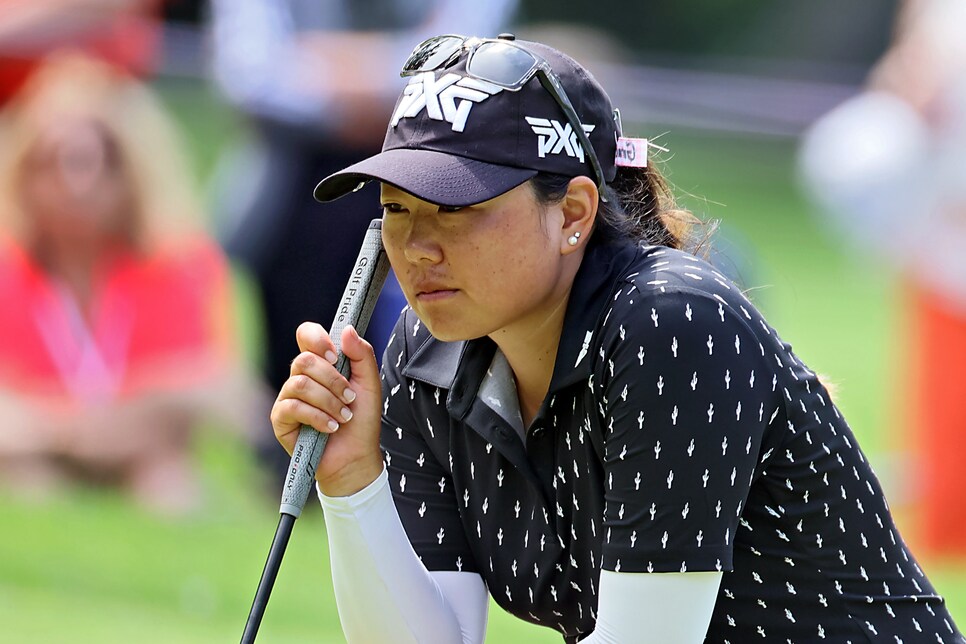 Mina Harigae is playing this week with Jennifer Kupcho.
Amy Lemus
Khang and Ewing is one set of possible teammates for the Americans. Angel Yin and Brittany Altomare matched up, as they both played in Gleneagles. The Kordas are playing together again. Jennifer Kupcho and Mina Harigae, whom Hurst singled out earlier this year as two of four possible Solheim rookies, also teamed up for this week's event.
Europe also has notable potential pairings this week. Bronte Law, who played at the 2019 Solheim, matched up with 2020 Gainbridge LPGA at Boca Rio winner Madelene Sagstrom. Carlota Ciganda and Mel Reid paired up, and they played together at the 2015 and 2017 Solheims. Sophia Popov, the top-ranked player in the Rolex World Rankings for Team Europe, partnered with long-time close friend Anne van Dam, who played at Gleneagles for her Solheim debut in 2019. This week, the duo understands how the experience could help at Inverness Club as Europe defends the Cup.
"I think that we've been looking forward to this event for a long time," Popov said. "Our main focus is to go out and play. Whatever happens, happens. Of course, we'd love to be a Solheim matchup, but I think there's no point in looking that far in advance."
It's not just specific pairings to look out for this week. Hurst and Matthew can reveal possible captain's picks as well.
One the most consequential decisions for the 2019 Solheim came at the Dow. Matthew chose Suzann Pettersen for the squad after playing alongside her, and the captain saw the skills returning from Pettersen's year-and-a-half layoff from golf due to complications from her pregnancy. Pettersen ended up holing the putt that earned the Cup for Europe.
"She played well these last couple of days. Just a little rusty, which you expect, but if you can get out there in four rounds with your own ball, it's amazing how quickly it comes back," Matthew said.