LIV GOLF
Don't knock LIV Golf's team format as stars contend there are numerous reasons why it's compelling and fresh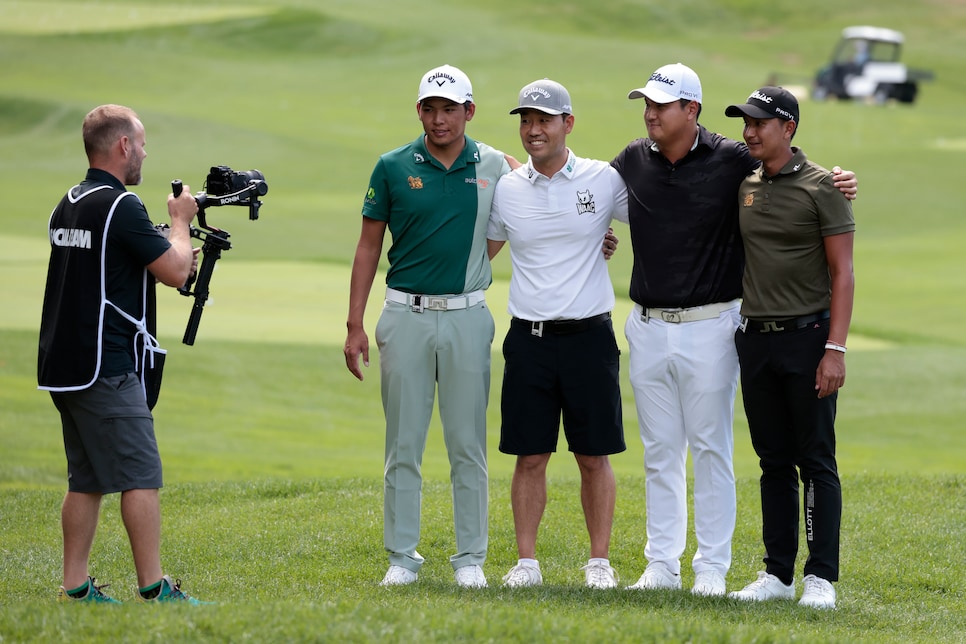 Team members pose for a team picture during practice for the LIV Golf Invitational Series Boston.
Icon Sportswire
BOLTON, Mass. — Cameron Smith called it "the future" of golf. Anirban Lahiri predicts it could wake a sleeping giant within India's sports-loving population of 1.4 billion people. Harold Varner III said it could end the Friday afternoon surrender. LIV Golf's team aspect may be how the series can separate itself from world golf's more established tours, but how legitimate is it?
The LIV Golf Invitational Boston kicks off Friday in the Saudi-backed series' fourth tournament. Like its tournaments in London, Portland and Bedminster, there'll be a 54-hole individual stroke-play event with a $20 million purse and a $5 million team component. A quick reminder of the format: for the first two rounds, the best two scores count for each four-man team. For the final day, the best three scores are submitted, with the lowest team score winning $3 million, second place $1.5 million and third place receiving $500,000.
Plenty of high-profile LIV recruits have claimed the team element lured them from the PGA Tour. Whether that's because they miss team golf—or whether they just wanted a change from the grind of golf's major tours—varies from player to player. While it has been confusing for fans with players changing LIV teams, it might be the most promising concept in LIV's business model. Next year, the series will be renamed LIV Golf League and will feature 48 players on 12 team franchises playing a 14-event schedule (up from eight this year).
World No. 2 and reigning Open champion Cameron Smith is LIV's biggest signing to date, and will make his debut at The International this week. The Australian won six times on the PGA Tour, including its flagship event, the Players Championship, in March. But the 29-year-old said professional golf needed a shake-up from its 72-hole individual stroke-play roots.
"I think it's been the same for a very, very long time, and it needs to be stirred up a little bit," Smith said. "I think this [54-hole team events] are the future of golf. I think it needs to change. Particularly as golf fans become younger, I think we need to do something to make it exciting for them."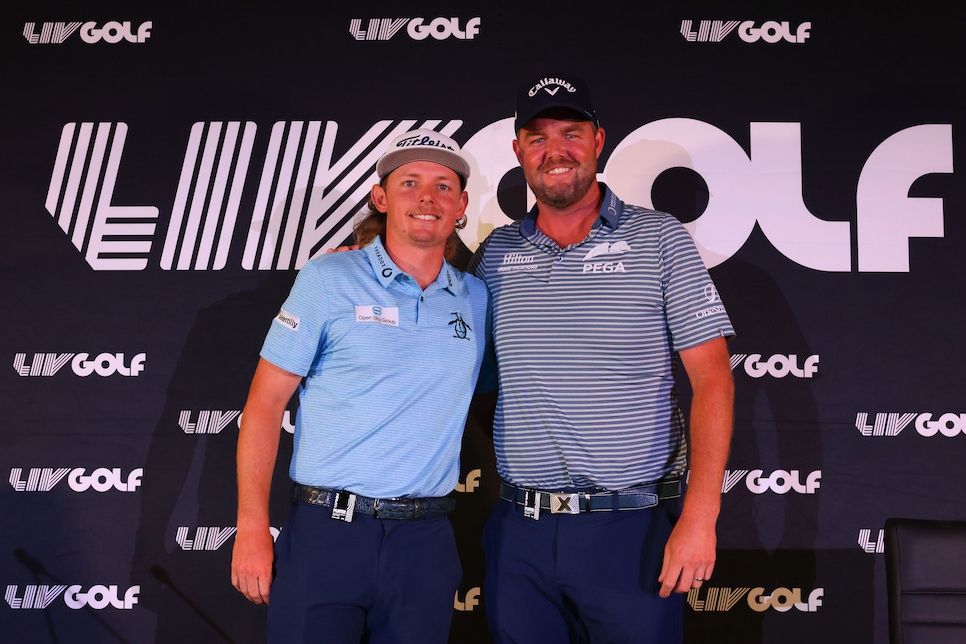 One thing was evident this week. LIV teams form their own pods for practice rounds, meals and range sessions. Smith, the captain of all-Australian Punch GC, played a practice round with teammates Marc Leishman, Matt Jones and Wade Ormsby. Lahiri was surveying the course with his new teammate, Bryson DeChambeau.
Lahiri, who finished second to Smith at the Players Championship, said the feedback he'd heard from his native India was that fans were excited Lahiri was on a team with the 2020 U.S. Open champion DeChambeau. Lahiri said team golf could complement the sports landscape in India, which is dominated by cricket. The Indian Premier League (IPL) shares some similarities to LIV; it disrupted traditional cricket's global schedule by luring the best players, it has an auction where franchises buy star players from around the world for a 14-match series between 10 teams. Now in its 16th season, the IPL's media rights were recently sold for $6 billion.
"The first thing everyone said back home is people associate that region more with team sports than individual sports," Lahiri said. "But me being on Bryson's team, he's a global figure in golf and he's done some tremendous stuff with his distance. People [in India] are going to say, 'wow, he's on [DeChambeau's team].' I think that's already going to start catching up with that region specifically."
The way in which a team component changes the mindset of a professional golfer is also interesting. Varner, who is part of a team captained by Bubba Watson (non-playing because of injury) said it would motivate guys at the bottom of the leaderboard.
"I learned from grinding out, there's a moment in every person's career out on that [PGA] tour where you're like, 'get me home,'" Varner said of players on a Friday afternoon when they're almost certain to miss a 36-hole cut. "I don't care what hole you're on. Get me home [because] I've got no chance of playing on Saturday. [In LIV] you can help someone else by just grinding it out."
LIV faces a challenge in establishing relevancy among golf fans who are accustomed to watching events steeped in history. The PGA Tour boasts tournaments with deep roots like the Canadian Open (1904) and the Genesis Invitational/L.A. Open (1926). But team golf could be where LIV reaches younger fans—who are now obsessed with Formula 1 thanks to the Netflix series Drive to Survive—and parts of the world uninterested in traditional pro golf.
"Golf is a game rich in history, no question about it," new LIV recruit Cameron Tringale said. "We are not trying to get rid of the history in any way. We are trying to reach deeper into the corners and find new ways to bring people into the sport, and so I don't see us as being a detractor, but an additive piece to the world of golf. I think people will start to find their team, follow their players and it's like any other sport where a lot of the interest is driven by rivalries, home courses or tournaments in their region."