Approach Shots
Don't go adding a big Matsuyama-style pause to the top of your backswing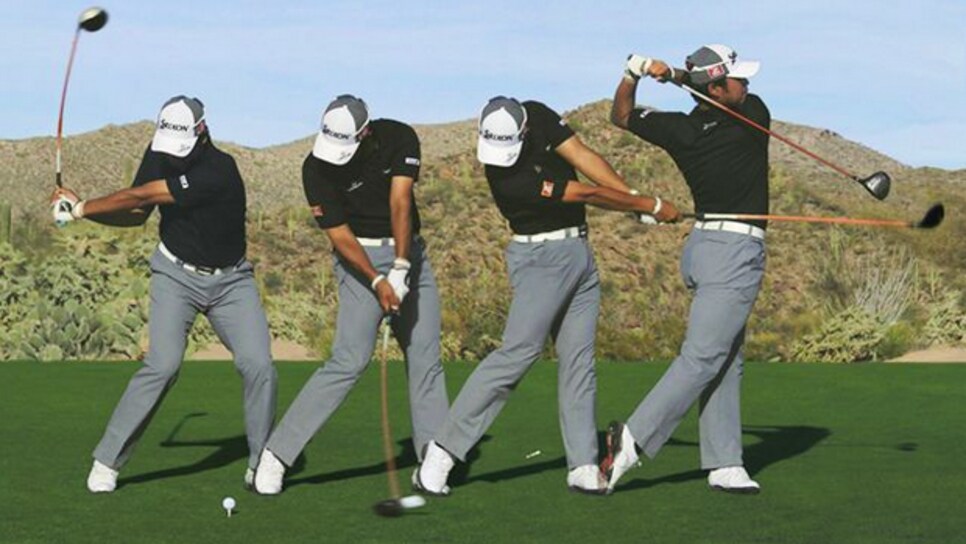 The trophy Hideki Matsuyama received for winning the WGC Bridgestone Invitational looked just like the one they've been giving out to all of the previous winners, but on Sunday, Matsuyama was playing a different game.
Trailing third-round leaders Thomas Pieters and Zach Johnson by two, Matsuyama erupted for seven birdies and an eagle to tie the course record of 61. It gave him a five-shot win, and reminded everyone that Jordan Spieth isn't the only player in his mid-20s to watch at this week's PGA.
Like Spieth, Matsuyama has a swing that is cut from a different mold than most. Matsuyama's signature element is a dramatic pause at the top of his backswing. Since the 25-year-old Japanese player has dominant tee-to-green stats, should you be adding (or, in this case, subtracting) some of that to your swing?
Not so fast, says Golf Digest Best Young Teacher Michael Jacobs. "Matsuyama looks like a player who is going to challenge for the No. 1 ranking," says Jacobs. "He's good, and he has a great swing. But you have to keep in mind what your swing is supposed to do: Transfer energy."
The best players do the best job of transferring energy from their body to the ball in a chain reaction of movement, says Jacobs. "Matsuyama's whole body comes to a standstill at the top, but instead of copying that pause you should be learning from the position he's in there and what he does next," says Jacobs. "He turns into his right hip, and when he transitions, his body is relatively quiet as he turns out of his right hip during the change of direction. He's moving the right parts of the chain in the right order, not making a big body lurch from the top."
This efficient transfer means he's not wasting the energy he's creating with his body. Plus, he's a super-coordinated professional athlete. "If the average player tried to copy the pause and not that great transition, he or she would essentially be turning off the energy in the swing," says Jacobs. "You won't have enough time to get it turned back on fully--or in the right sequence--by the time you get to the ball. Keep your energy and motion going, and work on your quiet, efficient transition like Matsuyama has."