Tribute
Don January, 1967 PGA Championship winner, dies at age 93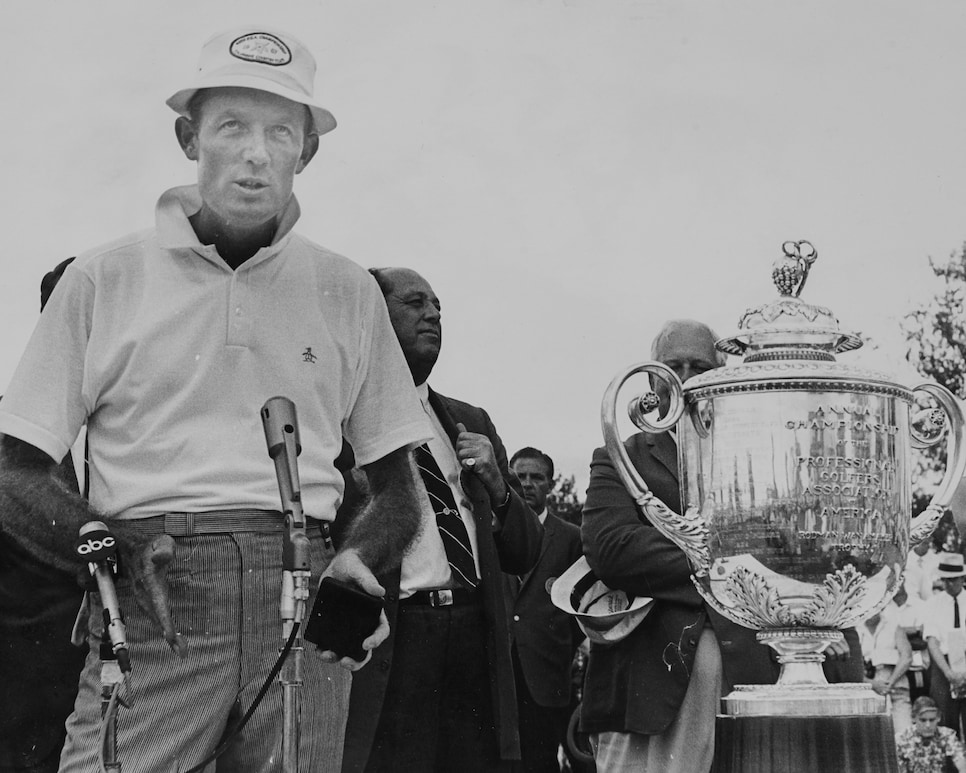 The biggest of Don January's 10 career PGA Tour wins came with his victory at the 1967 PGA Championship.
PGA of America
Don January, who won the 1967 PGA Championship and played on two victorious U.S. Ryder Cup teams, died at his home in Dallas on Sunday. He was 93 years old.
A native of Texas, January played college golf at North Texas State, helping his team win four straight NCAA titles from 1949 to 1952. After school, he spent time in the Air Force, serving out of San Antonio, before returning to golf. He turned professional in 1956 and went on to win 10 times on the PGA Tour, securing the Vardon Trophy for lowest scoring average in 1976 at age 47. He was also a member of the 1965 and 1977 American Ryder Cup teams, going 2-3-3.
Nickname "Bones" for his tall, lanky frame, January is best known for winning the PGA Championship, when he tied Don Massengale at Columbine Country Club outside Denver in regulation before beating him in an 18-hole Monday playoff, shooting a three-under 69 to Massengale's 71. The victory avenged a 1961 playoff loss at the PGA when January shot a 68 at Olympia Fields only to be beaten by Jerry Barber's 67. January's major championship record was impressive with 16 top-10 finishes in 58 starts. All told he played in 526 PGA Tour events.
After his regular tour career ended, January made a successful transition to the Senior PGA Tour, winning 22 times in 333 starts, including the circuit's first official tournament in 1980 (Atlantic City Senior International) and the 1982 PGA Seniors' Championship. He was the first player on the senior tour to earn more than $1 million in his career, finishing with $3.2 million.
"I'm just a damned old pro from Dallas, Texas, who was lucky enough to have a swing that lasted for a while," January told Sports Illustrated in 1998, the year before he retired.
January also started a golf-course design business during his playing days, briefly retiring from playing on tour, only to return to action and win the Vardon Trophy after his time away. And interestingly his play helped lead to the USGA and R&A changing one of the Rules of Golf. At the 1963 Phoenix Open, January had a 10-foot par putt on the final hole to finish in fifth place. The ball rolled right of the cup and hung on the edge of the hole. January insisted that the ball was still moving as it dangled by the hole and waited for seven minutes to see if the ball might finally drop (it didn't). A year later, the rules were revised to set a 10-second time limit on waiting for the ball to fall in the hole.
January is survived by three children, six grandchildren and eight great grandchildren.