Courses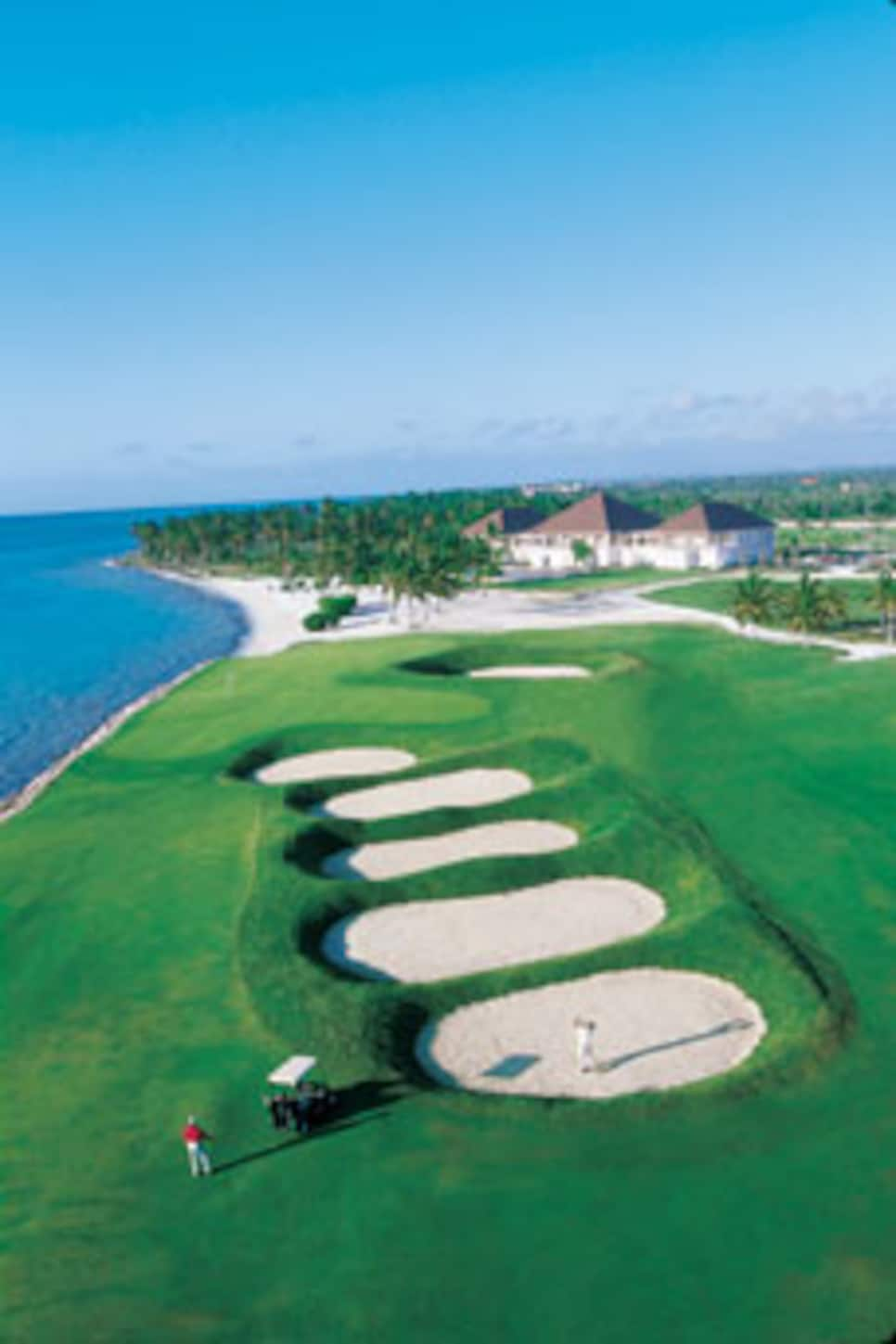 Project Greenlight: P.B. Dye's seductive course is the first of eight planned for the Punta Cana resort.
Golfers go to the Caribbean for the same reasons cruise ships do: It's relentlessly 80 degrees and sunny. But even with the great climate and abundance of coastline perfect for a harrowing 175-yard carry, none of the Caribbean nations had created a true golf destination—a place that could compete with Scottsdale and Myrtle Beach for the five-day golf tripper's business.
Now, 30 years after Pete Dye built the Caribbean's finest golf course, Teeth of the Dog, the Dominican Republic has arrived. With the opening of Dye's highly anticipated river course—plus ambitious development in Punta Cana and Robert Trent Jones' spectacular Playa Grande in the north—the Dominican Republic offers a variety of quality golf to complement one of the most elegant getaways this side of Bermuda. On top of all that, it's only three hours by plane from New York or Los Angeles.
Casa de Campo, La Romana (809-523-8115, $140-$196).
Hand-carved out of rocky cliff formations by 300 local workers in the early 1970s, Teeth of the Dog will make you hit some of the most visually intimidating shots of your life. Forget about Dye's is-land green at TPC Sawgrass. You can hit an 8-iron in there, can't you? Try the seventh hole at the Teeth of the Dog&mdash225 yards from the tips, to a green protected by pot bunkers on the right and the Caribbean Sea on the left. It's one of seven holes that aren't just on the water, but jut out into the surf. When the sea is choppy, you'll get wet when you hit from the fifth tee. The greens are pure, but dominated by grain. Let the well-trained caddies give you a read, for looks are deceiving.
Dye built the perfect complement to Teeth of the Dog in Dye Fore (formerly known as Resort Course No. 3). Dye Fore not only has its own sea views but is swathed in cutting-edge paspalum grass, which can be maintained with salt water. Though fresh-water shortages occasionally have taken a toll on the Teeth of the Dog and Links, that shouldn't be a problem on Dye Fore. It isn't often that a 41&Mac218;2-star course takes third place at its own resort, but you'll want to play the Links on your fly-in or fly-out day. It's a pleasant test, but not nearly as memorable as its two sisters.
Punta Cana Resort and Club (not yet rated), Punta Cana (809-221-2262, $93-$121).
With miles of paved roads, sprawling villas and waterfront shopping areas, Casa de Campo operates as if it were a big city. Life in Punta Cana has a more understated, European flavor. The graceful, white stucco Punta Cana Resort and Club materializes at the end of a five-mile drive through protected sub-tropical forest. Pete Dye's son, P.B., built the first of a planned eight courses in the area in 2001. Like Teeth of the Dog, Punta Cana Golf Club sits directly on the water. However, P.B.'s vision is more seductive and gentle than his old man's. The sea laps at the base of the seaside 17th tee instead of crashing, thanks to a protective cocoon of coves and coral reefs. You have to be able to hit it 250 off the tee to reach 17 (and many of the other par 4s) in regulation, but P.B. gives a little bit more room to miss.
Playa Grande Golf Course, Rio San Juan (809-582-3302, $67-$101).
Playa Grande may rival Nebraska's Sand Hills as the least accessible great course in North America. In other words, to get here, you've got to want it. Hidden on the northern Dominican shore, Playa Grande is a Robert Trent Jones Sr. masterpiece built—stop me if you've heard this before—on cliffs overlooking the Caribbean. You have to drive 50 miles from Puerto Plata airport, a small commuter stop with regular flights to and from Santo Domingo. Or, you can take your life in your hands and drive the 220 miles up from La Romana. Perpetual road construction means you'll spend almost as much time on the shoulder, avoiding cars blissfully passing in heavy oncoming traffic, as you will on the road. However you arrive, it's worth the trip. Matched hole for hole, Playa Grande may be Teeth of the Dog's equal. It's also easier—and cheaper—to get a tee time. Now if they could just get a nice hotel...
Guests at Casa de Campo are five miles from the smoggy, sweaty bustle of downtown La Romana, but among the million-dollar summer homes and elegant new shops at the marina, they may as well be 5,000 miles away. From January through April, accommodations range from $290-per-night standard rooms to $850 golf-side villas. Guests can choose from a half-dozen different gourmet restaurants, then head down to nightclubs and bars in Altos de Chavon—a meticulously re-created replica of a 17th-century Dominican town. You could fill two weeks of vacation time with activities unrelated to golf—from sporting-clays lessons at the world-renowned shooting center to top-tier concerts at the 5,000-seat amphitheater. The choices in Punta Cana are slightly less varied, but no less luxurious. A state-of-the-art spa is scheduled to open this year to complement the $1,300-per-night, six-person Grande Luxe villas—with interiors designed by Oscar de la Renta, who owns a home on the property.
If you can tolerate being approached by beggars and aggressive shopkeepers, definitely take a trip outside the walls of the resorts. For baseball fans, attending a Dominican winter league game is an experience not to be missed. The nightclub scene is vibrant along the sea, with strings of open-air spots serving up Latin fusion music along with the cocktails. Just remember to check the batteries in your pacemaker. The beautiful people don't leave much to the imagination when it comes time to dress up for a night out.
The big resorts are trying to make it as easy as possible for Americans to visit. Casa de Campo was the prime mover behind the new airport in La Romana, which, conveniently, is a 10-minute drive from the resort. The airport in Punta Cana is owned by the company that runs the resort. Santo Domingo, the largest airport in the country, is at least a two-hour drive from most of the golf areas. U.S. citizens need only a birth certificate or passport to enter. You can buy the $10 traveler's visa at the airport.
Course ratings are derived from the exclusive 5-star Golf Digest Places to Play scale. A single star represents "basic golf." Five stars indicates "golf at its absolute best." Golf Digest's Best Places to Play guide, based upon the ratings of tens of thousands of readers, is available for $24.95.
Very good. Tell a friend it's worth getting off the highway to play.
Outstanding. Plan your next vacation around it.
Superb. Golf at its absolute best. Pay any price to play at least once in your life.
The equivalent of one-half star.
If a course has no star rating, it means that the course did not receive a minimum of 10 ballots, either because it is very new or simply was not visited by a sufficient number of Golf Digest readers. If you've played one of these courses and would like to rate it, click here.