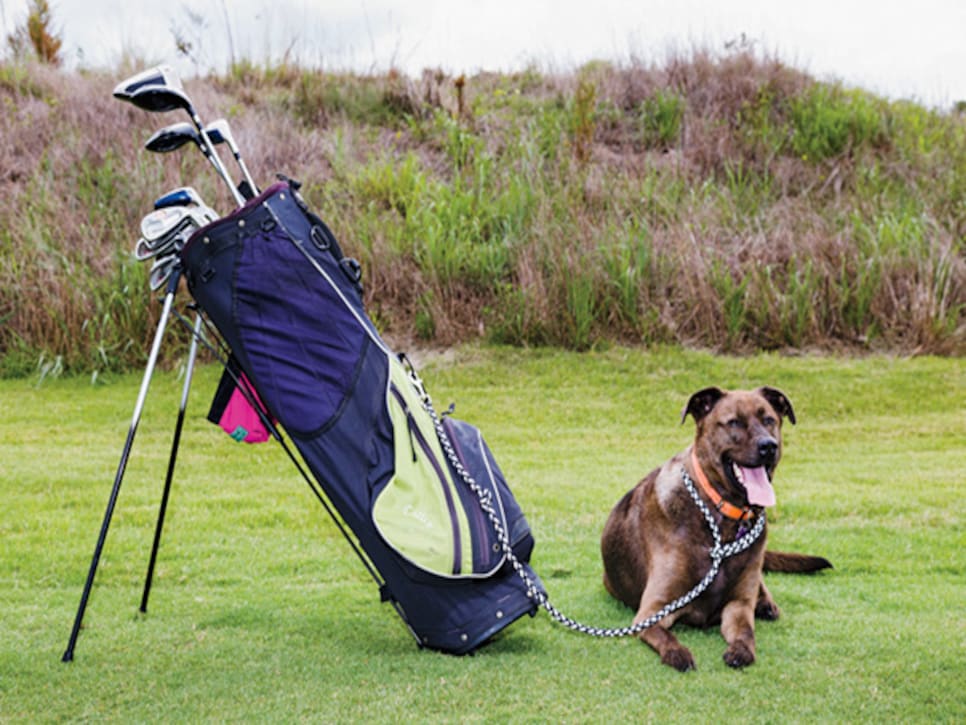 'The fact is, dogs can't cause as much trouble as how some people drive carts.'
So you have a dog. You know you're a real bastard each time you leave for a four-hour round after a 10-minute walk (or even no walk), but hey, that's golf. With most starters you'd have better luck wearing Borat's bathing suit and playing out of your friend's bag than getting permission to bring your pooch along. The barking, chasing of balls, a steamy pile directly in the line of a birdie putt—it's these fears and more that ultimately lead to your getting handcuffed on the second green as you watch your best friend get it NYPD style from animal control.
But it doesn't have to be this way. If golf embraced dogs, think of the problems this would solve. No more rushing home with guilt to let out Sparky. Young children would be kept entertained through periodic downturns in golf interest. Ankle-lickings after wayward shots would improve player temperament and, in turn, scrambling performance. And if handled conscientiously, dogs could be the perfect solution, rather than a cause, for slow play.
Most courses allow only one dog: the superintendent's. (The life of a super's dog—all day running alongside or even riding in Master's cart, chasing geese and diving into water hazards—is discussed in canine circles like winning the lottery or marrying into Augusta National membership.) As crazy as a pack of dogs wrestling at the bag drop might sound, canines have an intimate history with shepherds, the game's inventors. And dogs are still regularly encountered on the links of the United Kingdom.
"Many overseas visitors are surprised by the number of dogs they see on the courses and around the clubhouse," says John Churchill, the club historian and a member of the prestigious Sunningdale Golf Club in England. The best golf dogs heel when players are hitting, never walk on greens or in bunkers, and even retrieve lost balls. Dogs-in-training are tethered to a golf bag, a pushcart or handed to a caddie. A few miles down the road at the Berkshire Golf Club, members may bring their dogs, but visitors must ask permission from the club secretary. "In this way, badly behaved dogs can be discouraged, and there is no need for a blanket ban that takes away the delight a dog provides," writes finegolf.co.uk.
In the United Kingdom, dogs are more likely to be allowed at old links courses with lots of common walking ground than at newer, inland operations. And not to delve into a subject as thorny as the British class system, but golf dogs tend to have a stronger tradition at clubs established by land-owning families for whom fox hunting was an important pastime. Golf was just something else to do in clever tweed when not busy training champions bred from royal bloodlines.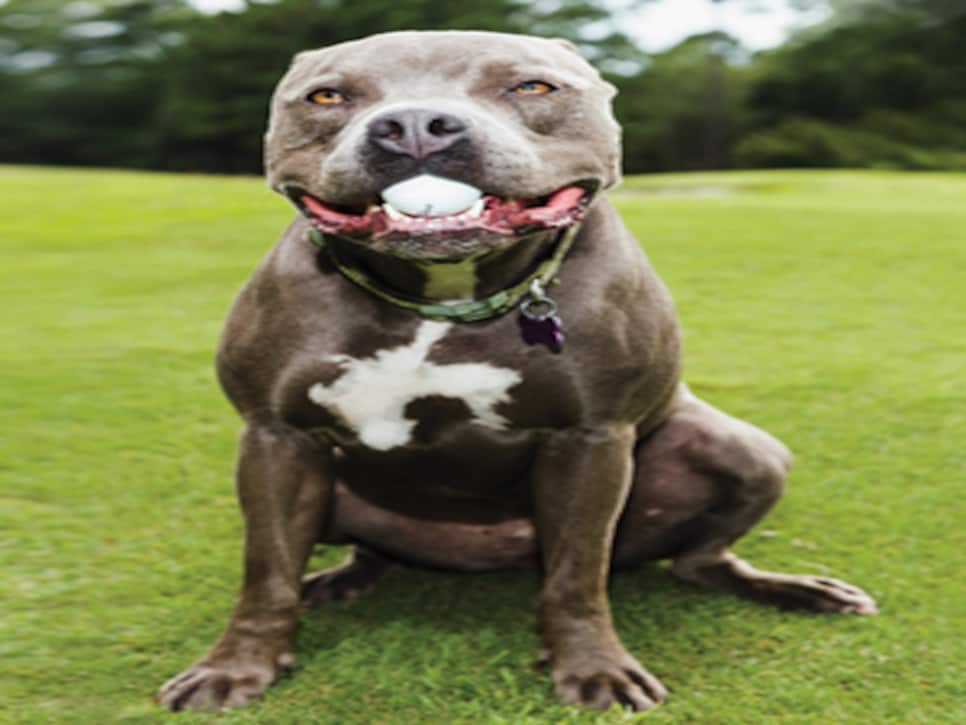 Americans, however, tend to treat dogs like family members, which might be holding back the cause of dog golf in a nation built by and for mutts. (Of the 83 million dogs in the United States, nearly half have slept in the same bed as their owner.) Says dog trainer Jonathan Klein, who runs the I Said Sit! School for Dogs in Los Angeles: "If British dogs are at the collegiate level, most American dogs are still in kindergarten."
Dogs are landing tee times in select pockets of the United States, but most course operators prefer that the kindergartners stay away. Billy Casper Golf, one of the bigger course-management firms, with 150 courses in 28 states, "has a very specific policy that only trained service dogs be on property," says senior vice president Joe Livingood. Superintendents desiring a dog can apply on a per-case basis to their facility's vice president of operations. The dog must be a trained service dog and there for work and "not just lying around."
With such decisions, Livingood uses what he calls The New York Times Test of imagining the worst possible headline and hypothetically defending his actions. Child Maimed at Golf Course That Allows Customers to Play With Dogs doesn't pass. "All it takes is that one moment," he says. "It's the same reason we don't take our pets to the mall or movie theater."
But golf courses are not enclosed, air-conditioned spaces in constant battle for hygiene. Belgrade Lakes Golf Club in Maine, whose $125 green fee indicates conditioning that's anything but dog track, got into the business of allowing dogs because of temperature. "We get a lot of families on road-trip vacations, and people were leaving dogs in their cars while they played," says managing partner Kyle Evans. To rectify the cruelty, Evans built a complimentary kennel with shade and fresh water by the cart barn. As word of the dog-friendly course spread, the kennel started to fill up. That's when Evans decided, "Heck, just let 'em out on the course."
"They make it pretty public that they encourage it, and when we first heard about the policy, we were thrilled," says Jeff Baron, whose wife, kids and a 23-pound mix-breed named Rosie enjoyed many rounds as a family. Rosie (R.I.P.) loved riding on the cart seat almost as much as a cut-up hot dog at the turn. The key lesson for the Barons was turning the cart off before each shot. "Rosie accidentally hopped on the gas pedal a few times, which was almost disaster," Dad says. The Barons' primary residence is in Wayland, Mass., and they belong to Pine Brook Country Club in Weston. "The last thing you'd ever think to do is bring a dog there. But if you're a responsible owner, you realize bringing your dog to a golf course is no different than anyplace else." Maybe in Rosie's next life she'll get the invite to a club like Pine Brook.
In the recreationally progressive San Francisco Bay Area, two Marin County facilities, Indian Valley Golf Club and San Geronimo Golf Course, allow dogs. Any staff member can bring a dog to work, even if it's just to hang around the golf shop and get fat.
"Yes, we're a dog-friendly course," says Mike Beaver, an employee at Indian Valley. "But if your dog causes a problem, we'll change our policy. Your dog must either be leashed or well-behaved. Pick up crap and rake paw prints in bunkers. It's pretty easy. Everyone knows a tired dog is a good dog, and we get a lot of good dogs here." And it's not like the place is overrun. A big week sees "maybe 20 dog rounds."
Seaside (Ore.) Golf Course, an aptly named nine-holer with affordable green fees, has never had an issue with Canis lupus familiaris, or domestic dog. Regular Bob Best has a dachshund named Scout that walks some, rides some. "Sometimes Scout gets in the way, but everyone is pretty cognitive of keeping an eye on him," Best says. His buddy has a Husky that wears a harness and actually pulls a pushcart. Never has a looper projected a more perfectly eager disposition.
"My big dog is scared of the sound of the club hitting the ball, so I don't bring him, just the dachshund," says Best, a trace forlorn. "We tried, but each time after a few holes I had to take him back."
"Dogs are very environmentally oriented," Klein says. "Inside, outside, in a public park among other dogs and strangers, in each situation they respond differently. People who bring a dog to the golf course should consider the first two to three rounds strictly a training experience." Don't worry what you shoot.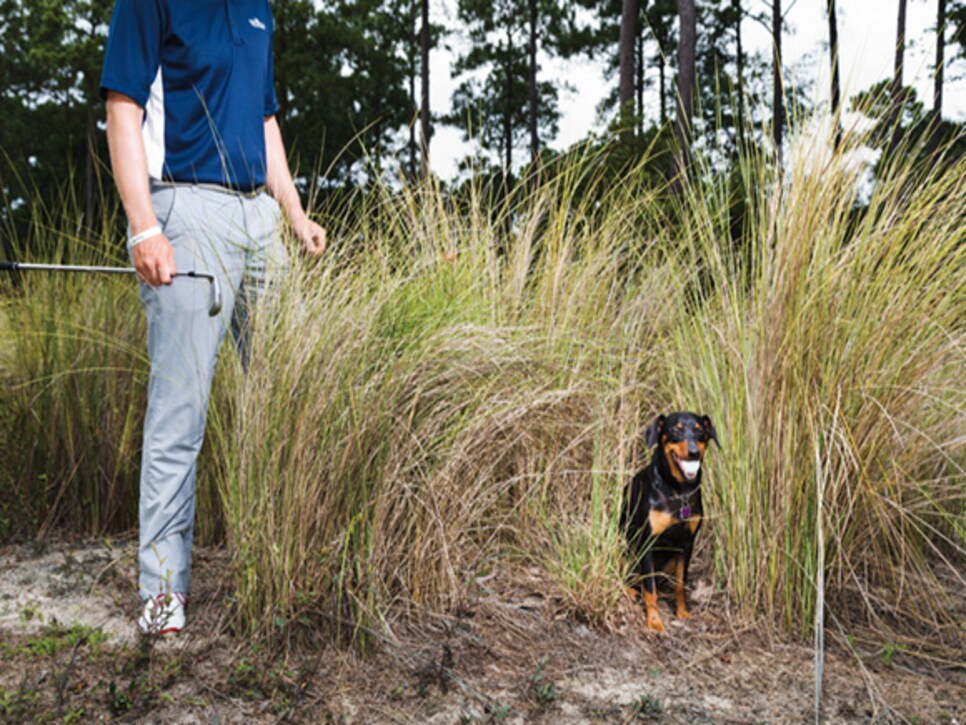 'Major runs behind my cart, picks up my tees and headcovers, fetches mulligans. He's great in scrambles.'
Rick Kaplan plays golf with 10 dogs at a time, though his pack is so tightly formed it appears fewer. Kaplan is the founder of Canine Angels Service Dogs, a nonprofit that trains shelter rescues and places them to live with disabled veterans. Kaplan does some of the training during off-peak hours at True Blue Plantation in Pawleys Island, S.C., where he also helped direct the photo shoot for the images on these pages. "A dog's paws are very sensitive to texture, so that's how you teach boundaries. Only at a course with very shaggy greens will one of my dogs ever get confused and think it's the fairway." Not all the veterans who receive dogs play golf, but the ones who do find their furry friends arrive with quite refined etiquette.
"Major runs behind my cart, picks up my tees and headcovers, fetches mulligans. He's great in scrambles," says Gordon Larson, who fought in Vietnam and in addition to arthritis, has a hearing disability. If not for Major, Larson would miss tee times sleeping through his alarm clock.
Jessica Stalnaker of Anderson, Ind., has a service dog that can sense her asthma attacks before she does. Only rarely does she flash her Wheaten Terrier's credentials at golf shops. "If they don't want to allow Caddie, perhaps it's not really a course we want to play anyway," she says.
"Dogs bring out happiness," Stalnaker says. "They slow you down a little, help you enjoy things you wouldn't normally. If it weren't for Caddie, we wouldn't interact with so many other golfers and wildlife."
Interactions, indeed, are everything with dog golf. Even Bill Loeffler, the 1986 U.S. Mid-Amateur champion and a Colorado Golf Hall of Famer, knew to proceed slowly at Castle Pines Golf Club, where he and his wife, Sandy, are members. "I started by taking our dogs to the practice range late in the evening," Loeffler says. They've since gained permission to go on the course. "I'm psycho about making sure my dogs are well-behaved," Loeffler says, "because as soon as something happens, that's it."
The Loefflers own an executive course, The Links at Highlands Ranch, which for seven years has hosted The Dog Gone Invitational. The stroke-play format adds penalty strokes to owners' golf scores for their dogs' transgressions, like whining or unauthorized swimming. One unaware resident called the golf shop when she saw 30 dogs running down the hole by her deck. Says Sandy Loeffler: "It was so much fun. Each year we get more people calling, wanting to get into the tournament, saying, 'This has been my dream.' "
As much as the Loefflers love dogs, the couple is reluctant to have a fully open policy. "What makes it hard is there are bad dog owners. You never know who's going to walk in the door," Sandy says. "If we started allowing dogs, we'd probably have to make it a designated evening during the week and make people sign a waiver, like with a cart. The fact is, dogs can't cause as much trouble as how some people drive carts."
"As long as people are cognizant of the fact golfers have the right of way, there's no reason joggers, walkers, dogs and children can't all enjoy the same land," says Doug Stein, a plus-1-handicapper at Lookout Mountain Golf Club in North Carolina. Stein likes the notion of returning the game to its Scottish roots, where courses are treated like town greens. As for his black-haired rescue, Steiny, the Labrador mix needs to learn not to chase squirrels. Until then, Steiny's golf will be limited to late afternoons on a leash.
"One day he'll play in the club championship," Stein says.
A long walk through nature with frequent stops—could there be a more ideal activity for man and beast? The timing has never been better for those who want to promote dog golf as a cause. More than ever, golf courses are willing to relax rules that will meaningfully make the game attractive to a larger audience. Dogs were present at the start of golf's history. Whether they'll be part of the future is up to their owners.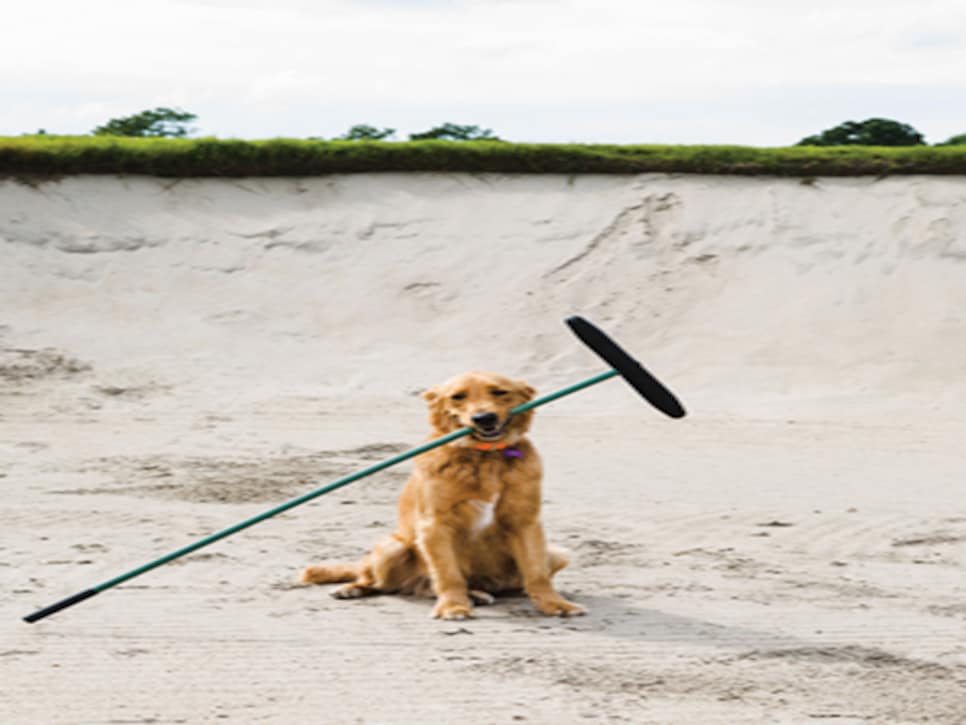 1. Thanks for speaking with us. How's your reception at the golf course so far?
Are you kidding? I'm like a rock star here. Kids and women throw themselves at me. I've walked with the head pro. The geese know what's up.
2. How's your owner's game?
Not bad. Sometimes we don't lose any balls.
3. Many golfers who don't want dogs say you're going to pee and poop everywhere. Is that true?
First, dogs are no worse than most guys, who let it all out in one go, so it's more damaging. As for No. 2, I'm incredibly selective about location. I get that fairways are sacred ground, but don't expect me to trample out between weeds and bramble when the first cut's right there. Just bring a bag.
4. If you could convey one thought to your master?
Why do we play in the rain when we have a fireplace and food at home?
5. I can tell you feel strongly about that. Anything else?
I can smell your blood pressure rising. Relax. Though it is fun seeing you get all worked up over a game.