News
Does Matt Kuchar really "backdoor" top-10 finishes as much as we think? An investigation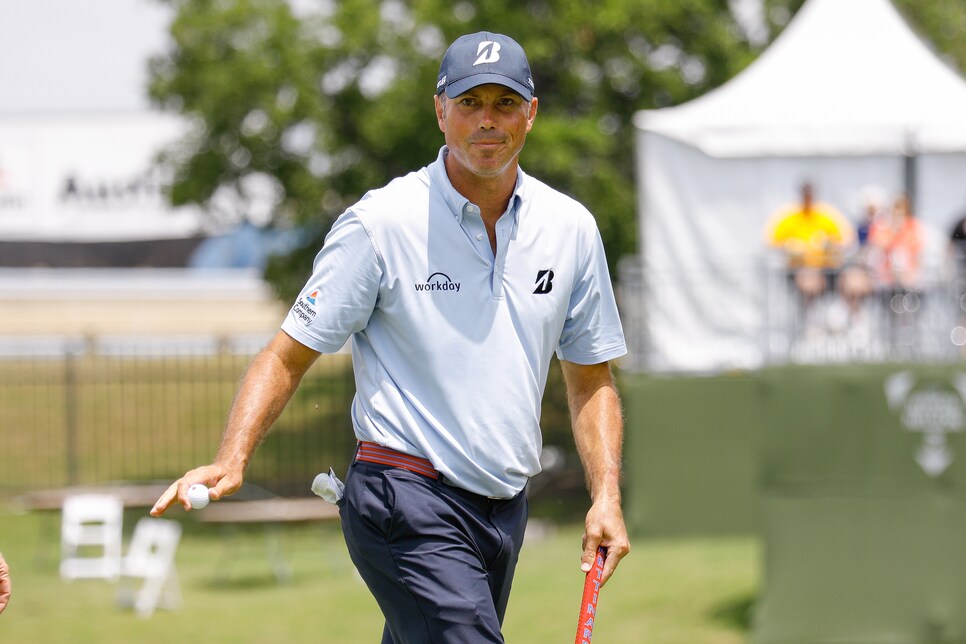 Matt Kuchar is more than your average golfer. He's pieced together an estimable career, serving as a foundation for fame. Yet a set of attributes and oddities -- such as an "Aw shucks" demeanor, a jester's reputation, and a divisive Sketchers endorsement campaign -- has fabricated a sort of folk-hero fame for Kuch. And we'd be remiss if forgetting the phenomenon of Kuchar's "backdoor" top-10 finishes.
For -- at a seemingly alarming frequency -- Kuchar will enter Sunday play out of contention, yet make a cameo appearance in the latter stages of the broadcast to suddenly appear on the leader board. A prevalence that's become a running joke to golf fans across the globe:
But is "Kucharing" a reality or merely perception? We analyzed Kuchar's past two seasons of top-10 finishes against golf's other leaders in the category. For a preface, we defined a backdoor top 10 as being when a player started the final round outside the top 10 AND was more than five shots back of the leaders OR started the final round outside the top 20, then finished in the top 10 after the final round. We threw out data from this year's Zurich Classic team event and WGC-Match Play, as well as weather-shortened tournaments. Here are the results: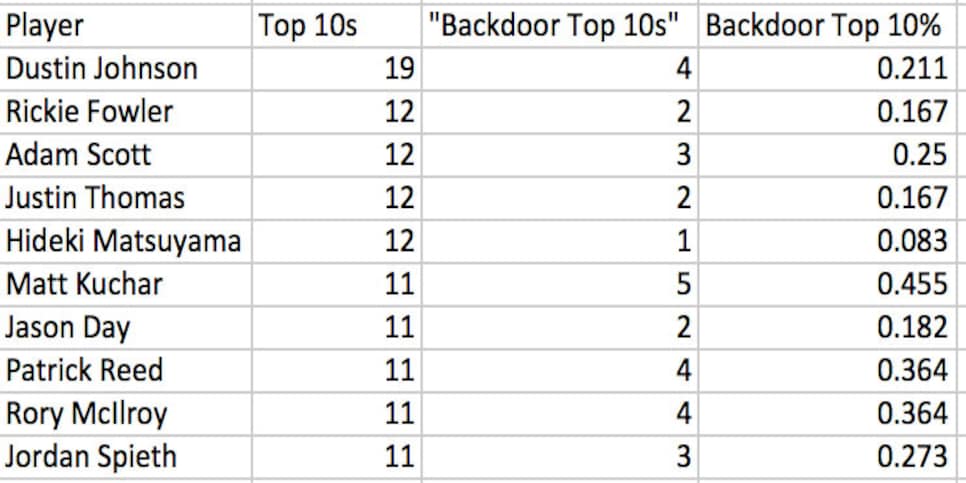 Of those players, Kuchar is the leader with a backdoor top-10 rate of .455. If you factor in his bronze medal performance at the 2016 Olympics -- in which he shot a final-round 63 in Rio -- that would bump Kuchar up to 50 percent since the beginning of last season. There was also a final-round 64 at this year's RBC Heritage that moved him from T-64 to T-11. That Sunday showing came on the heels of a late Masters rally that included an ace on the 16th hole that breathed life into the "Kucharing" theory.
If you isolate each player -- including Kuchar -- it's a pretty small sample size. But combine their results and you get a much larger collection to examine. Out of 122 total top 10s by those 10 players since the start of the 2015-2016 season, there were only 30 of the "backdoor" variety -- or less than 25 percent. Kuchar more than doubles that figure during this time period, earning this reputation as of late. In other words, "Kucharing" is kind of a thing.
But has it always been this way? Not exactly.
We dug farther back into Kuchar's history and quickly saw his backdoor percentage plummet. In the two seasons prior to 2015, only six of Kuchar's 17 top 10s (.352) were of the backdoor variety. The two seasons before that, it dropped to .118 (2-of-17). So his total for the past five-and-a-half seasons is 14-of-46 (.304), which is much more in line with the .246 figure from earlier tour examination.
Not that there's anything wrong with Kuchar coming from behind for a high finish more than the typical tour pro. Like a baseball player's first 40 games of the season counting as much as the last 40, all that matters is your final standing. No matter the route taken.
(With help from Ryan Herrington)