News
Does Justin Thomas' PGA win make him a lock for Player of the Year?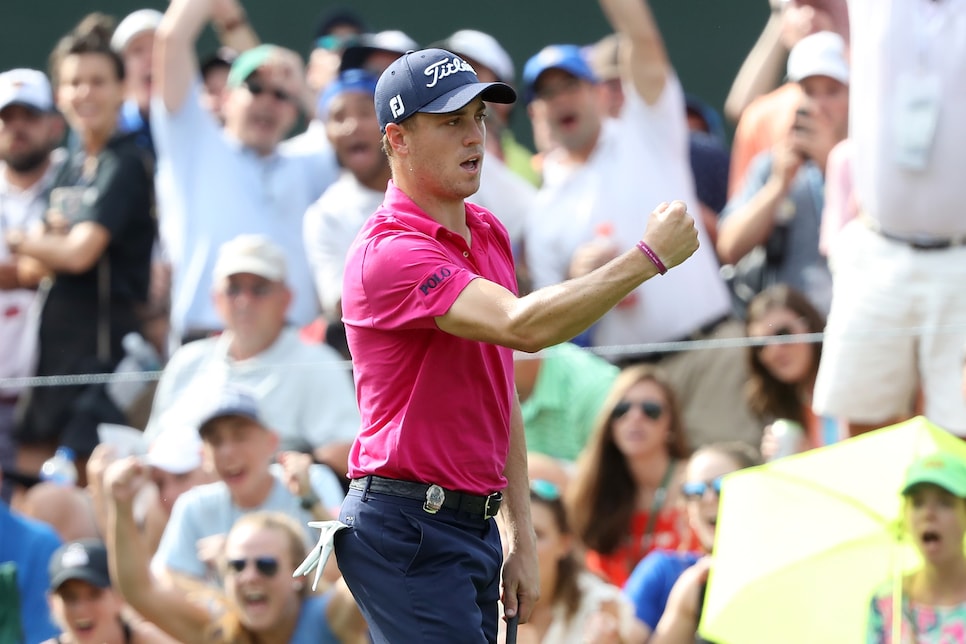 When the FedEx Cup Playoffs were introduced in the summer of 2007, one selling point was the clarity it would provide in determining a Player of the Year. Maybe. But even before the first ball is struck in the four-tournament Playoffs that begin in 11 days on Long Island, it looks like it will be difficult for anyone to surpass Justin Thomas.
Although Thomas' win in the PGA Championship Sunday was his first major title and his first win in the mainland U.S., it comes in the midst of what has already been a breakthrough 2016-17 season. After successfully defending his title in the CIMB Classic in Malaysia in the fall, Thomas opened 2017 with two resounding wins in Hawaii, the latter featuring the seventh 59 ever shot on the PGA Tour. This preceded another landmark round at the U.S. Open, when his third-round 63 at Erin Hills propelled him to his first-ever top 10 in a major.
By winning at Quail Hollow, Thomas moves to second in the FedEx Cup points list, behind Hideki Matsuyama, but a closer look shows where Thomas holds the edge. Matsuyama has two World Golf Championships in 2016-2017 and matches Thomas with four overall wins. But one of those wins, the Hero World Challenge, came against a limited field of 18 players. Moreover, although he held the solo lead at one point Sunday, Matsuyama faltered with two bogeys in the last three holes of the season's final major to finish T-5.
Yes, Matsuyama could conceivably edge Thomas with a commanding performance in the Playoffs, but then it would be a question of whether other PGA Tour players, who vote on Player of the Year award, would rank a player who didn't win a major over a player who did (a separate PGA of America Player of the Year award is based on a points system). This has happened with Tiger Woods on three occasions -- of his 11 POY seasons, three, in 2003, 2009, and 2013, came when he didn't win a major -- but those were seasons lacking compelling options. The more likely contender to Thomas for Player of the Year honors is his buddy Jordan Spieth, who not only captured the British Open at Royal Birkdale, but also won this season at Pebble Beach and TPC River Highlands.
Should Spieth run the table in the Playoffs, it would at least give voters something to think about. But for now, the inside edge belongs to the newest major champion.