News
Where does Justin Thomas' round rank among the 63s in majors?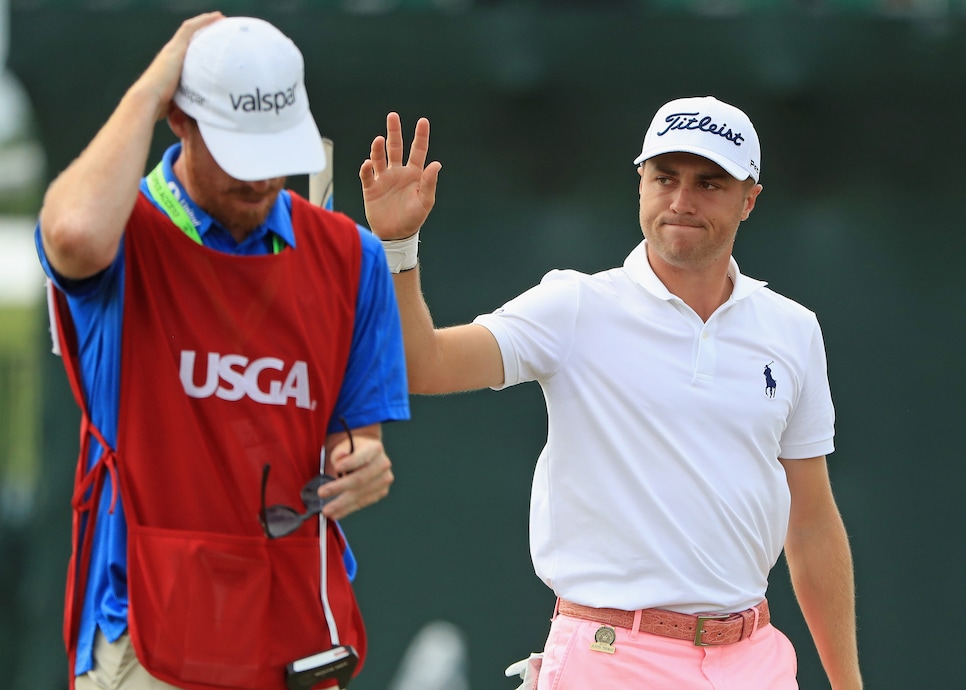 ERIN, Wis. — Where does Justin Thomas' 63 rank among the now 31 such rounds shot in major championships?
Well, you could devalue it by saying it was shot on probably the widest golf course to yield the low score, and among the softest. Erin Hills' 60-yard fairways, and receptive and perfectly smooth putting surfaces, along with almost no wind, made the first-time U.S. Open track very conducive to scoring. All told, there were 18 rounds in the 60s on Saturday on the par-72 layout.
Or you could aggrandize it by pointing out it was done on the longest course ever to hold a major championship, Erin Hills stretched to 7,818 yards for the third round. And that it was the first nine-under-par round ever shot in the U.S. Open.
Was Thomas' round as exacting as the first 63 shot in a major, Johnny Miller's final-round masterpiece at the 1973 U.S. Open at Oakmont, when he came from six strokes behind to win by two? Not even close.
Miller hit all 18 greens in regulation. He had 29 putts. According to statistical tabulation retroactively imposing Shotlink criteria, Miller gained 8.90 strokes tee to green, the highest total of any other 63. There were only three other rounds in the 60s that day.
By contrast, Thomas hit 14 of 18 greens, and also missed three fairways. He had 25 putts, including one three-putt.
Miller, naturally protective of his hold on the title of greatest single round of golf ever shot, was tempered in his praise of Thomas.
"It's a great round, and nine under is amazing in U.S. Open pressure, but you can't really compare it considering the width of the courses," Miller told the USGA on Saturday. "The setup is more like a tough tour event than a U.S. Open course. … So you can't really compare Erin Hills to the setup at Oakmont.
"It's a good golf course, it's just that the way it was set up made it gettable," Miller added. "If they would have had 26-, 27-yard wide fairways it would be one of the toughest courses they've ever played. And the greens are absolutely beautiful, but not too difficult to putt."
Duly noted. On the other hand, there's an argument that Thomas' nine birdie, one eagle and two bogey round had as many explosives and ended more dramatically than any 63 in a major ever.
On the final hole, a 667-yard par 5, Thomas hit a 3 wood (!) off the tee that travelled some 350 yards, leaving himself 310 yards to the pin, with a slight following wind. He chose another 3-wood, which he blistered with a high cut, the ball landing on the green before stopping eight feet past the flag. I'd venture with confidence that it now stands as the finest final full shot of any 63 in a major.
Three holes before, on the 288-yard, par-4 15th, Thomas had missed a six-foot eagle putt after driving the green with another 3-wood.
But there was a healthy dose of scratchiness in the round. It cost Thomas his two bogeys, one the par-4 fourth hole where he had distance control problems from the fescue. On the par-4 10th hole, he three-putted from long distance after a poor approach.
Two other times that Thomas was in trouble, he emerged with birdies. He made an 18-foot curler on the long par-4 fifth hole, rolling the ball up through the fringe to find the right angle to the hole. After pull hooking his drive into deep fescue on the par-4 12th, a miracle recovery led to a birdie from seven feet.
It's reasonable to assert that Thomas' round, because of it's amazing displays of explosiveness, ranks in the upper third among 63s in majors. His overall Saturday report card: A for fireworks, B for precision, and A+ for closing the show. It's the last category where Thomas would most like to repeat his grade tomorrow.