ST. LOUIS — The first reaction to that headline is likely, Yes. Practice rounds do matter. That's why every professional plays a practice round before each event. Case closed. But, before you let common sense get in the way, let's look at a few players who might convince you otherwise. There have been examples of players playing well in majors this year sans practice rounds, enough make us pause on this seemingly obvious question.
"I haven't actually played a practice round in terms of going out there with my golf clubs," Rose said Wednesday. "I have walked each nine and got some good visuals."
Intuitively, that seems insufficient. But Rose shot rounds of 67-69 to enter the weekend four under.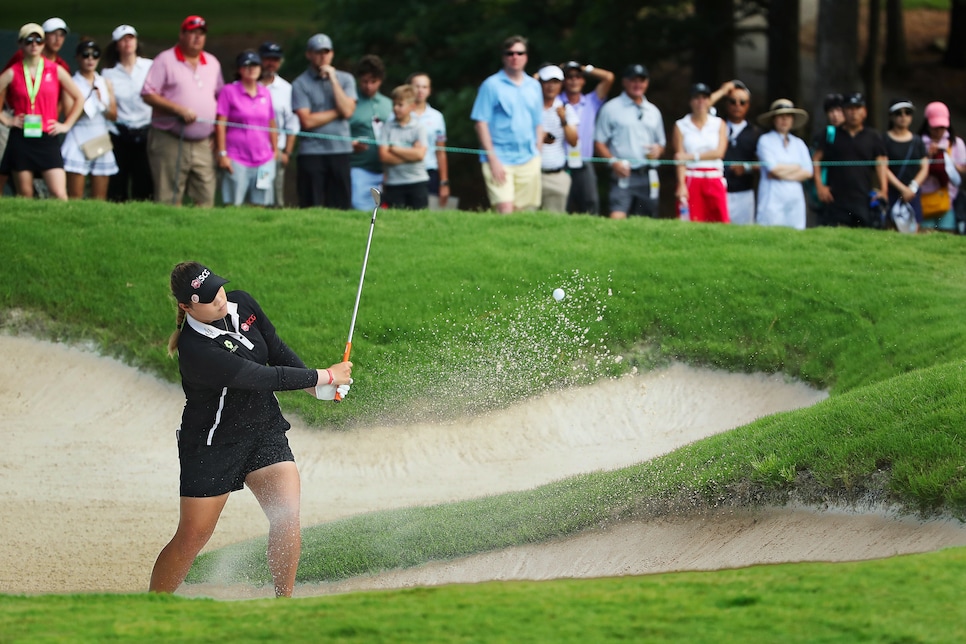 Photo by Christian Petersen/Getty Images
Earlier in the season, Ariya Jutanugarn showed up at Shoal Creek for the U.S. Women's Open, but her clubs did not. She wasn't able to play a practice round when she arrived, and rain storms kept her from being able to play a full practice round before the event started. She went on to win.
Rose and Jutanugarn are a small sample size, heavily outweighed by the number of players who have won or played well after having played practice rounds, but it suggests not playing a practice round isn't a calamity. We asked Pia Nilsson and Lynn Marriott, the performance gurus who run Vision54 golf schools, if it could be, in fact, an advantage.
"There is always a bell curve when it comes to practice and preparation," Nilsson said. "You often see player over prepare at majors, since it's 'so' important. You want to be ready and prepared, but also open to the unexpected and the unknown of each day playing golf. When players have slight injuries, being a little sick, clubs not arriving, less practice than planned…..for some it lead to less expectations, and being more free playing."
Rose mimics those sentiments.
"I walked nine holes both days. So I haven't hit a bad shot on the golf course. So I kind of went out there today and had a very clear intent on what I wanted to do on every hole," said Rose after his first round. "Often you can be biased how you play in practice at times, and that can influence the clubs you want to hit off the tee and what you're comfortable doing. Today I had a bit of a blank canvas to play with, and I felt comfortable on the course."
Of course, not playing a practice round doesn't work perfectly for everyone. It worked for Rose and Jutuanugarn because they accepted the circumstance, and didn't value playing a practice round as an absolutely necessary factor in the equation of playing great golf.
"We need to remember that great golf is both science and art," says Nilsson.