News
Ariya Jutanugarn changed how her mind works, and it's made her a U.S. Women's Open champ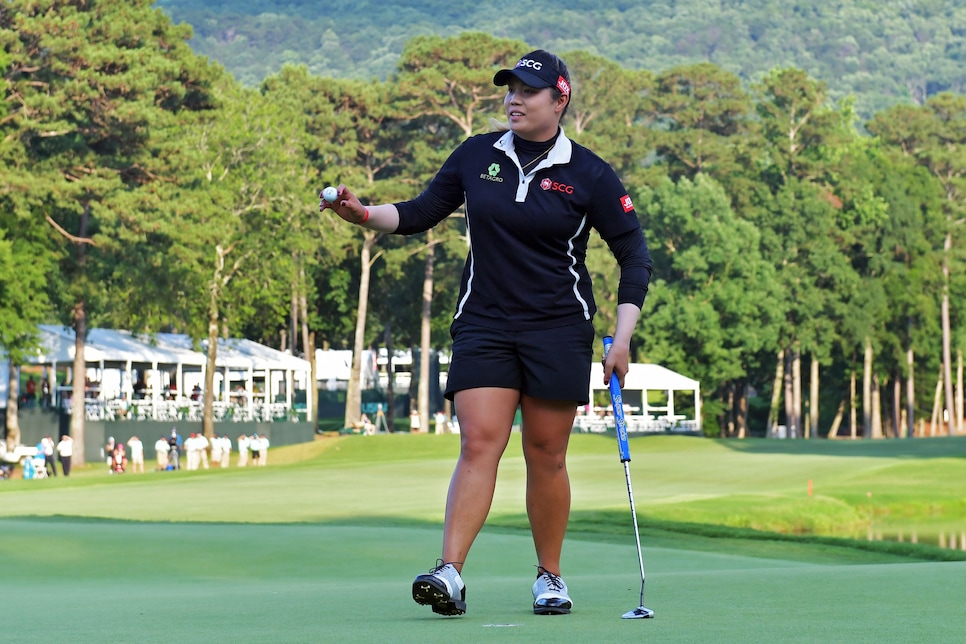 BIRMINGHAM, Ala. — After dealing with rain delays, an airline losing her clubs, surviving a marathon Saturday, overcoming a lost lead (and no ordinary lost lead, but a seven-stroke lost lead at that) and emerging as the U.S. Women's Open champion after a four-hole playoff, you might be surprised with what Ariya Jutanugarn said she was most proud of herself for doing on Sunday.
Try hitting it in the rough on the first hole.
Before explaining what that had to do with the 22-year-old from Thailand becoming a player capable of winning the most prestigious event in women's golf, we have to look at her professional career from the beginning. In 2016, Jutanugarn's second year on the LPGA Tour, she won three straight tournaments, becoming the first LPGA player to win her first three events in back-to-back-to-back fashion. Jutanugarn is strong and powerful, powerful enough to rarely hit driver, but she has a delicate touch around the greens. Early then in her pro career, it looked as if she had all the tools to become a dominant player.
But as often as she won—eight times on the LPGA prior to this week at Shoal Creek—she's faced disappointing losses, defeats that undermined the idea that she might become the next Nancy Lopez, Annika Sorenstam or Lorena Ochoa.
The struggles of missed cuts and blown leads brought Jutanugarn's mental game into question more than a few times. As a 17-year-old, she triple bogeyed the final hole of the LPGA stop in her home country as she was trying to win for the first time on tour. But the more notable instance was the 2016 ANA Championship. Jutanugarn hadn't yet won a major (her first came at the 2016 Women's British), but played herself into the lead at Mission Hills, only to stumble down the stretch in the final round, finishing bogey-bogey-bogey to go from two up with three holes to play to finishing fourth.
In part, the memory of that day is what made a tense few hours on Sunday at Shoal Creek so cringeworthy.
Through 54 holes in hot and humid Alabama, Jutanugarn appeared to be in complete control of her game and the championship. Posting scores of 67-70-67, she held a four-shot lead over a fading Sarah Jane Smith. Sunday appeared as if it was going to be pretty straightforward, if not boring. Jutanugarn was going to shoot a few under again, and no one would be able to catch her. An easy day for everyone.
What happened, of course, turned out very different. Initially, everything was going according to plan. Jutanugarn had extended her lead to seven shots after playing the front side in four under par, reaching 16 under for the championship and threatening the 72-hole scoring record set by Juli Inkster in 1999. No one looked like they could catch Jutanugarn. South Korea's Hyo Jo Kim was lurking, for lack of a better term, as the next person down the leader board after shooting an opening 33 of her own.
But then things changed, slowly at first, only to pick up steam along the way. It started when Jutanugarn found a hazard off the tee on the par-4 10th and wound up making a triple-bogey 7. Then Kim dropped a 50-foot putt for birdie on 12. Then Jutanugarn made bogey at 12. Then Kim made birdie at 15.
All of a sudden, an almost certain blow-out was a one-shot golf tournament.
After 18 holes, it was a tie, Kim ending the day with a bogey-free 67 to match Jutanugarn (who closing with a 73 after a bogey-bogey finish) at 11-under-par 277.
"I'm really proud of myself for the front nine. I did everything I wanted to do," Jutanugarn said. "I have really good commitment. I never think about the outcome of the front nine, but that back got me a lot."
With her older sister, Moriya (who finished T-41) and her mother nervously watching, Jutanugarn tried to approach the playoff with new life. Yet she admitted memories of the ANA began to slip into her mind. She said she was able to push them away, however, telling herself that this wasn't that situation. This was different.
Instead of carrying the frustration of the botched lead and the memories of past tournaments where she'd come up short, Jutanugarn focused on detaching herself from what she wanted the outcome to be and freed herself up to play well.
"After you have like a seven-shot lead and end up with you having to go to playoff, I had no expectations," Jutanugarn said.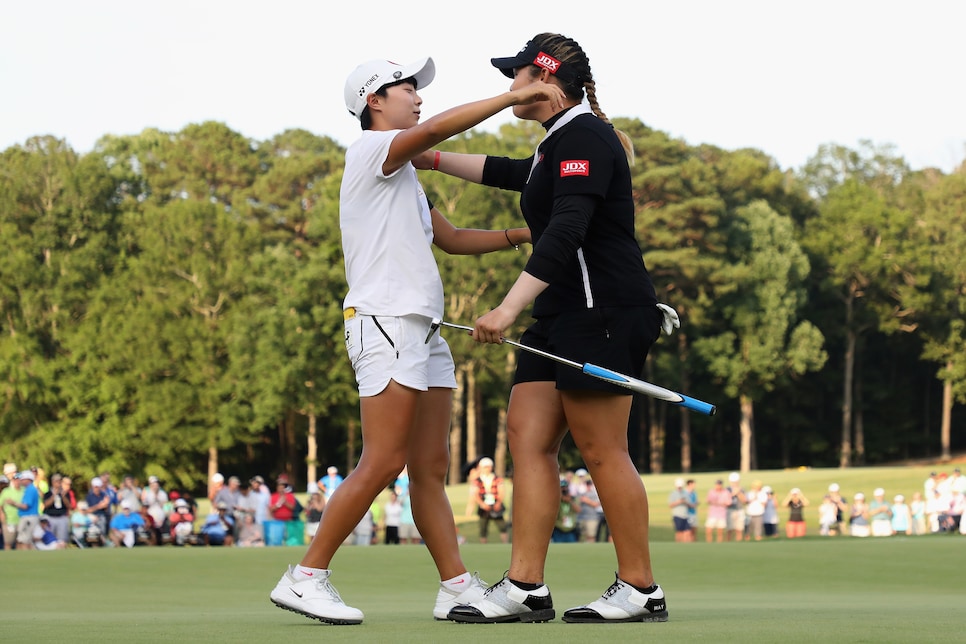 To get herself to a place where she can let go in the high-stress, extremely emotional moment of a U.S. Women's Open playoff, Jutanugarn leaned on the work she's been doing with golf performance gurus Pia Nilsson and Lynn Marriott at Vision54.
Jutanugarn talks about it a lot. The overarching theme of their work is how to release the hold that focusing on results has on her game. It's the easiest mentality to slip into. You want to do well, and the most obvious measure of that is by results, your score. But thinking like that can be seriously detrimental. If the only thing you value is results, you're suddenly a complete failure when the results don't happen. That's a tough way to live if you're a professional golfer, where winning is a rare occurrence, even if you're playing very well.
Instead, Jutanugarn says that all of her work boils down to two main things: committing to the shot and being proud of herself.
"I just try to be proud of myself every day," Jutanugarn said.
It's a simple statement, but a sign of a big shift in thinking. Instead of defining herself by how many tournaments she wins, Jutanugarn has been striving to appreciate herself for the work she is doing. Regardless of winning or not, she wants to feel a sense of pride in who she is and what she is doing.
"She has learned that the most important thing is to feel proud, by fighting on every shot no matter what," Nilsson said. "She wants good scores, but she has learned to make it happen, she needs to trust and feel her decisions be focused and committed during the swing or stroke and have a productive reaction after shots."
That's why Jutanugarn said the word "commitment" more than any other word during U.S. Women's Open week. She's constantly telling herself to think about the shot she's making, not where that shot is going to go. Of course, she's not perfect at it. There were moments on that back nine Sunday where she admitted she lost her commitment. That's where some of those squirrelly shots came in, that's where the lead was lost. But working on your mental game and getting good at it won't keep you from getting into difficult situations. Instead, it gives you the tools to get yourself out of them.
Jutanugarn's entire team has been working together to help elevate her game. Her caddie, Les Luark, is on-board, constantly giving her positive reinforcement that's in line with what Nilsson and Marriott have taught her.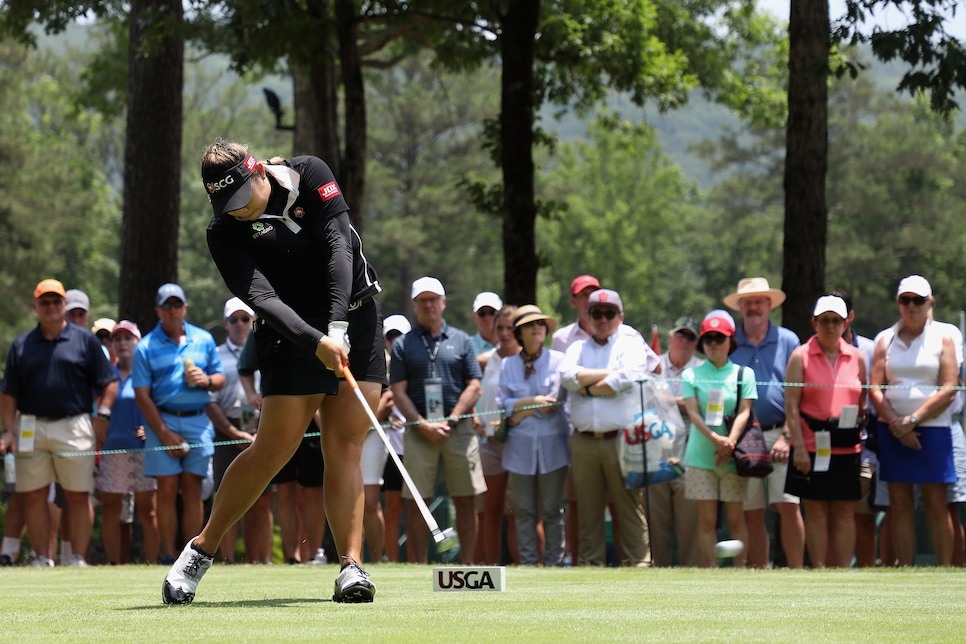 "My caddie helps me because first few holes, of course, I tried to like make some birdies, or play good, but he's just like just, Go, do your best. That's all you can do," Jutanugarn said after the third round.
Her swing coach, Gary Gilchrist, is impressed with the work she has put in to get herself into this position.
"She's been totally open to learn and grow, to face her fears face on," said Gilchrist, who says when they work on her swing, they just focus on making sure she's in a position where she doesn't have to overthink anything. "It's been amazing to watch her."
It's hard to change the way someone thinks. It takes guidance and time, and a lot of effort. But Jutanugarn has put in the work. Having gone the majority of her career thinking about results, she's finding pride in the moments that happen before you even get to see what the result is.
That's why even though she recovered in the playoff and got to raise the U.S. Women's Open trophy, the first female from Thailand to do so, Jutanugarn pointed back to that first hole when asked which moment she was most proud of over that long, hard day.
"My tee shot on the first hole, because I'm so nervous and excited. And I look at my caddie, I'm like no 3-wood today so I hit 2-iron, in the rough," Jutanugarn recalled.
Of all the moments that day, why was that the one she's most proud of?