News
PGA Championship 2018: Bad back, no practice, no problem for Justin Rose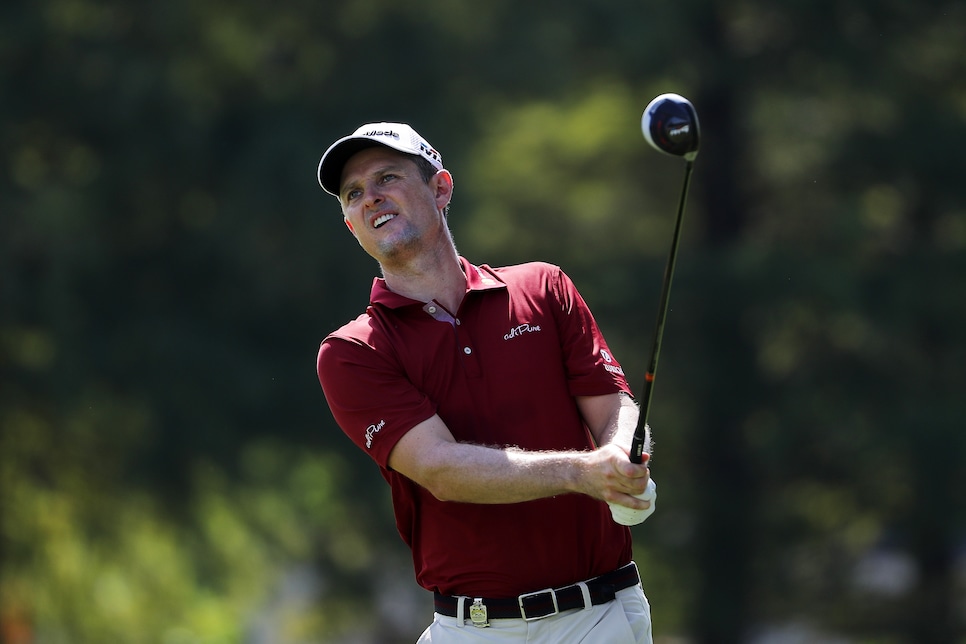 ST. LOUIS—Justin Rose is in contention at the PGA Championship. Somewhere, Allen Iverson is smiling.
Iverson, the basketball Hall-of-Famer who famously eschewed the merits of practice, saw his theory proven correct, as Rose turned in a three-under 67 despite playing Bellerive for the first time on Thursday.
"I haven't actually played a practice round in terms of going out there with my golf clubs," Rose said Wednesday. "I have walked each nine and got some good visuals."
However, unlike Iverson, it's not indifference that kept Rose off the course. The Englishman has been bothered by a back issue, one that forced him to withdraw from last week's WGC-Bridgestone Invitational.
"It's just one of those things. I just had a facet joint tighten up, left sort of SIJ just got a bit grumbly," Rose said. "I could have maybe persevered last week if it was the last event of the season or something like that, but just with what's coming up this week, with the FedEx Cup, with the Ryder Cup on the back end, it just wasn't the prudent decision to play through."
Through 18 holes at Bellerive, that position held true. Rose made five birdies and just two bogeys on Thursday, a score that leaves him three back of leader Gary Woodland and in a tie for fifth.
Somewhat shockingly, the 38-year-old Rose credited the lack of reps for his first-round success.
"Often you can be biased how you play in practice at times, and that can influence the clubs you want to hit off the tee and what you're comfortable doing," Rose asserted. "Today I had a bit of a blank canvas to play with, and I felt comfortable on the course."
Rose did remark that he struggled with pace on the greens, although the stats say he did fine, ranking T-8 in putts per GIR and 32nd in strokes gained: putting. Rose said he plans on getting some extra time on the practice green before tomorrow's round to alleviate that perceived woe.
Still, given the circumstances, Rose said he was "100 percent" pleased with his round.
"Delighted to get into the house at three under," he said. "It's a good start."