Do It Yourself: How To Build Your Own Putting Green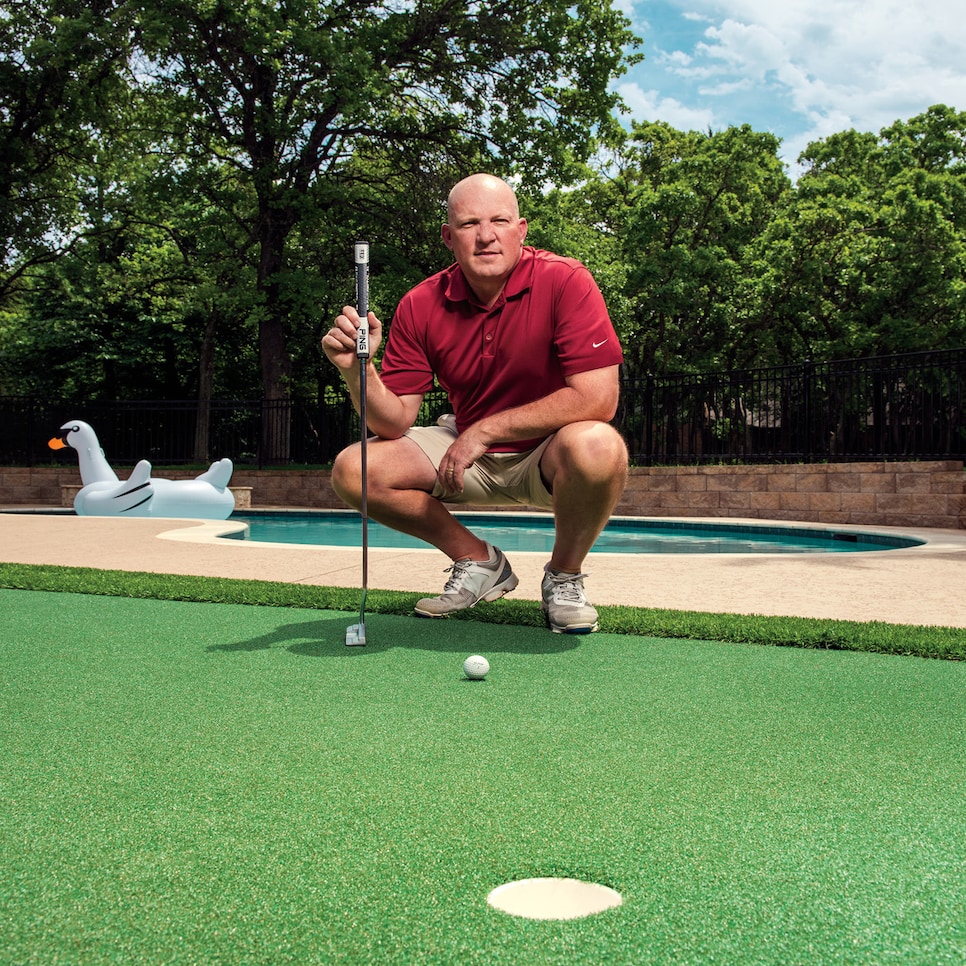 Before his daughters were born, Donny Hill, a tire salesman then living in Granger, Ind., had time to accept a challenge from his buddy, an assistant superintendent at a golf course: "There's no way you can grow a putting green in your back yard."
Hill found a PowerPoint presentation from a turf school, decided on a base of 60 percent sand and 40 percent peat moss, and dug a herringbone-shape drainage trench just like the USGA recommends. A2 Penncross creeping bentgrass seemed as suitable a seed as any. For $100, he bought a walk-behind green-mower from a course that was upgrading its fleet. All in, he spent $800. When the first green fuzz sprouted, it seemed to glow. "I was very excited," Hill says.
Twice a week, he mowed it. If anything, the drainage worked too well. After rainstorms, when the rest of his yard was soaked, the green would be dry. A couple of times when he was away on work trips, the sprinkler system didn't fire, and the grass died. But it always came back. His superintendent friend offered tips on chemicals, but in the end Hill just tipped his lawn-service guy an extra $5 a week to apply whatever he was feeding the rest of the yard. Usually, the green was running around 6 or 7 on the Stimpmeter, so Hill found more use chipping. From the far side of his pool he could get a 28-yard pitch. He fixed the marks with love, and they healed nicely.
Hill's favorite time to use the green was early Sunday, while his wife was still asleep but before he headed to the course for his usual game. Though if there was a moment when all the effort felt truly worthwhile, it was every third week of July. After 72 holes of golf, 16 to 20 guys would head to Hill's place for the finale of the annual buddies event. Under the influence of outdoor lighting, tunes and a cooler of beer, his 350-square-foot patch never looked sweeter.
"A grass green is possible for any golfer who is decently handy, but more important, motivated to keep it up," Hill says. "After my wife and I had kids, it got to a point where I was just maintaining it."
Which is why for homeowners desiring to pack more golf into their lives­—not add a chore—a synthetic turf green is the way to go. Other than an occasional pass with a leaf blower, a synthetic green replaces a swath of property that would otherwise require mowing or upkeep. The various methods of installation, of course, warrant thorough research and attention (good luck on YouTube), but a basic order of operations is as follows:
▶ Dig up your lawn.
▶ Dump crushed gravel and run a plate compactor (they're cheap to rent, like $30 a day) over the surface to form a smooth base.
▶ Set down landscape fabric.
▶ Use a post-hole digger to cut and set the cups.
▶ Roll out the turf and affix the border and any seams with turf pegs or staples.
▶ Use a utility knife to carefully reveal the cups.
Collin Rodgers of Dartmouth, Nova Scotia, installed seven synthetic putting greens in 2016. He now heads the "golf division" of his landscaping business to keep pace with growing demand. For a small green—say, eight by 15 feet with two cups—he'll charge $6,000 and can add handsome flourishes like stone walls or steps. The client can increase the putting speed by dressing the green with more sand, but Rodgers suggests starting slow. "It's more fun for kids, and serious golfers build confidence draining 12-footers in the back yard all day."
Generally, Rodgers advises against the pure do-it-yourself route. "You need excavation experience, land experience," he says. "The average homeowner can do it, but it might not go as smooth."
For homeowners desiring to pack more golf into their lives—not add a chore—a synthetic-turf green is the way to go.
The turf is the most expensive component. Rodgers had one client whose neighbor split the cost of a roll and did the installation himself. The neighbor dug only four inches to prepare his base, and the winter's frost wreaked havoc. Had the guy lived in Arizona, his green probably would've been fine. Even in a basement, the foundation is key. You need a few inches of height to set the cup(s), but more important, a gravel base absorbs the compression of foot traffic. When synthetic turf is laid directly on a floor like a carpet, it quickly becomes threadbare.
For Bret Cabbiness, a civil engineer from Norman, Okla., a synthetic putting green was the last phase of a back-yard remodel that included a covered patio, outdoor kitchen, bathroom, storm safe room, swimming pool and spa. For about $2,700, he purchased a kit from Pro Putt Systems, a company that fabricates base panels according to the design of each client. All the materials arrived in his driveway on one pallet. For another $400, he bought filter fabric, crushed-granite base material, and rented a plate compactor and sod-cutter.
"I completed the project basically by myself in just under 10 hours over three days," Cabbiness says. His only mistake was creating too much break in a confined area. "I'd have three or four breaks in a 20-foot putt. But it was pretty convenient to take up the panels, re-grade the area flatter, and reinstall." The green is now Cabbiness' regular "nice way to spend a few minutes of quiet time to decompress after a long day at the office."
Which is what Donny Hill has in mind, too. Last year he sold his real-grass putting green (and his house). At his new home, he's putting in synthetic.