Rock-A-Baby
Did this baby cost the Phoenix Suns a playoff game?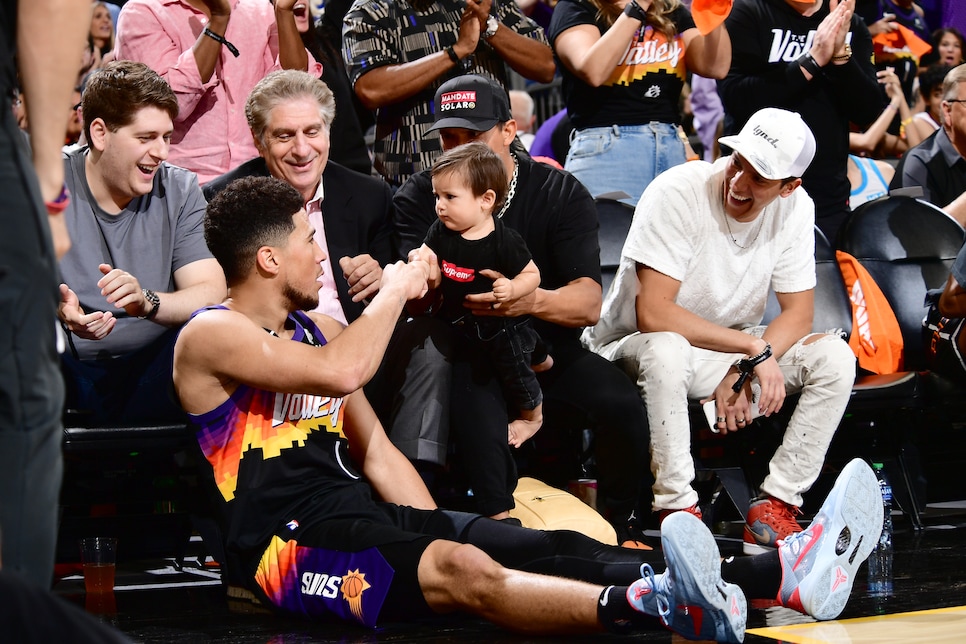 The Loop is a trustworthy and responsible source for all things sports. Our writers here may hyperbolize at times, but we are watching the games and providing you with knowledgable breakdowns of sporting events, no matter how obscure.
With that said, this random baby cost the Phoenix Suns a playoff game. No question about it.
To end the first quarter in Game 2 against the New Orleans Pelicans, basketball superstar and car-aficionado Devin Booker nailed a contested jumper as he fell away from the basket. He then followed that miraculous end-of-quarter shot with an adorable (and ultimately ill-advised) fist-bump with a baby vibing in the courtside seats.
Booker went on to finish up an awe-inspiring 31-point first half, but soon the curse of the baby dap came back into play. A banged-up D-Book left the game in the third quarter and the night went from wonderful to a comeback disaster for the Suns in their own building. The one-seed dropped Game 2 to the Pelicans 125-114, and they now head to New Orleans tied up.
Through exhausting research, we can definitively say that this is the first game in which Booker dapped up a baby after hitting a near buzzer-beater. He is now 0-1 in those games. There's a direct correlation between baby fist-bumps and losses.
That's certainly something for Phoenix head coach Monty Williams to keep an eye out for at the Smoothie King Center. Will the Pelicans be importing in newborns to keep this streak going for Booker? Can he hit a turnaround three-pointer and resist high-fiving an 11-month-old? It's certainly a key to watch as this series continues.