News
Despite Torrey Pines ties, Pat Perez is playing in Dubai and enjoying the 'relaxed vibe'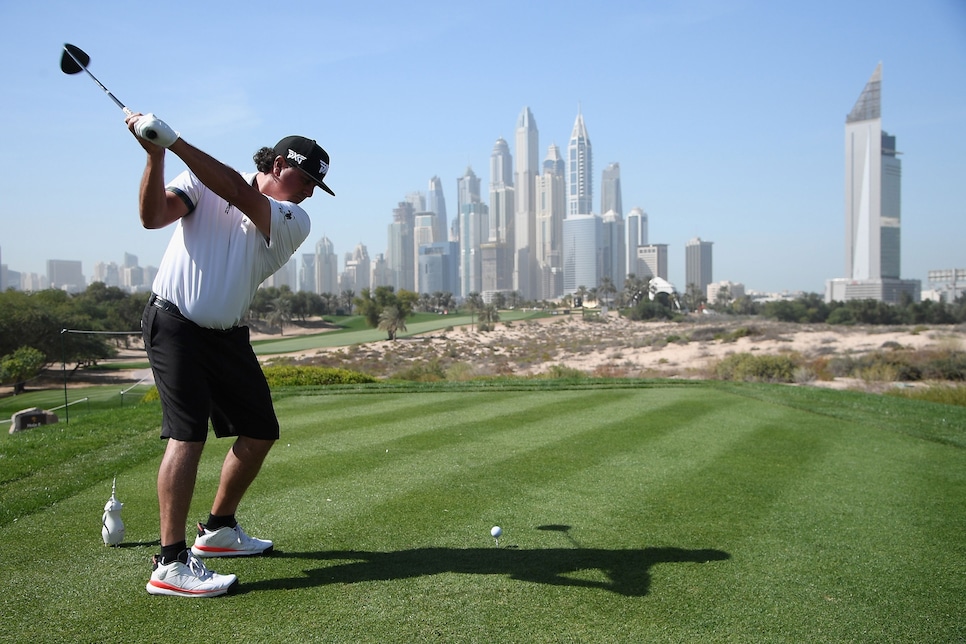 Ross Kinnaird/Getty Images
DUBAI — Not for the first time in his life, Pat Perez is a little peed-off. Winner last October of the PGA Tour's CIMB Classic and T-5 in the CJ Cup at Nine Bridges one week later, the 41-year-old iconoclast received not one Ryder Cup point in so doing. And that, it seems to him, isn't really fair.
"That kind of upset me a little bit; the fact that I'm 13 on the [Ryder Cup qualifying] list, but I should be probably three or four," he said, two days before teeing up in the Dubai Desert Classic, his second regular event as an affiliate member of the European Tour last July. "So it kind of put a bitter taste in my mouth. The fact that you win on the PGA Tour and you beat some good players, yet you don't get any points because of whatever our committee has decided to do.
"If you win the same year of the Ryder Cup, you should get the points. I think the reasoning is a lot of top players don't play in those fall events and so our, whatever you call that, committee … I don't know, whatever it is, whatever they came up with …"
"Yeah, task force. They don't think that those are worthy of points, I guess, for the Ryder Cup. I don't know, I've never been part of it. But if you win the same calendar year as the actual Cup, they should count. I don't know why they wouldn't. I haven't seen Jim [Furyk] at all. I haven't seen Phil [Mickelson], anybody that's part of it. I'm sure they are not really interested in my opinion anyway. So it wouldn't really matter.
"But every American wants to represent their country just like every European wants to represent their countries. It would be exciting to play on a team. That's the only thing I'm really missing. Everybody wants to win a major, but there's only four. Ryder Cup means that you've done something really good for two years to make the team. And you get to try to bring home the Cup."
On a happier note, Perez is not surprisingly enjoying what he calls the "relaxed vibe" on the Old World circuit. Well, apart from the jet lag. Although flying in Sergio Garcia's G5 plane from the U.S. to Singapore then to Dubai doesn't sound like it was too taxing.
The decision to play in Dubai is a bit surprising in that the event is being played the same week as the Farmers Insurance Open at Torrey Pines, a course Perez grew up playing and an event he has competed in every year from 2002 to 2017. He also has family ties to the tournament in that his father, Tony, had been a long-time first-tee announcer. That said, Perez's record in the tournament is surprising mixed. In 16 starts his best showing is a T-2 in 2014 (he was T-4 last year). He has had three top-10s, but he's also missed the cut six times.
Perez, though, doesn't sound like he has any regrets on his decision.
"The camaraderie out here in the European group is fantastic," he said. "I have a lot of friends out here. And I've had a lot of people come up and say, hey, great to seeing you here. It's just a different vibe out here. It's great. I like it. It would be nice to mix in a few more."
Only one downside, of course. No Ryder Cup points.